The SOTO Amicus is a reliable stove with retractable pot supports. Thanks to the integrated windbreak, the mini gas cooker is also suitable for use in extreme conditions.
Only with minimal luggage on the way and nevertheless a full-fledged gas cooker. The SOTO Amicus* makes it possible! The mini gas stove is windproof, has an integrated piezo igniter and can be packed into a 750ml cup with its tiny pack size. Along with a small gas cartridge of course.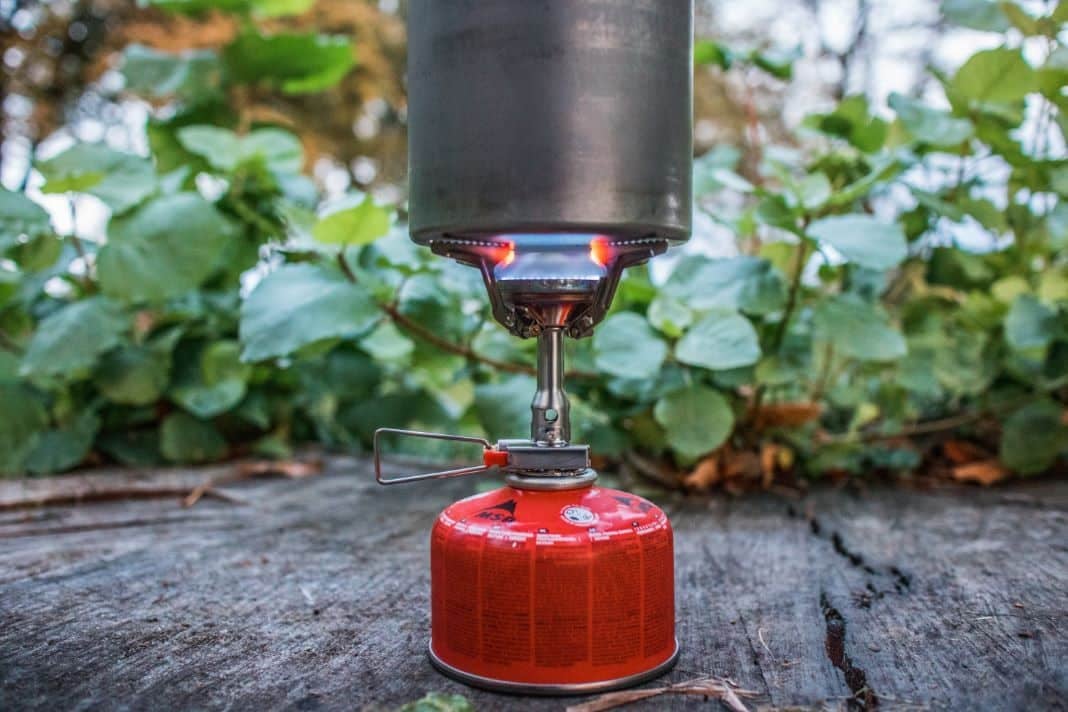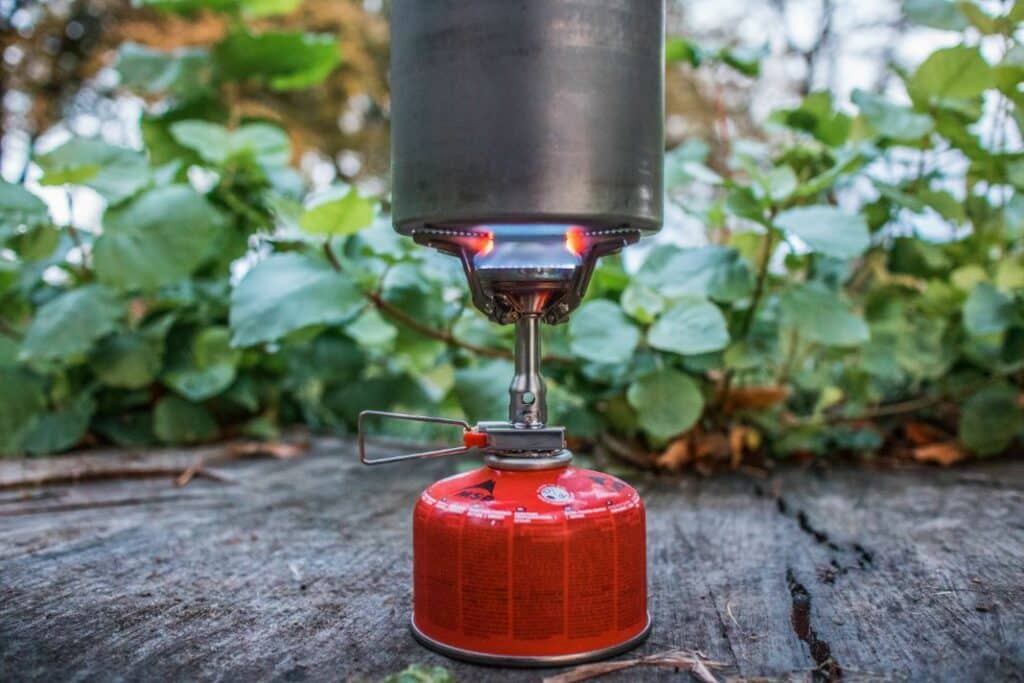 The outdoor gas stove of the Japanese brand SOTO is perfect for coffee luxury while hiking or on minimalist bikepacking tour. It boils water with a lot of energy, quickly and economically. The SOTO Amicus is also suitable for the trekking meal in between or for a small cooking session. One to two persons can be cooked excellently.
It has four filigree pot arms. But appearances are deceptive: small and medium heads are held securely on the mini gas stove. To find out how the SOTO Amicus performs in practice, read our detailed test report.
You're in a hurry? Click here to go directly to SOTO Amicus
Angebot
SOTO Amicus - Outdoor Gas Cartridge Stove*

Power: 3260 watts
Burn time: approx. 60 minutes with 227 gram gas cartridge
Cooking time for 250ml: approx. 1 minute
Cooking time for 1L: approx. 4 minutes
Weight: 77 grams (weighed by myself)

* Werbung - Aktualisierung am 2023-12-09, Preis kann gestiegen sein, Als Amazon-Partner verdiene ich an qualifizierten Verkäufen, Bild:Amazon
What are the big features of the Soto Amicus?
✅ Small & Lightweight Mini Gas Stove
✅ Plenty of power for fast cooking
✅ Integrated windbreak: Usable in good and bad weather
✅ Available with piezo ignition
✅ Favorable price
❌ Flame is quite narrow and on center
SOTO Amicus bei Amazon kaufen*
The SOTO Amicus offers a lot of power and thus heats the water or meal quickly. Thanks to the integrated wind protection at the firing head, can also play out its strengths in crosswinds. The mini gas stove is inexpensive and available with or without piezo ignition. The overall package is convincing and comes in a small, as well as very light burner.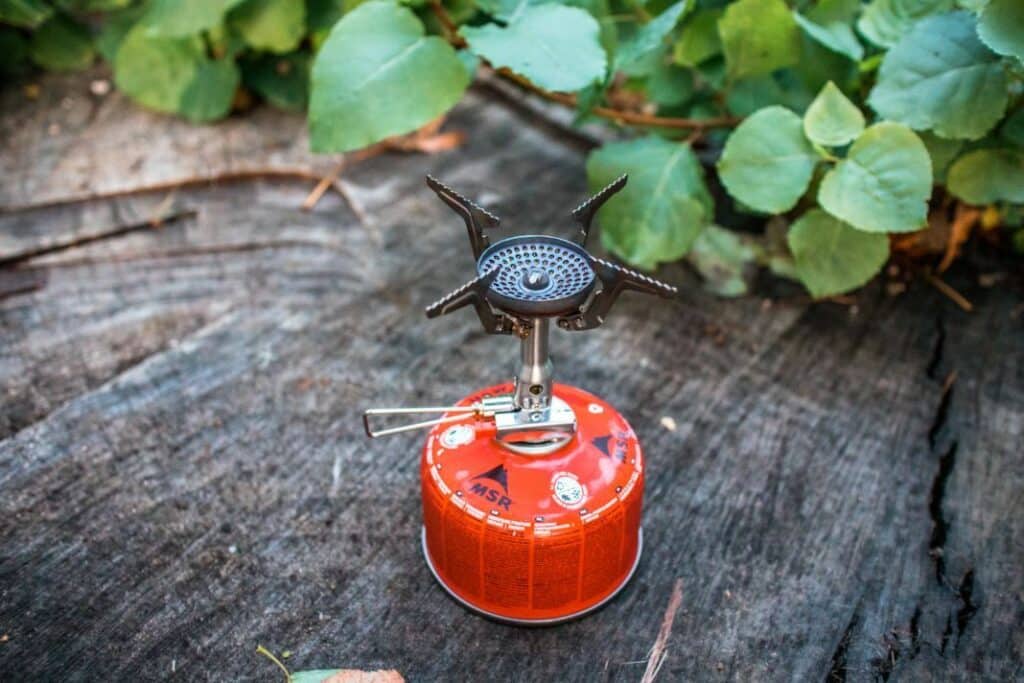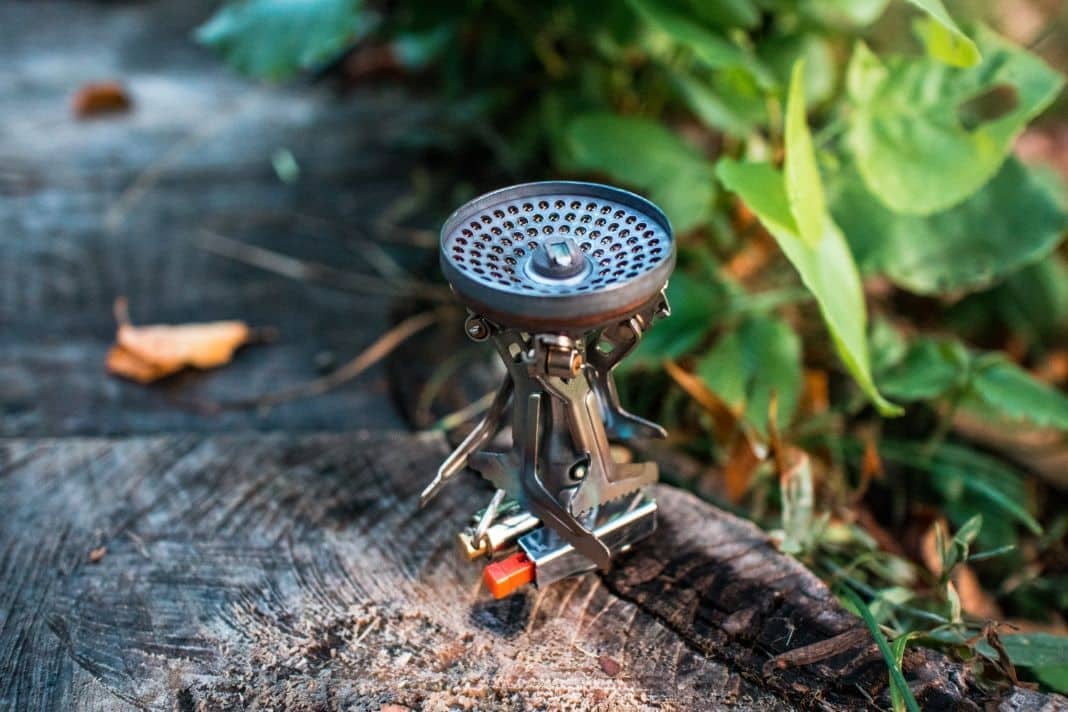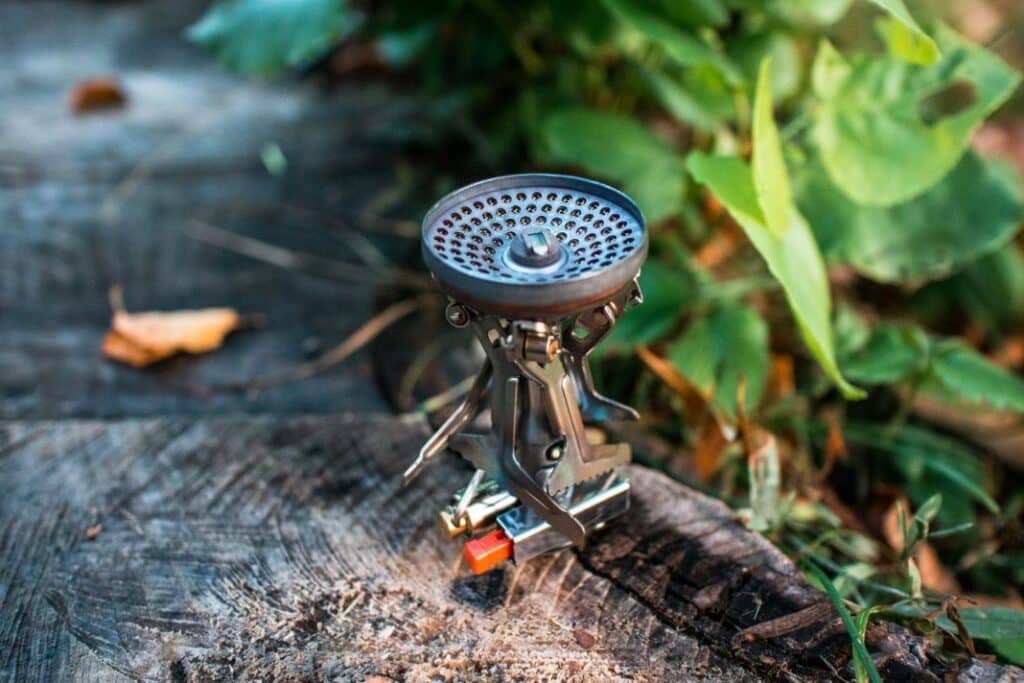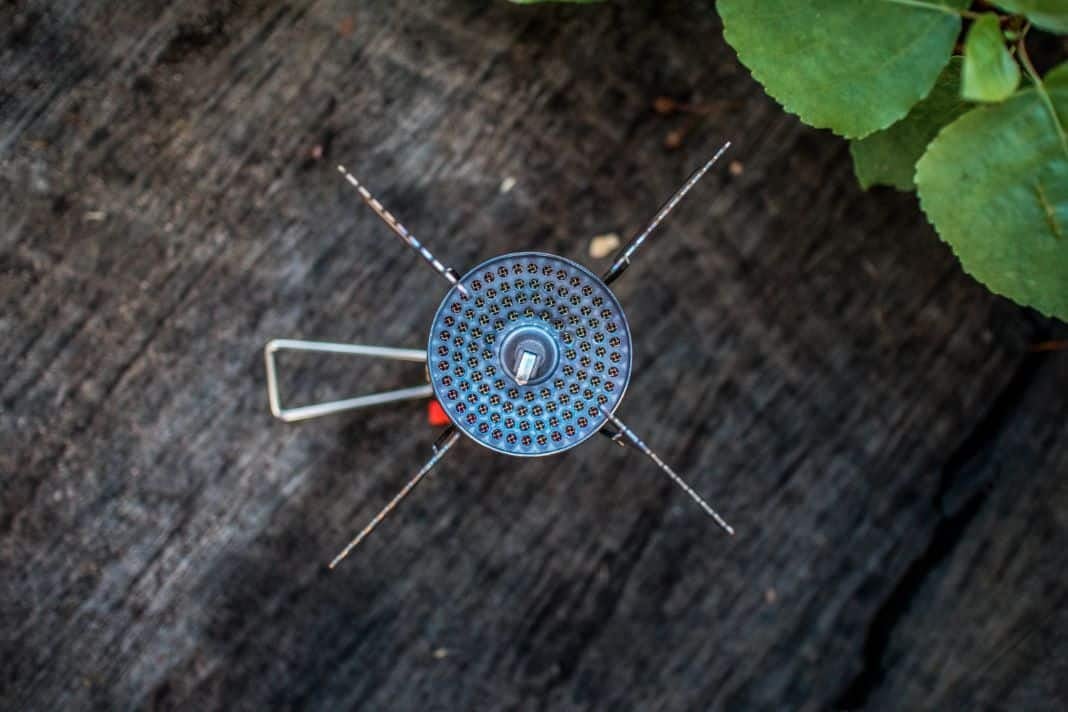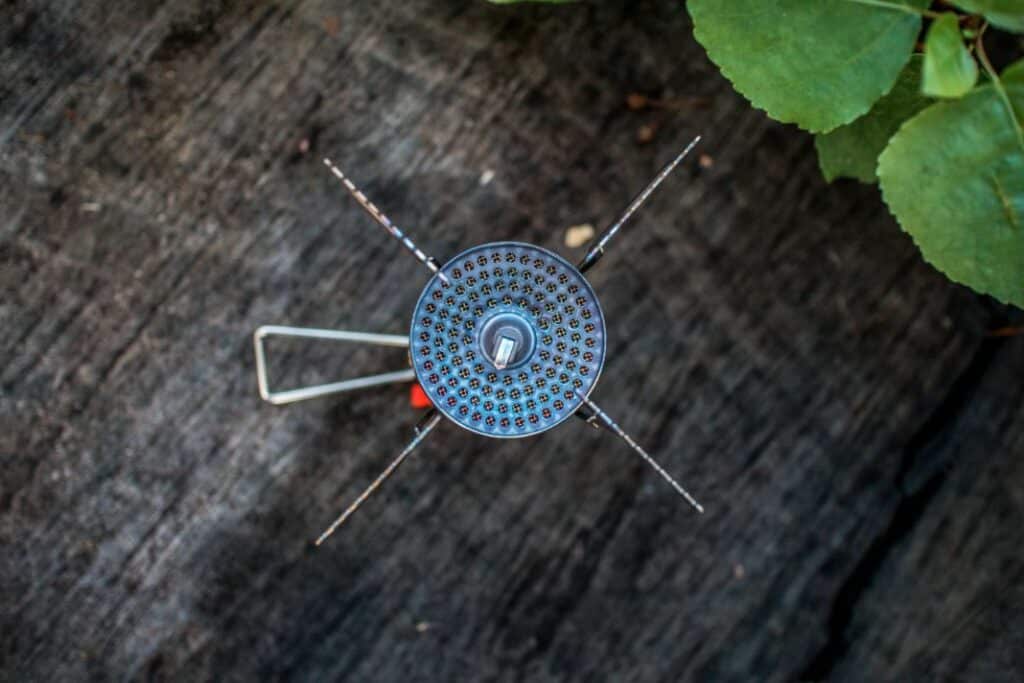 SOTO Amicus Scope of delivery
Included in delivery is the mini gas stove Soto Amicus and a small packing bag.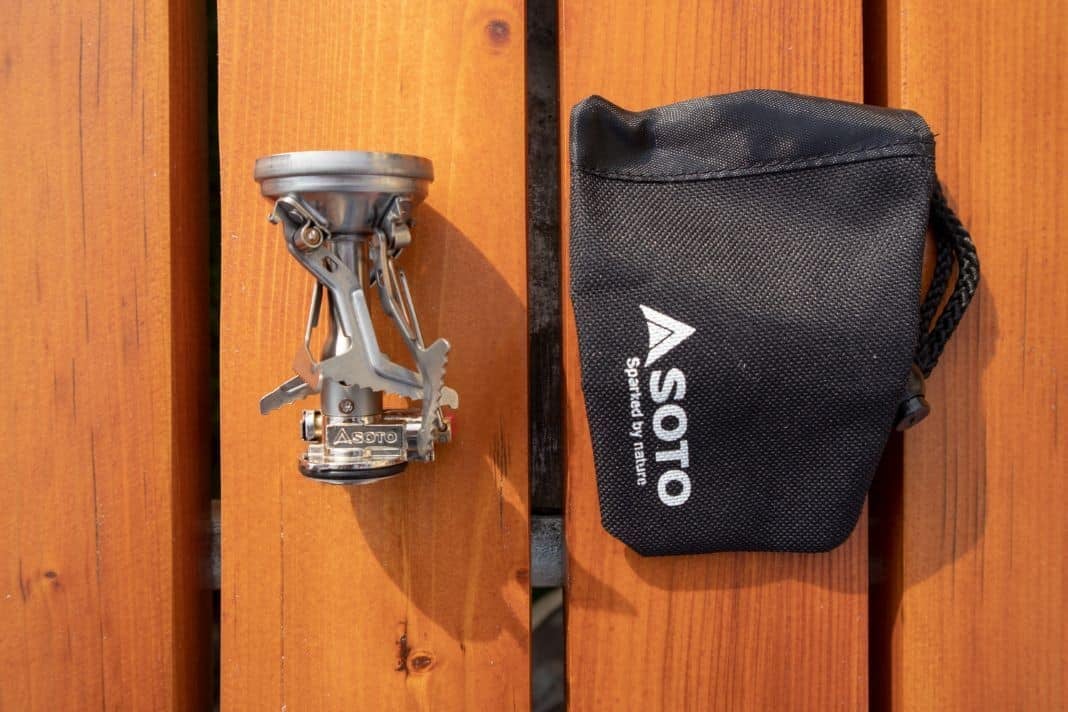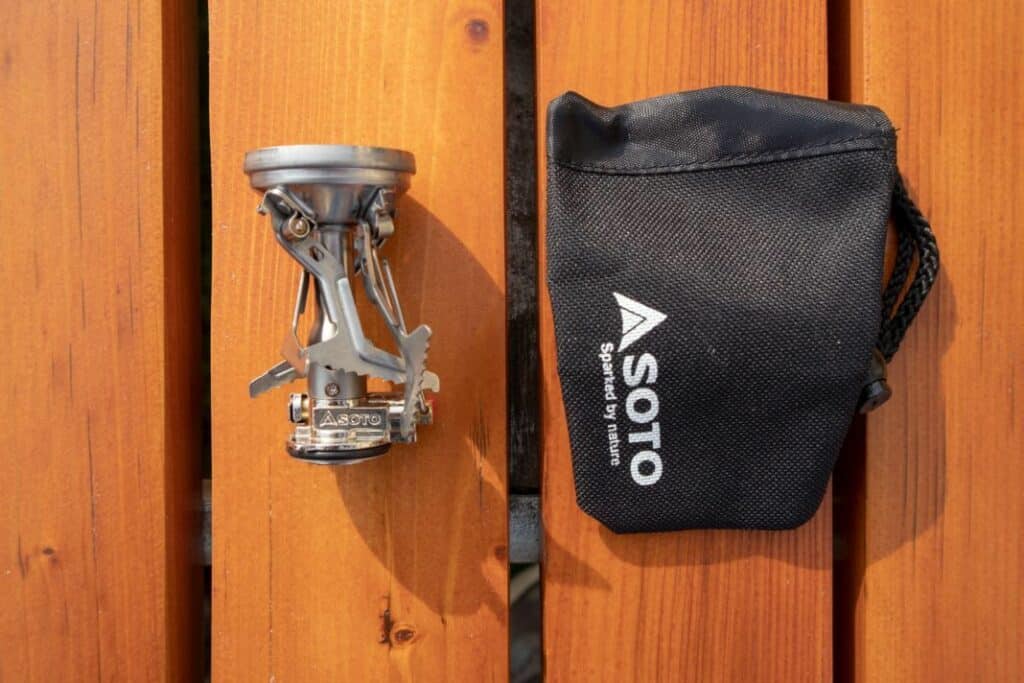 SOTO Amicus Weight & Pack Size
The Soto Amicus weighs a feather-light 77 grams and has a very small pack size of 4 x 4 × 8 cm when folded.
If you want to transport the Amicus safely in the supplied transport bag. Then add another 12 grams of weight. In the transport bag, the Soto Amicus still fits into a 650 ml or 750 ml titanium pot – together with a 100 ml gas cartridge, of course. The Soto Amicus is kept especially safe for transport in the Pack Sack. Then neither the outdoor camping stove nor the cookware nor the other cooking equipment will be scratched.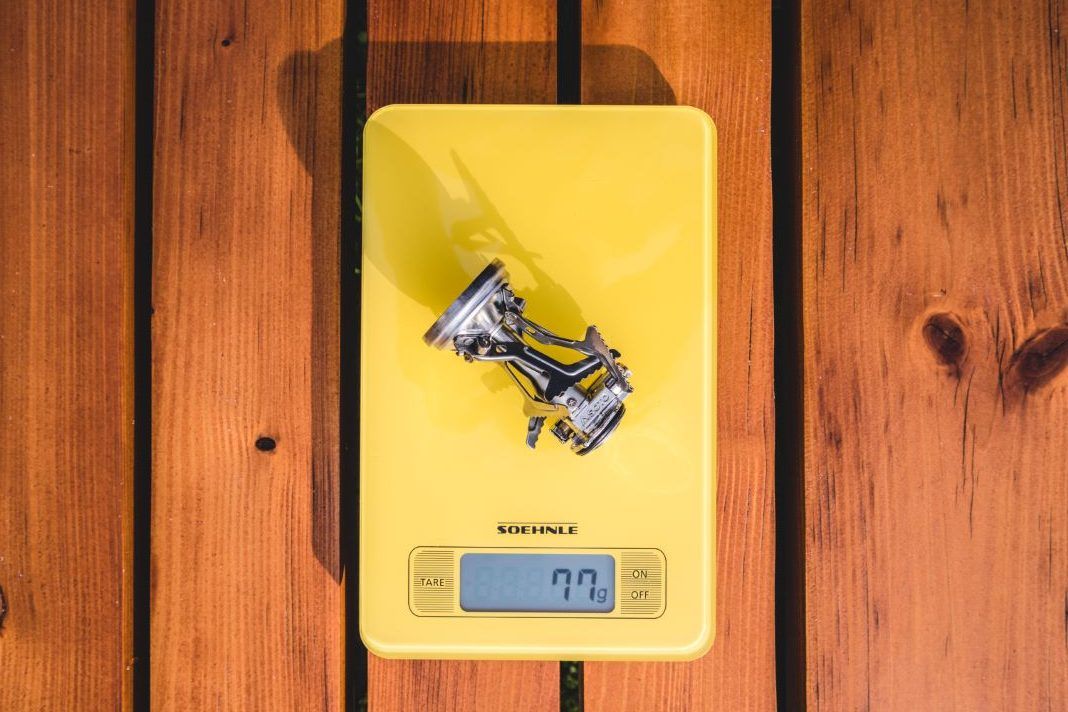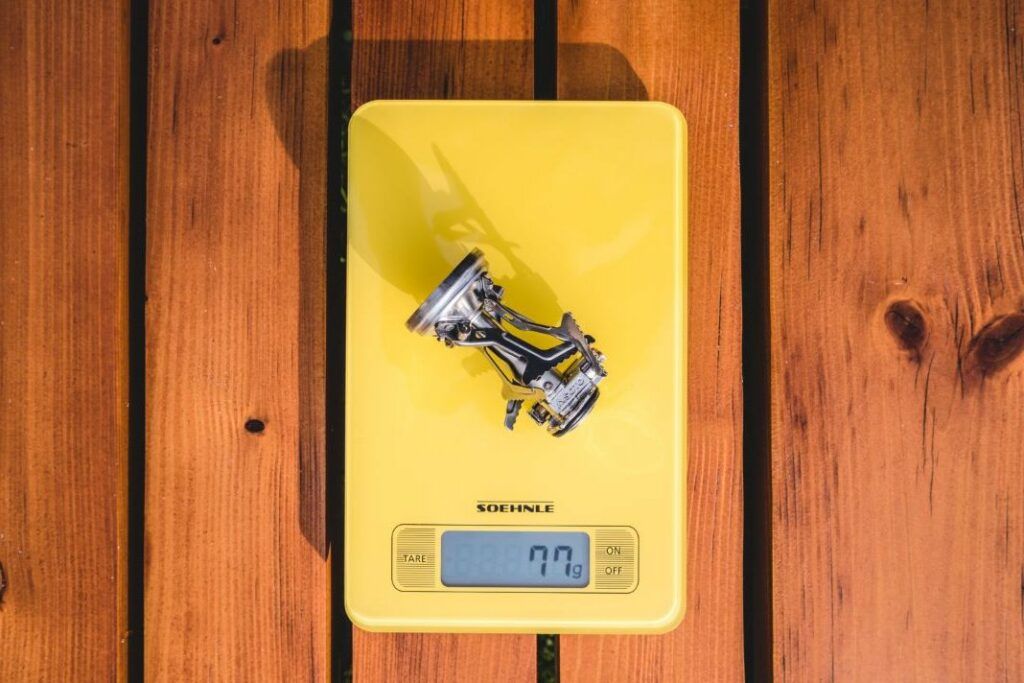 Field test
The SOTO Amicus has a clever folding system: For transport, the four pot supports are folded down for minimal pack size.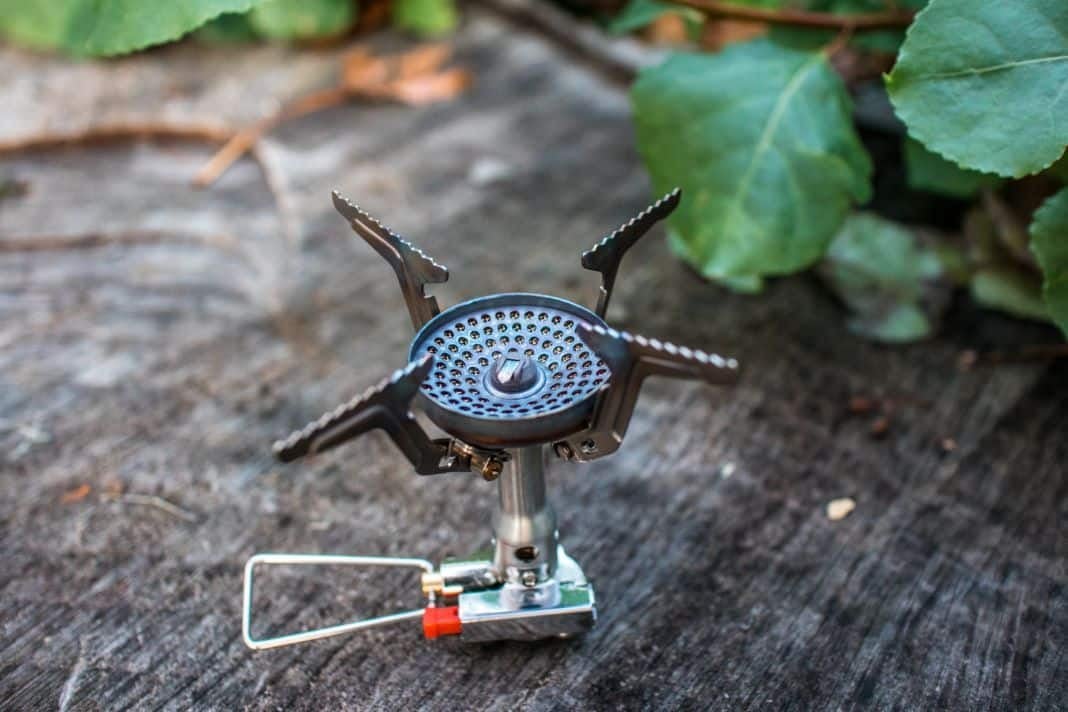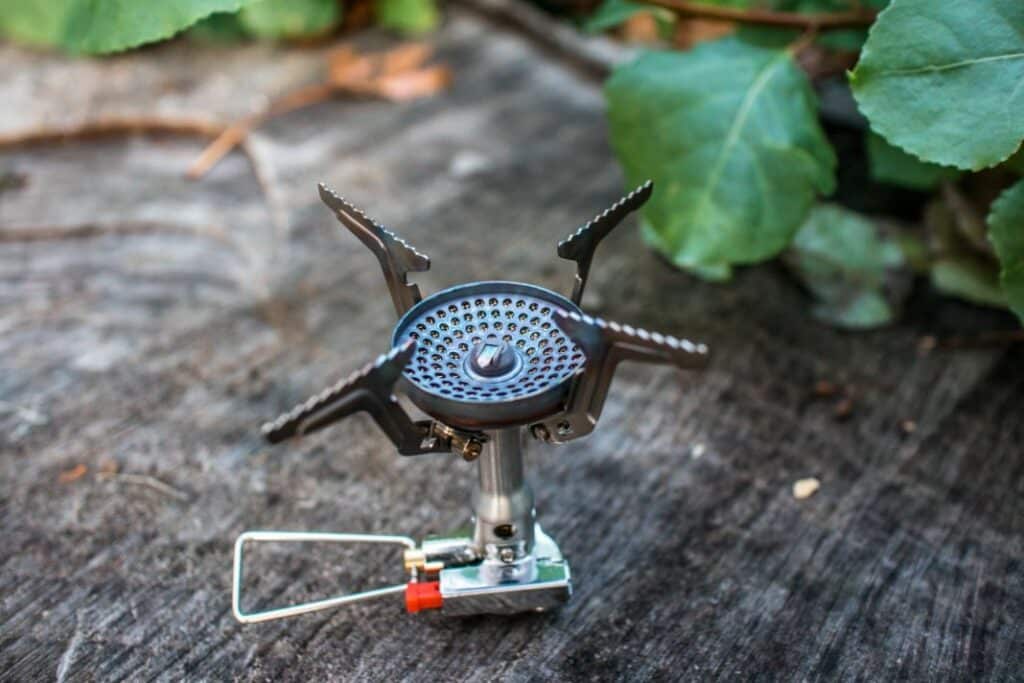 If you want to cook with the Soto Amicus gas stove, you should first turn off the gas tap completely.
Then you can fold the four pot support arms upwards
Then screw the Soto Amicus onto the gas cartridge securely.
Now turn on the gas tap a little and either until it fizzes
Either the fire can be lit with the push of a button or the fire can be lit with the integrated piezo ignition.
Now simply place the pot on the gas stove and start boiling or heating water.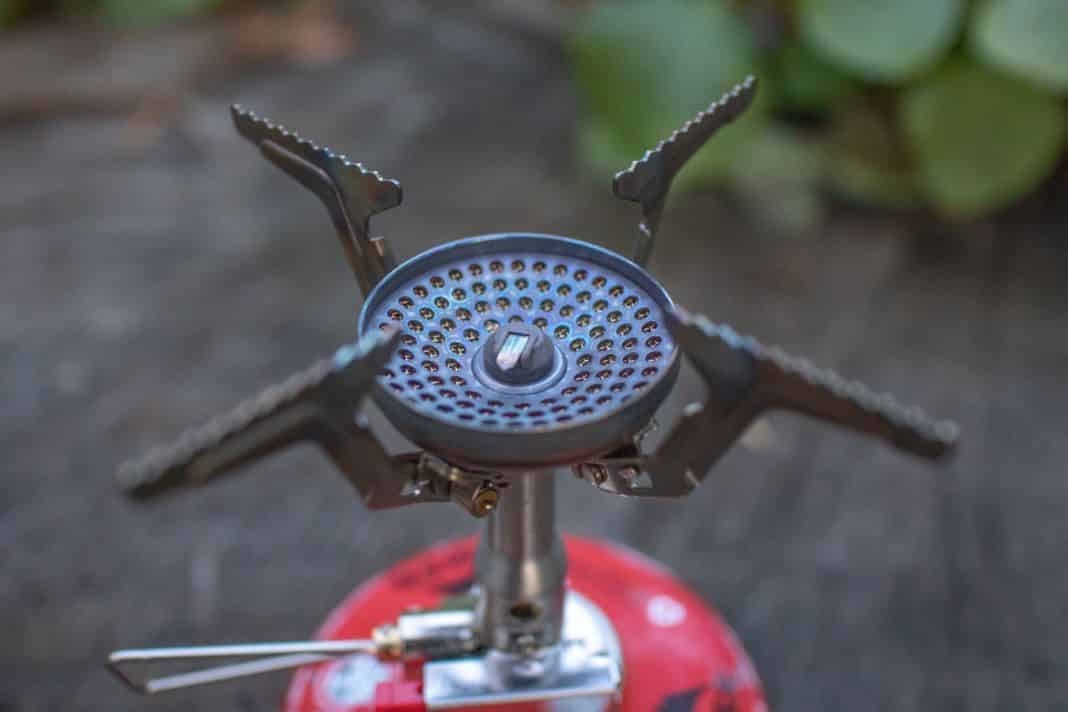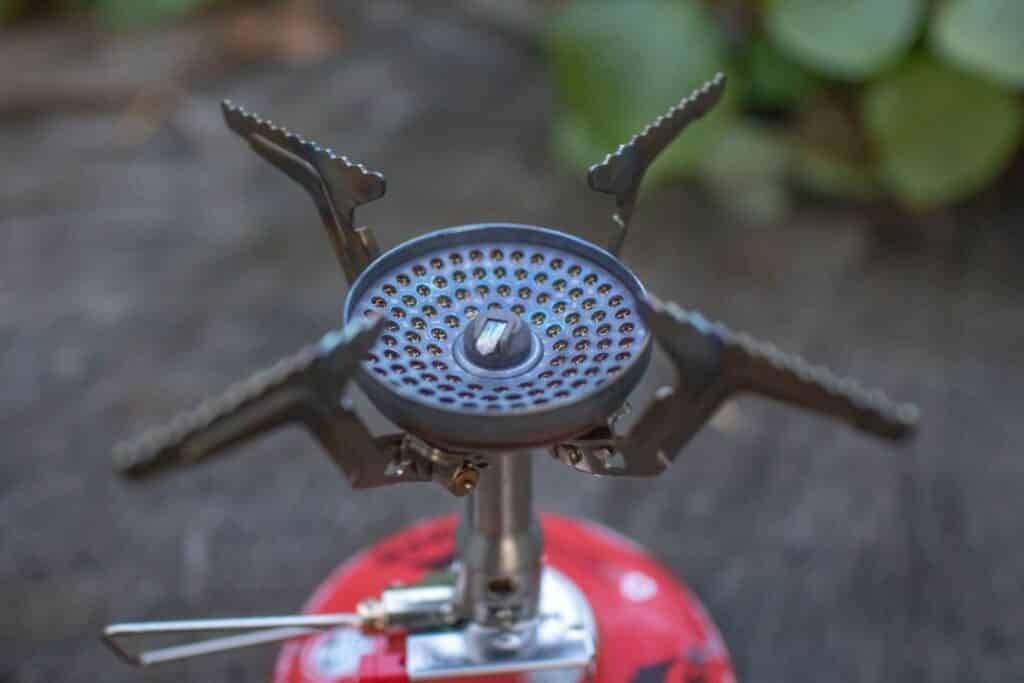 When cooking, it is noticeable that the flame tends to be point and focused i.e. most of the energy is directed towards the center of the cooking pot. This makes the Soto Amicus perfect for making coffee or for heating water. Really cooking is also possible with the mini camping stove. You have to be a little careful not to burn the food, though.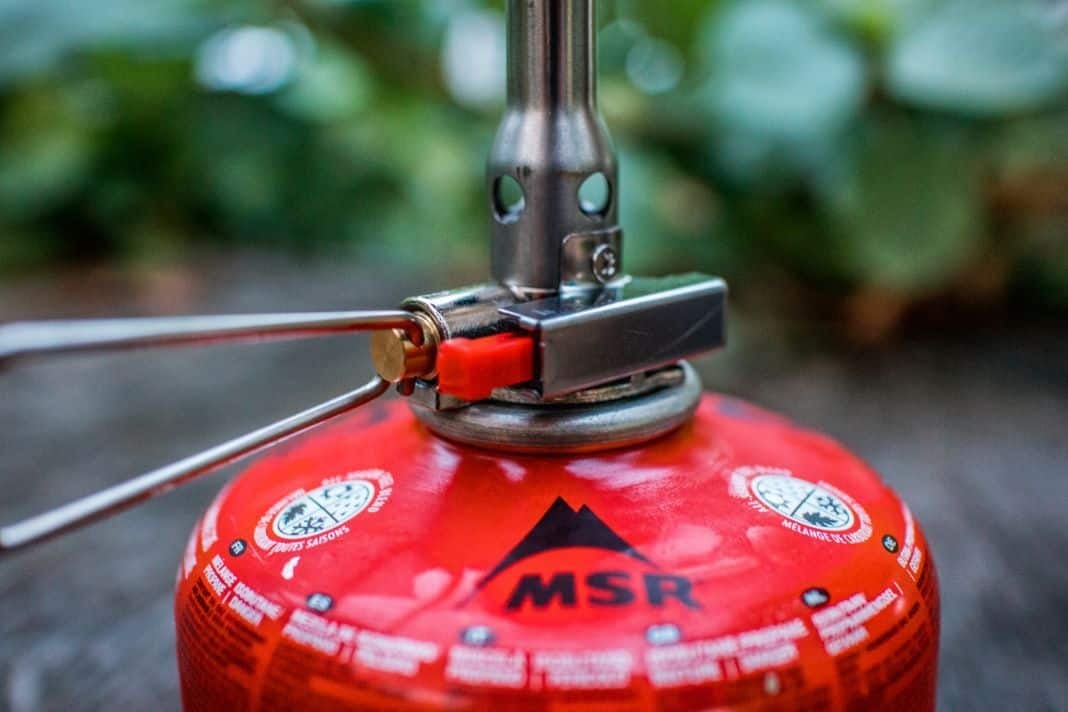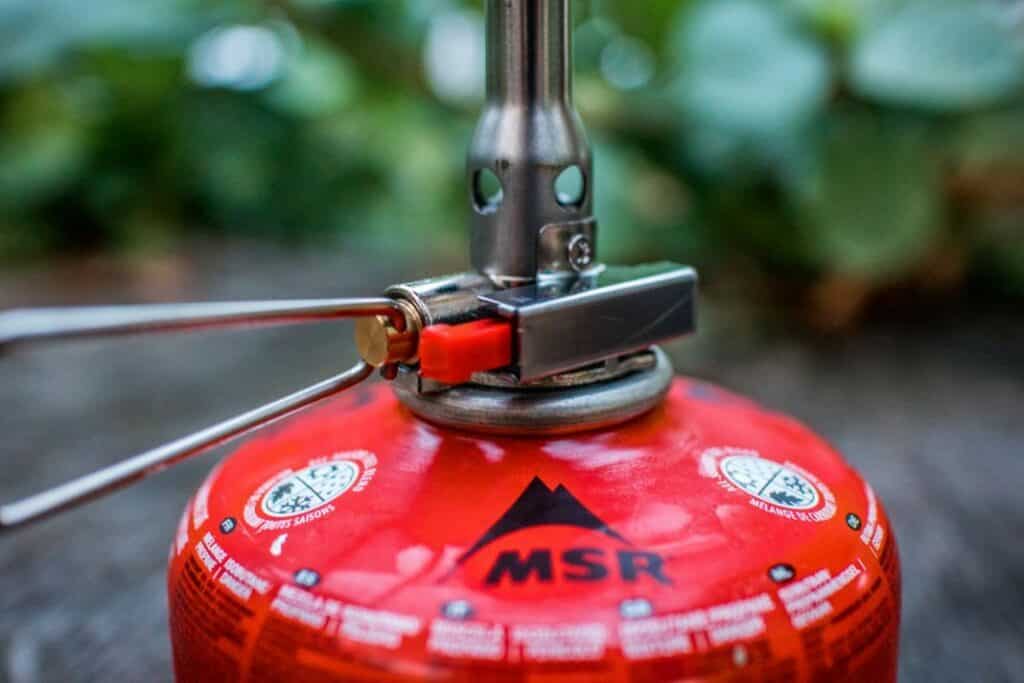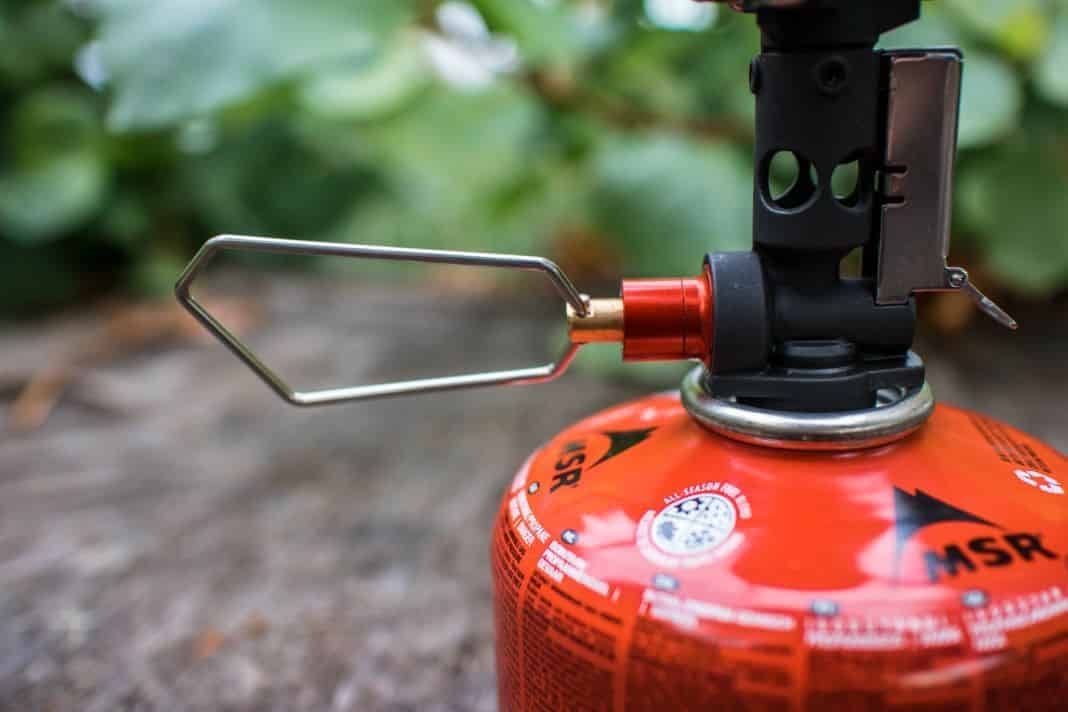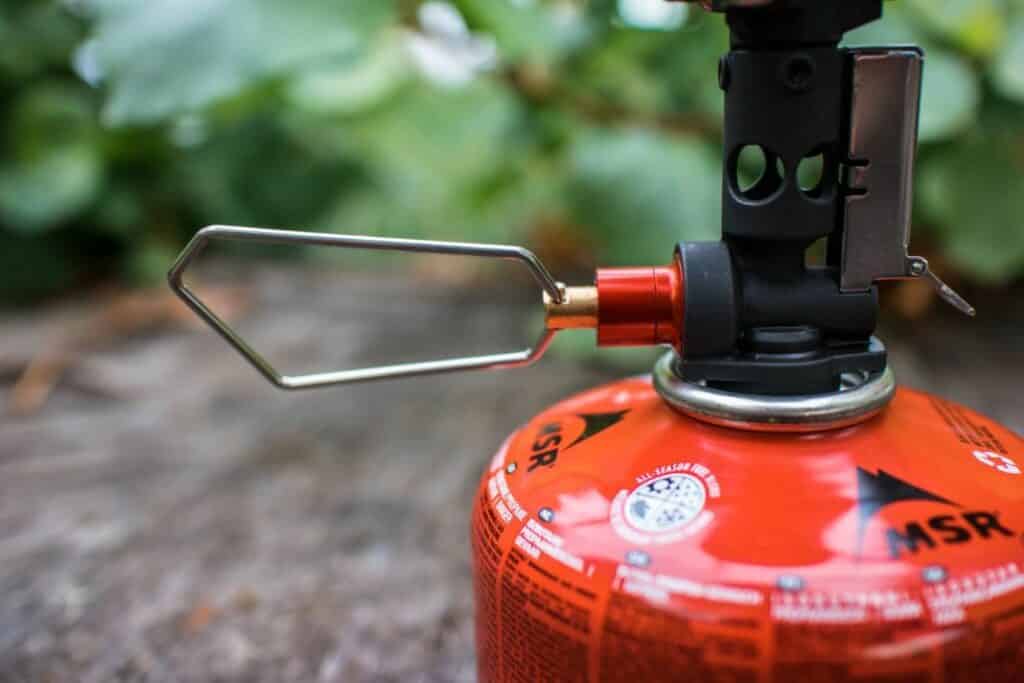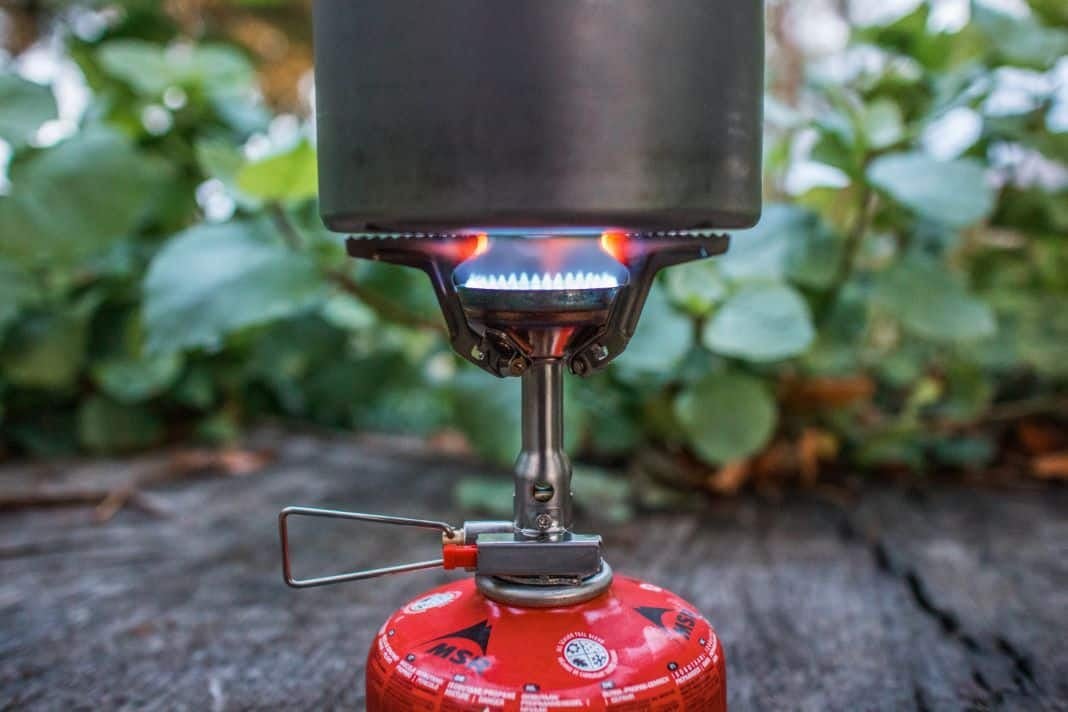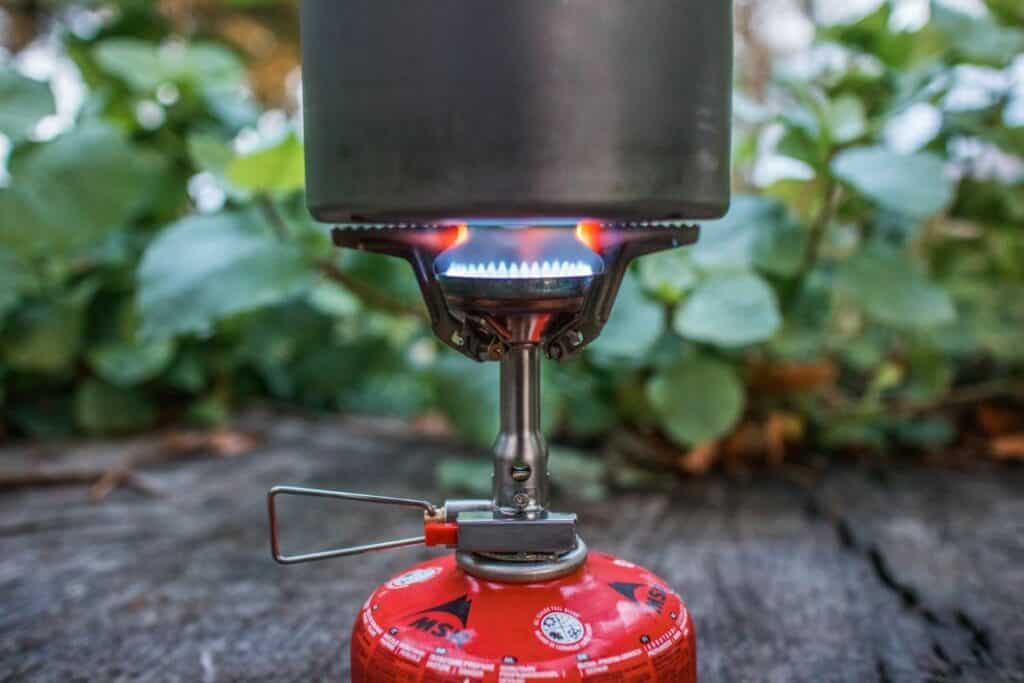 Stability
The Soto Amicus has four arms as a pot support. At first, these arms seem filigree and do not inspire confidence.
For transport, the headrests are folded down and the Amicus is then particularly small. If you want to use them, fold the pot supports upwards within seconds and they hold there securely and firmly. Nothing with filigree! The span of the arms is the still relatively small: XXX cm are it.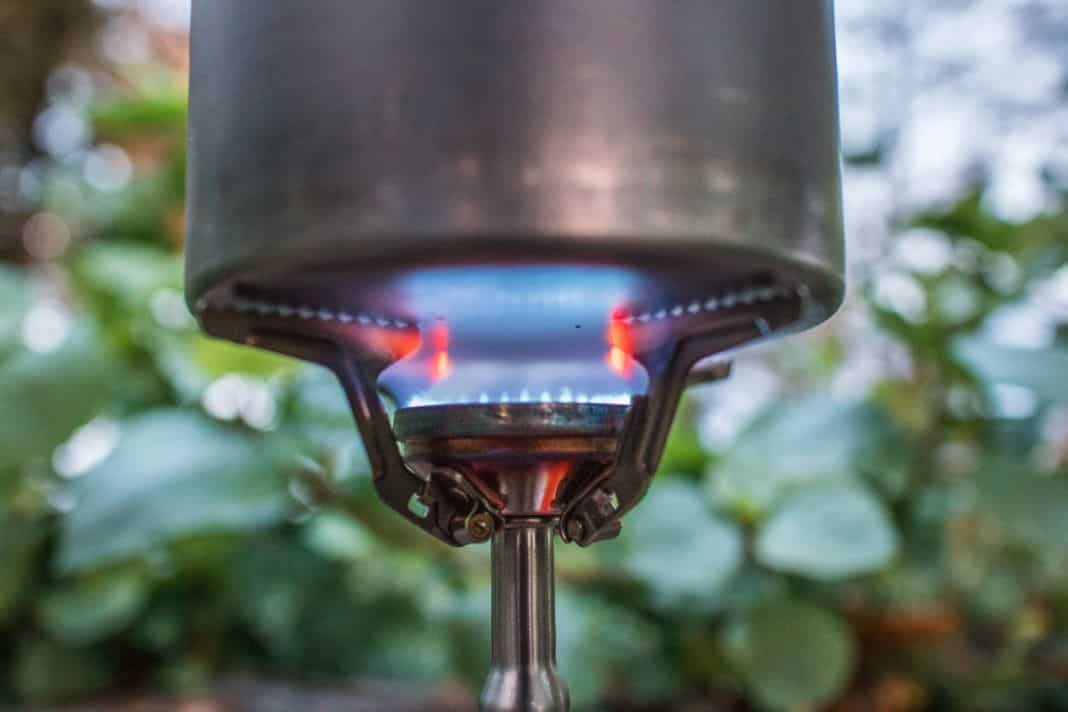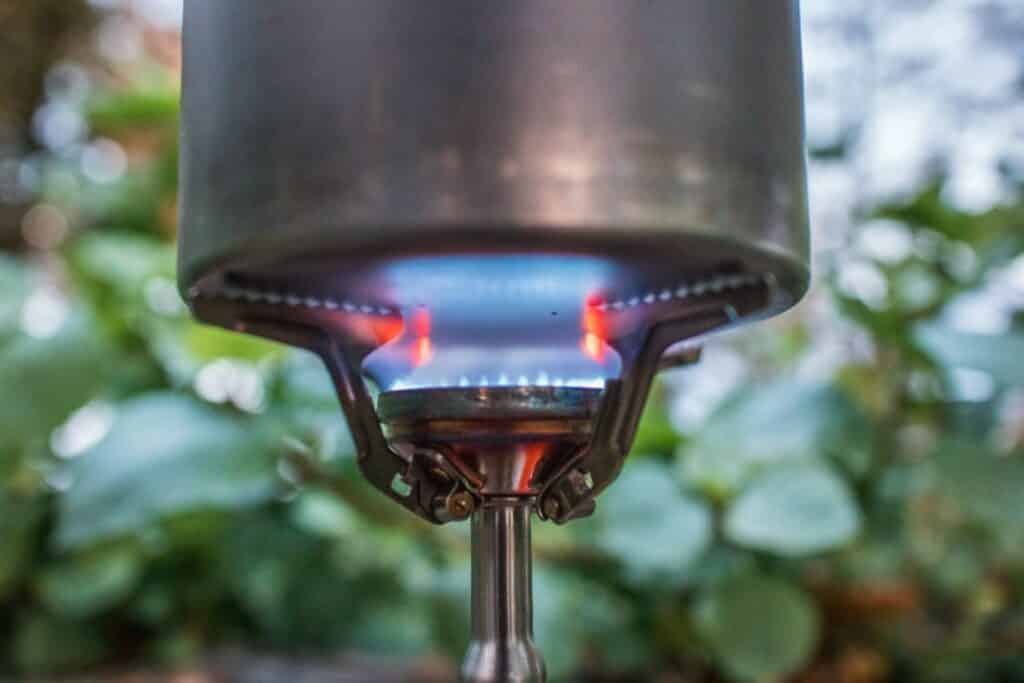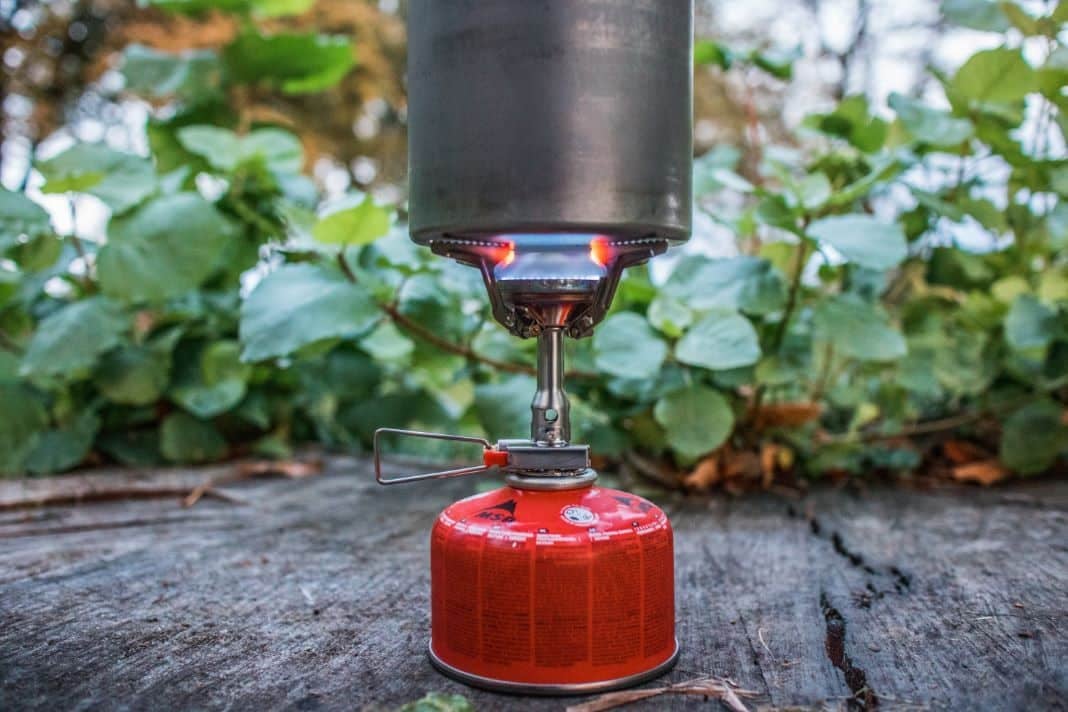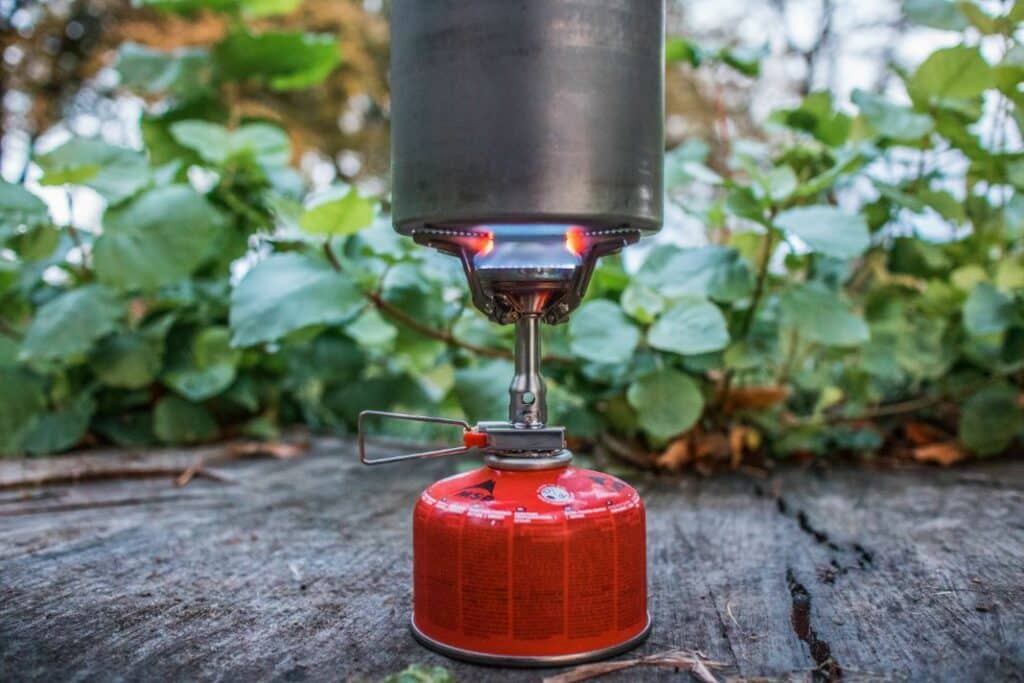 Small to medium pots will certainly fit on the Soto Amicus. And they can also be heavy: SOTO specifies a weight of the pots of up to XXX kilos.
For larger pots, we recommend another stove from Soto: the Soto windmaster.
This makes the Soto Amicus ideal for cooking for 1 to 2 people. Typically, a mini gas stove of this class is used to make fresh coffee in the morning or water for one or more trekking meals.
Gas consumption & Efficiency
SOTO quotes the power as 3260 watts. A burn time of 1.5 hours should be possible with a 250 gram gas cartridge according to SOTO.
In practice, the SOTO Amicus can bring a liter of water to a boil within approximately 4 minutes. I also reweighed the amount of gas consumed: about 3 grams of gas are consumed per minute. This is quite an expected value for an outdoor gas stove.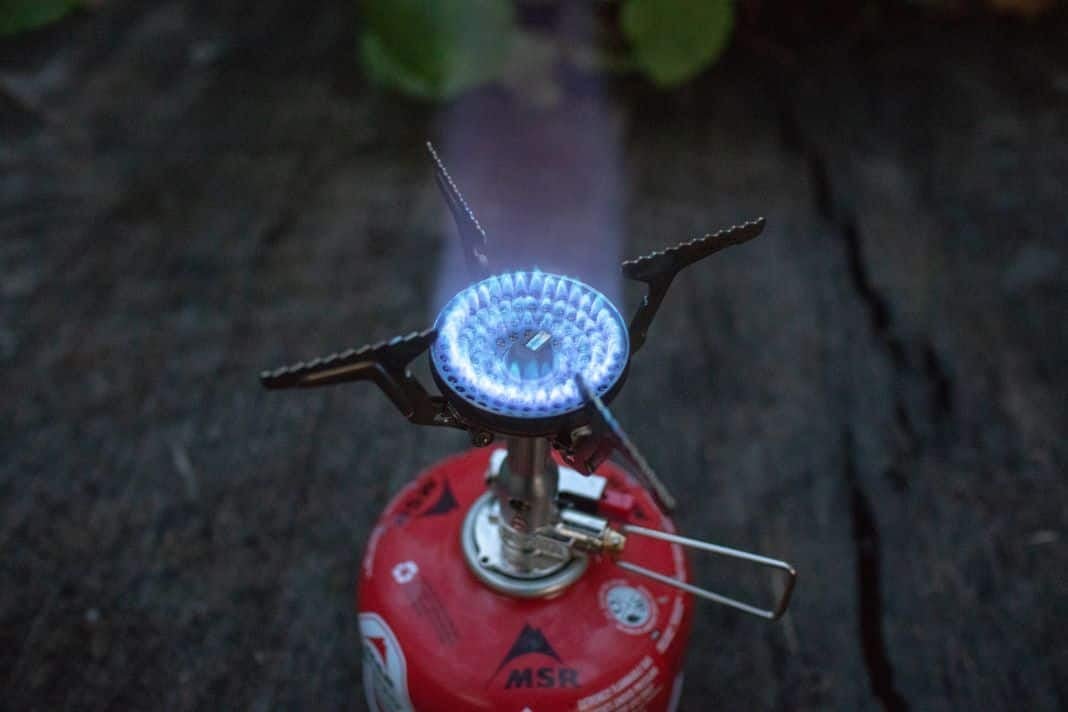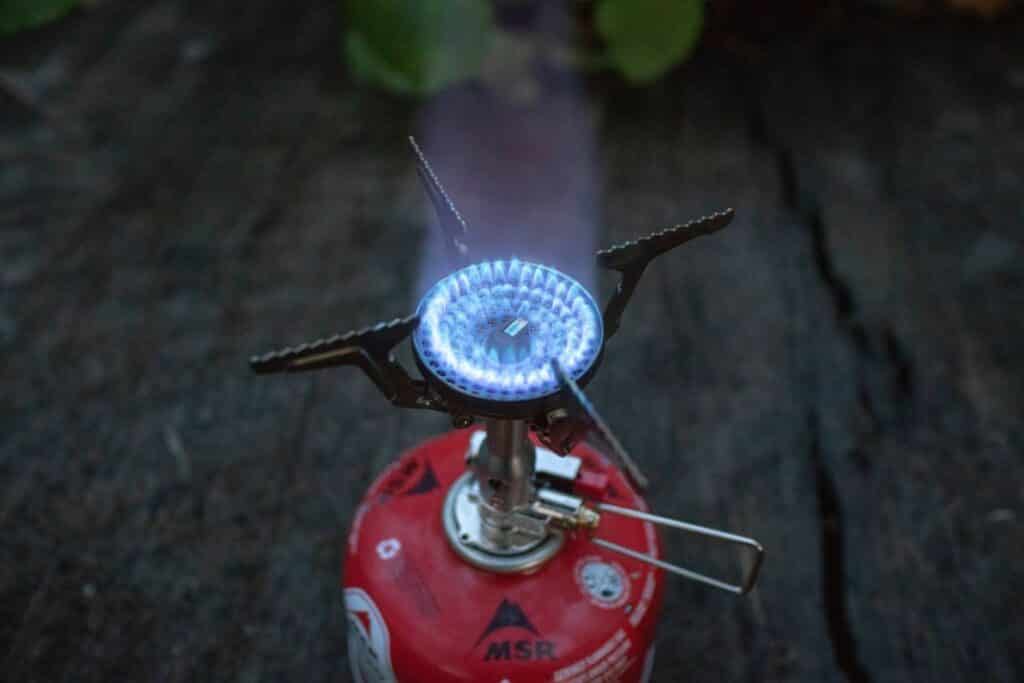 When bikepacking or ultralight hiking, you typically have a 100ml gas cartridge with you. If we assume the determined practical value of 3 grams of gas per minute at full cooking power, then you can cook for about half an hour at full power with the SOTO Amicus.
Wind susceptibility
Especially under extreme conditions the SOTO Amicus can show its strengths. Conventional gas stoves have to forfeit much of their efficiency in crosswinds.
The SOTO Amicus quickly brings the water in the boiling pot to a boil, even with a crosswind.
To increase wind resistance, SOTO relies on two measures:
Integrated windbreak: a raised edge is attached to the firing head. Thanks to these wind protection edges, side winds can hardly harm the burning head. Conventional gas cookers require an extra windbreak to be taken along and set up. Very practical that and the windshield is already built in here. It works really well too.
Little surface for the wind to attack: the firing head itself is recessed slightly inwards into the housing. This makes it even harder for wind to reach.
These two measures have a great impact. While you have to take an extra windbreak with conventional gas stoves, this is already integrated in the SOTO Amicus. Cooking in crosswinds works beautifully with the Soto Amicus. In terms of wind resistance, the SOTO Amicus leaves hardly anything to be desired. There is no need for an extra windbreak. This means that you can continue to pack in a minimalist way: pack size and weight remain small and light.
Other gas stoves with integrated windbreaks are the SOTO Windmaster and the MSR Pocket Rocket Deluxe. Wind resistance is at a similar level. However, these outdoor gas stoves are larger and heavier than the Soto Amicus. For true minimalists, the Amicus is the stove of choice.
Transport
The four pot arms can be folded down for transport. That's inside that only takes a few seconds. Then the Soto Amicus has the tiny transport size of 4 x 4 x 8 cm.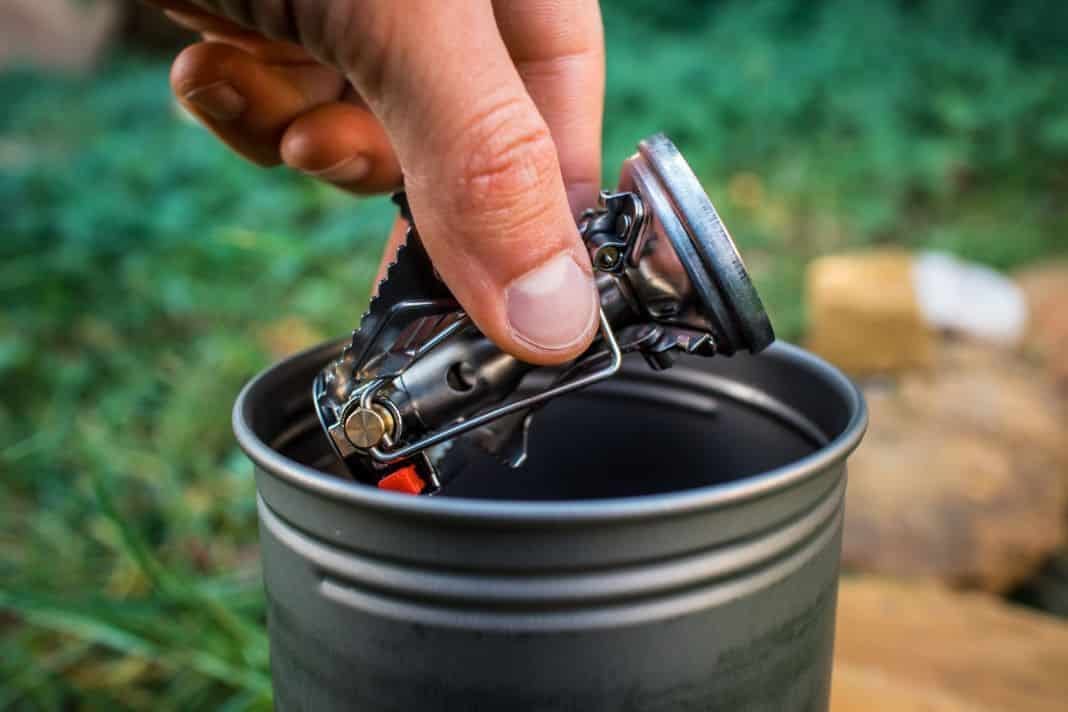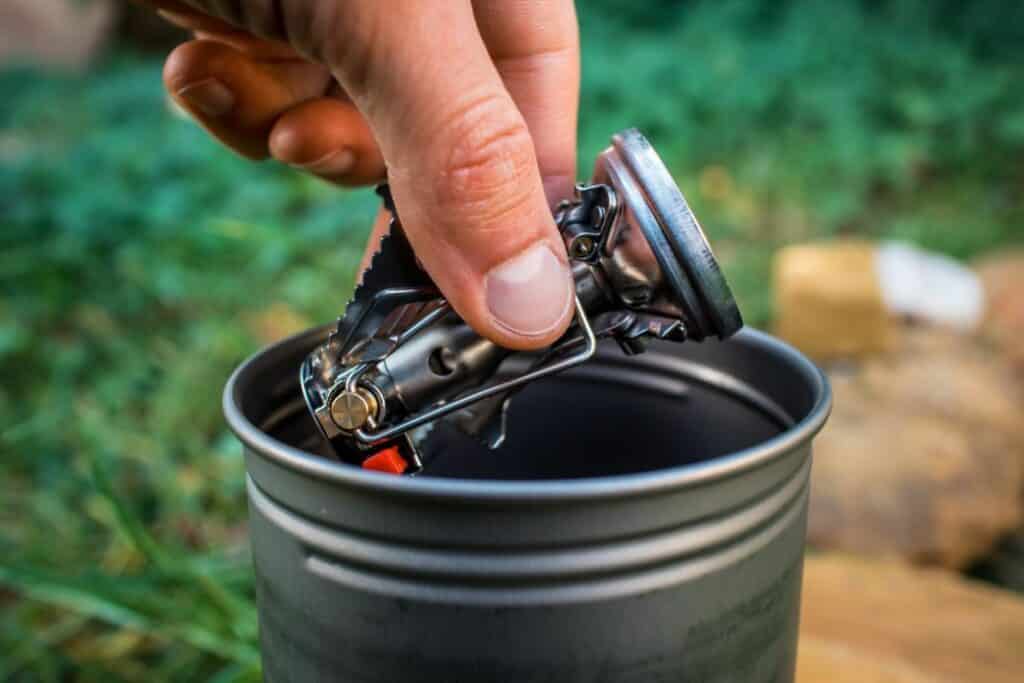 If you have used the mini gas cooker before, you should of course let it cool down.
For the transport you can use the small transport bag from the scope of delivery. Then the rest of the equipment stays clean and the Soto Amicus does not get scratched.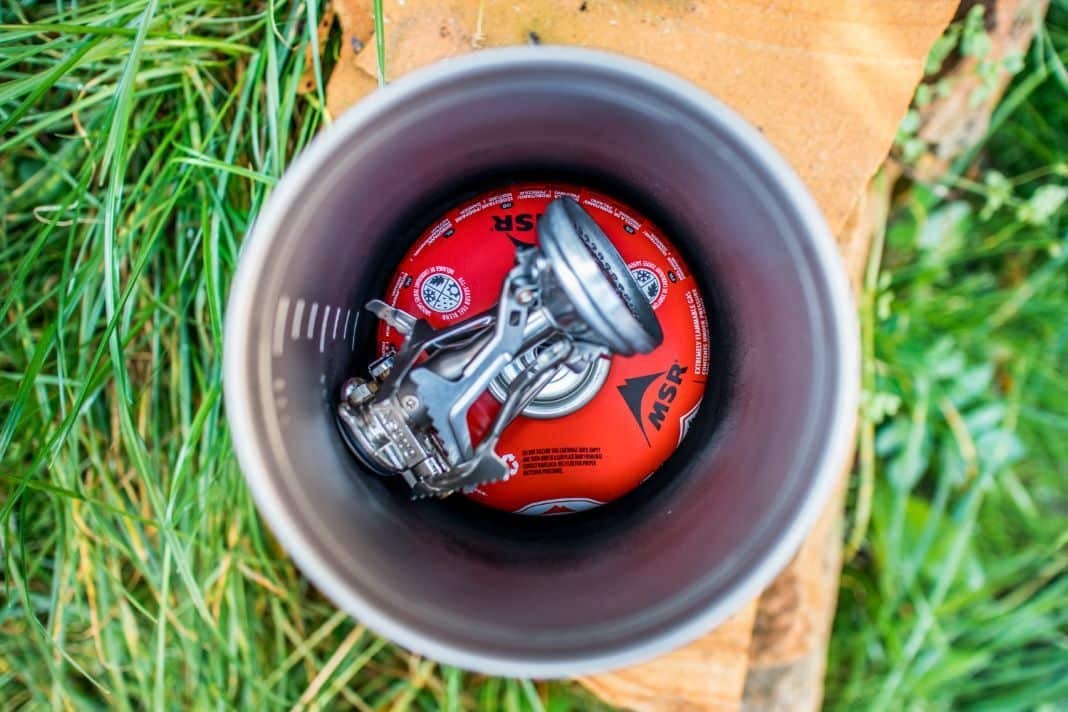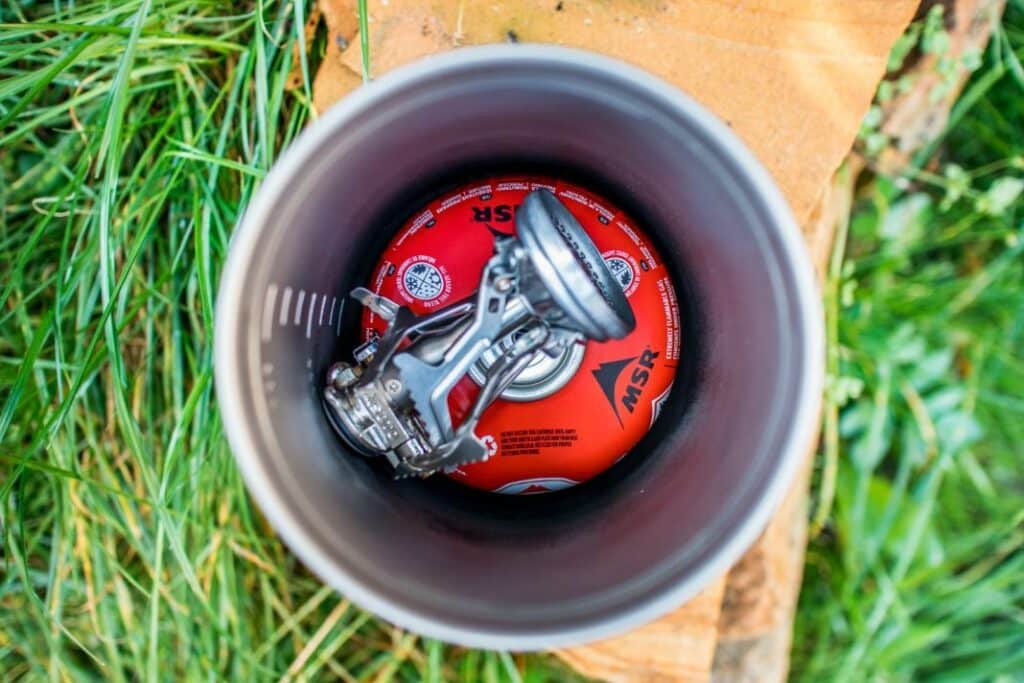 The mini camping stove could easily disappear into a trouser pocket. For ultralight hiking or bikepacking, it's best hiked into a backpack or bikepacking bag.
Along with a 100ml gas cartridge, it will also fit in one in a 650ml or 750ml titanium cup. This is then particularly space-saving and you have the complete cooking equipment nicely integrated.
Comparison and difference: SOTO Amicus vs SOTO Windmaster
What are the similarities and differences between SOTO Amicus and SOTO Windmaster?
Common ground
High wind resistance: Both stoves have a wind protection edge that is pulled upwards and a burner head that is recessed slightly downwards into the housing. As a result, both are very wind stable and perform strongly even in bad weather.
Integrated piezo ignition (optional): Both outdoor gas stoves are available with integrated piezo ignition and without piezo ignition. With the lighter you can start the fire on the gas cooker conveniently at the touch of a button. But the variant with piezo ignition is a few grams heavier. I always recommend an outdoor gas stove with integrated piezo ignition.
Differences
With the Soto Windmaster, especially the pot rests are very well made. This means that even large pots remain stable. The Soto Windmaster has real power when cooking
The biggest differences are in size and weight: The Soto Amicus is a true mini gas stove. It is one of the smallest and lightest gas stoves and also offers the above advantages. In contrast, the Soto Windmaster is slightly larger and still adds about 9 grams to the scale.
Wider flame: at the screw-on gas stove bring a lot of energy when cooking. The Amicus has a rather small burning head and therefore offers and releases the energy concentrated and centrally. Therefore, it is also more suitable for small pots suitable for small or medium pots. The Soto Windmaster has a larger firing head and can also heat large pots and can reliably heat small medium and also large pots.
Workmanship and stability: the Amicus seems delicate at first glance. The four pot holders, but then also hold heavy pots in clamp very reliably (Soto indicates up to 2kg which is a real hummer and he should also create). The Soto Windmaster is well manufactured all around and holds even large and heavy pots safely on the 3 or 4 pot arms (exchangeable).
SOTO Amicus experience and summary
A camping stove for minimalists is the Soto Amicus. For a warm coffee on the road or for a trekking meal, the stove is perfectly suitable.
Buy SOTO Amicus – yes or no?
For those who value smallest pack size and light weight, the SOTO Amicus is an excellent choice. If you also value weather resistance, then there is hardly any way around the Amicus: The combination of ultra-light, small and at the same time windproof camping stove is currently a rarity on the market.
You can expect an excellent stove – optionally even with piezo ignition for easy lighting. The Amicus is the right choice for you if you:
You would like to cook for one or two people on the road
Use small or medium pots for this
Not always the sun shines and the weather conditions can also be changeable
Angebot
* Werbung - Aktualisierung am 2023-12-09, Preis kann gestiegen sein, Als Amazon-Partner verdiene ich an qualifizierten Verkäufen, Bild:Amazon
Good
Very small & lightweight
✅ Strong performance
✅ Integrated windbreak: thus also useful in windy conditions
✅ Available with and without piezo ignition
✅ Cheap
Bad
❌ Flame is narrow and focused on and in the center.
Alternatives to the SOTO Amicus
MSR Pocket Rocket 2
Angebot
MSR Pocket Rocket 2 - Mini outdoor gas stove*.
Der Kocher MSR PocketRocket 2 der nächsten Generation ist die logische Weiterentwicklung eines bereits erfolgreichen Kochers. Leichter, kleiner, vielseitiger.
Leichter: Bei nur 73 g (2,6 oz) fällt der Kocher beim Gepäck kaum ins Gewicht
20 % kompakter: Dank der neuen Klappfunktion ist dieser Kocher so klein, dass er in einen Titan Becher von MSR passt
* Werbung - Aktualisierung am 2023-12-09, Preis kann gestiegen sein, Als Amazon-Partner verdiene ich an qualifizierten Verkäufen, Bild:Amazon
To the detailed MSR Pocket Rocket 2 field test (test & experiences)
SOTO Windmaster
* Werbung - Aktualisierung am 2023-12-09, Preis kann gestiegen sein, Als Amazon-Partner verdiene ich an qualifizierten Verkäufen, Bild:Amazon
To the detailed SOTO Windmaster field test (test & experiences)
What do you think of the SOTO Amicus? Do you have any questions? Feel free to write me your comment