Here's the tried-and-true – and complete – bikepacking packing list for your adventure!
✅ Nothing more forgotten, thanks to my packing list
✅ Perfectly matched gear for bikepacking and (minimalist) bike travel and as a bike tour packing list.
✅ UPDATE: The packing list is still current in 2020 and I still use it as a base for all my trips
With all the equipment you need for a bike trip or bikepacking tour. The list has proven itself in practice, and I've tweaked and adjusted it over time. You will find in this list an overview of everything necessary for a bikepacking tour. You will find detailed tips, for each category. With this you can then decide whether the presented bikepacking packing list also suits you! Also suitable for bikepacking beginners.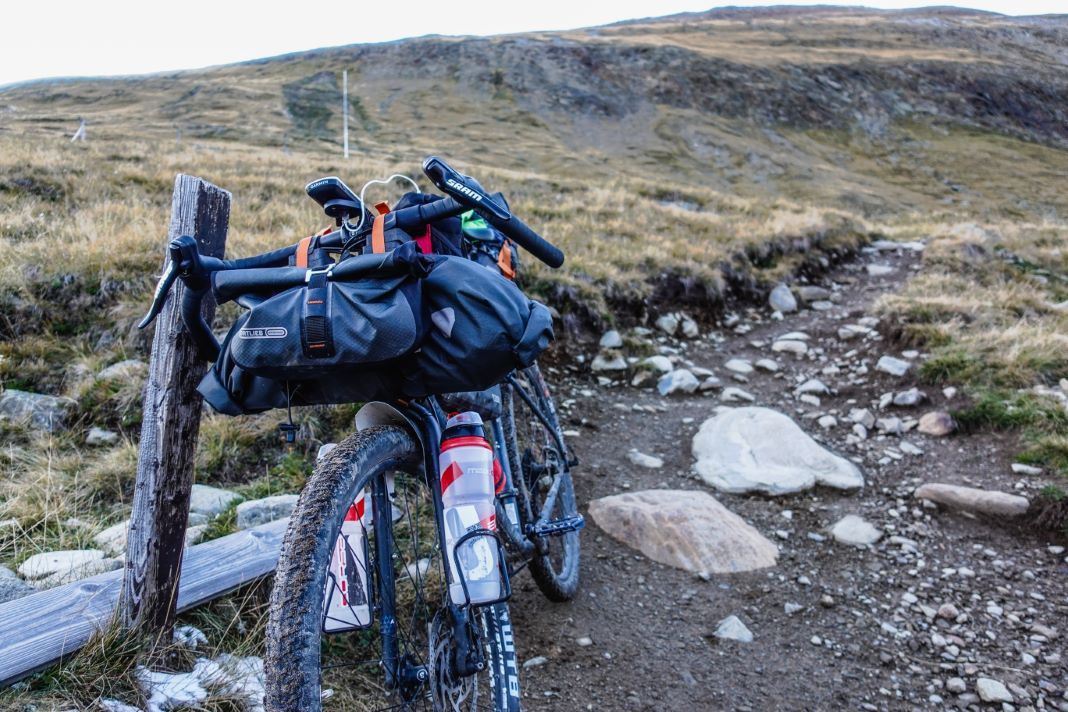 With this list we follow the motto "As much as necessary, as little as possible". As I said: The equipment from this list has already proven itself on many of my trips. For example on my tour from Stuttgart to Istanbul by bike or on my bikepacking adventure through Vietnam. I also had a very similar packing list at the 550Km bikepacking event Tuscany Trail (Official Site) through Italy.
Much of the equipment you can simply order online – very convenient. This saves you time and money when preparing your trip.
Bikepacking packing list – Everything you need
Here is my tried and true bikepacking packing list:
For a bikepacking tour of 1 to 4 weeks, the packing list has everything you need – not too much and not too little. That's a trip length that most probably plan on for their bikepacking bike trip. You are a bikepacking beginner? Then get the basics together first, do an overnighter and adjust your gear accordingly.
So you'll find a comfort item or two on this list as well. You can then decide for yourself what is important to you and what you do not need.
Any questions, just drop me a line in the comments – and now let's get started:
Bikepacking bags
The bikepacking bags have been with me for more than 2 1/2 years. All links lead directly to Idealo price comparison or to the shop of ROSE:
I'm totally sold on the aforementioned Ortlieb, Revelat Designs, and Salsa Bikepacking bags! The bags are very reliable so far, keep stable on the bike and have never let me down. You want to know more about the Ortlieb Bikepacking bags? Then read my detailed Ortlieb Bikepacking bags practical test (test & experiences).
[wpsm_comparison_table id="3″ class=""]
I have bottle cages attached to the fork most of the time and I carry my drone in the backpack. If you don't have a drone or other luxury items with you, then all the items from the bikepacking packing list will fit completely into the bikepacking bags. You don't need a backpack then!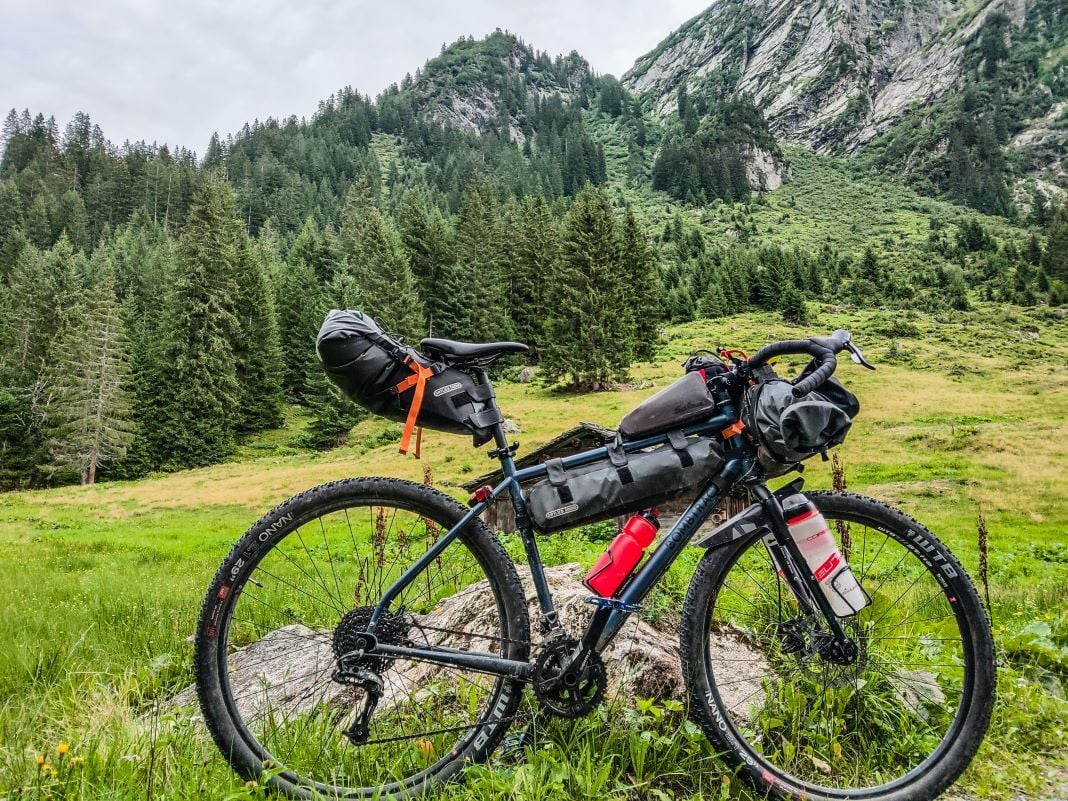 Of course, I've also put together all the other categories of the bikepacking gear packing list for you. Just read on here 😉 All links lead directly to Amazon or Decathlon*:
Camping
I've been using my camping gear very heavily for over 2 1/2 years and it has never let me down. No matter if Turkey in summer at more than 40 degrees or Alps in October at temperatures below freezing point (at night)! I'm fully convinced of the bikepacking gear listed below, which is lightweight (and close to ultralight) while still providing almost every comfort imaginable on tours.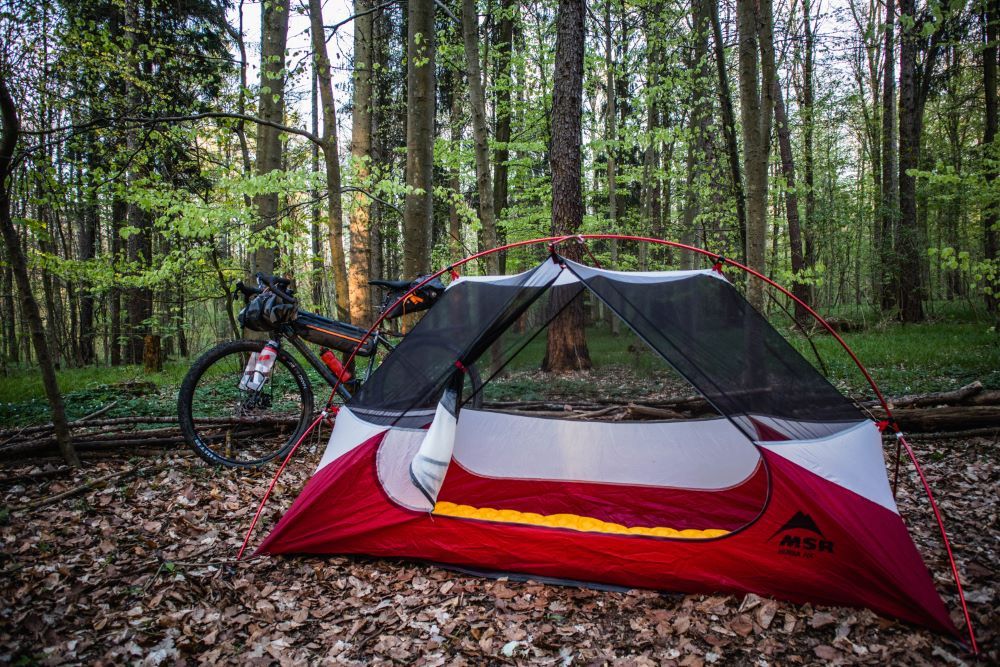 I get along great with the sleeping bag up to about 5 degrees and stay nice and warm at night. If the temperatures drop below 5 degrees, I also take the fleece inner sleeping bag with me. When the fleece inlay is on tour with me, I usually leave one of two merino wool shirts at home.
Even with the fleece inner sleeping bag, all your bikepacking gear fits in the bikepacking bags – you don't need a backpack! With one less merino wool shirt, the fleece inlay fits nicely in the bikepacking saddlebag from Ortlieb ( Extensive review | Idealo price comparison*).
The complete camping gear is stowed in my bikepacking teacher roll from Ortlieb: The Ortlieb Handlebar-Pack M ( Extensive review | Idealo price comparison*).
Clothes (On the bike) – Bikepacking equipment
For multi-day tours I attach great importance to natural fiber. Hardly any other fiber absorbs odors as well as merino wool and therefore both the short and the long shirts are made of merino. Even after several days of sweaty riding, the tops don't start to stink.

Merino wool is usually very expensive – luckily I found the shirts linked below at Decathlon a few years ago and still wear them.
My "on the bike" bikepacking gear doesn't differ much in summer from winter. In winter, I often leave the socks linked above at home and pack an extra pair of the under "off the bike" merino hiking socks instead. These merino socks are some of the warmest, I know. Tip: I also like to wear them at home in the winter. The warmth provided makes them super comfortable.
Clothes (Off the bike) – Bikepacking packing list
The clothes for the night and for activities without a bike are also made of merino wool for me. The reason is again the same: The clothes can not be washed for a very long time, without smelling. The linked multifunction trekking pants are either long or short pants. Thanks to the many pockets it is very functional and you can also wear them as sleeping pants very well and comfortable.
The linked down jacket is cheap and absolutely necessary for me. I have also had them on many tours in midsummer and was often glad to have this great jacket in the evening. Sometimes I wear them in my sleeping bag at night when the temperature drops below about 5 degrees and I don't have the Fleece inner sleeping bag* with me.
Tools and spare parts – Bikepacking equipment list
What is really useful bike tools? What tools should you really take on bike tour and bikepacking? The following tools I always have with me: Whether multi-day bike tour or 1, 2, 3 weeks: There are absolutely necessary tools such as a reliable air pump or sturdy tire levers.
In the video above I show again the tools of my bikepacking packing list. All tools find room in the Ortlieb Frame-Pack ( Extensive review | Idealo price comparison* ).
Electronics and other
The bikepacking gear in this section is in part absolutely essential:A decent set of lights is something every cyclist should have with them for their own safety. Probably almost everyone has a smartphone with them these days too, so they need either a charger and/or a powerbank.
Especially I'm very excited about my charger and powerbank: Both devices have 3x ports and so I can keep power charging breaks to a minimum.
The power from the powerbank lasts me a full 2 days. Please note: I often still a drone (Parrot Anafi) with in my backpack and film a lot with my GoPro. If you do without this additional technology, then the powerbank should last about 3 days.
For tours where no recharging option is available for some time, a Reliable solar panel (Anker PowerPort Solar Charger 21W)*. is a good idea. The panel then goes either in the saddle bag or a full frame bag.
Kitchen
On most of my tours I leave this bikepacking gear at home. Most of the time I just carry my Titan Spork from Snow Peak. In the evening we have something cold to eat. I'll gladly take that luxury sacrifice and save weight and space for it.
You are on tour for a longer time and want to cook on the road? Then check out the gear below. It's compact and super lightweight. Best of all, the complete kitchen fits in a full-frame bag: the cookware fits almost completely in the cooking pot and weighs only a few hundred grams.
Wash bag and first aid
I stow the bikepacking gear from the body care, hygiene, and protection items in a small zip-lock plastic bag. This then goes into the saddlebag.
The towel linked below is super small and all the more practical. How much first aid equipment I take with me always depends on the tour: If I expect a lot of civilization on the tour, then I a few plasters, disinfectant and a simple bandage. If the tour goes through remote areas, then the set is more lush. Anyway, the linked set is a super base and I love the plastic bag that comes with it: it's small and closes cleanly.
Special: Equipment for special destinations
I count the following items as special bikepacking equipment. If I probably can't organize power for several days, I usually have the solar panel with me. I had the water filter with me on my Vietnam trip, but I didn't need it there. He will probably stay at home on most trips in the future. I carry the mosquito net with me when traveling in malaria areas.
I sometimes use the neoprene overshoes for the handlebars and the shoes in winter and I can highly recommend both.
You have questions or comments about the bikepacking packing list? To the bikepacking bags or to another item? Dann schreib mir gerne einen Kommentar.