What is bikepacking?
What is bikepacking? Quite simply: the new kind of spontaneous bike tour! The fun of riding a light bike is combined with the fascination of bicycle travel.
This form of bicycle travel enjoys great popularity, especially in the USA, and is also gradually finding more and more fans in Germany.
For the long distance mountain bike races held there, it is necessary to carry camping equipment and spare parts on the bike. The distances between the individual cities and checkpoints in these races are too great to be covered in one day.
In the beginning, the participants constructed their own bags. Gradually, specialized manufactures emerged that produced bikepacking bags and equipment, and now even large manufacturers like Ortlieb have bikepacking bags in their range.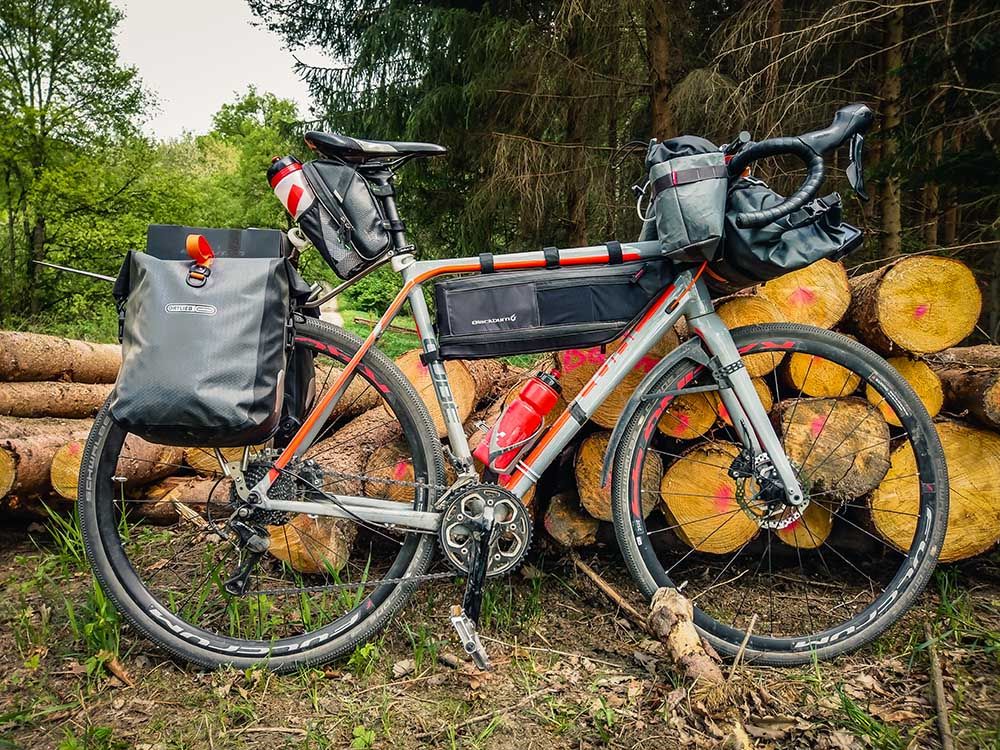 But what is bikepacking exactly?
The term means cycling tours with minimalist luggage. The low load opens up a whole new range of possibilities: The bike remains light and agile.
This also allows touring in rough terrain, on dirt tracks, dirt roads or singletrack. You can leave the beaten track and experience pure adventure!
Most of the time, the bike itself serves as the rack – so there is no rack attached or you only have very minimalist bags on the rack. The term borrows from "backpacking", where you travel light and put your lightweight gear in a backpack.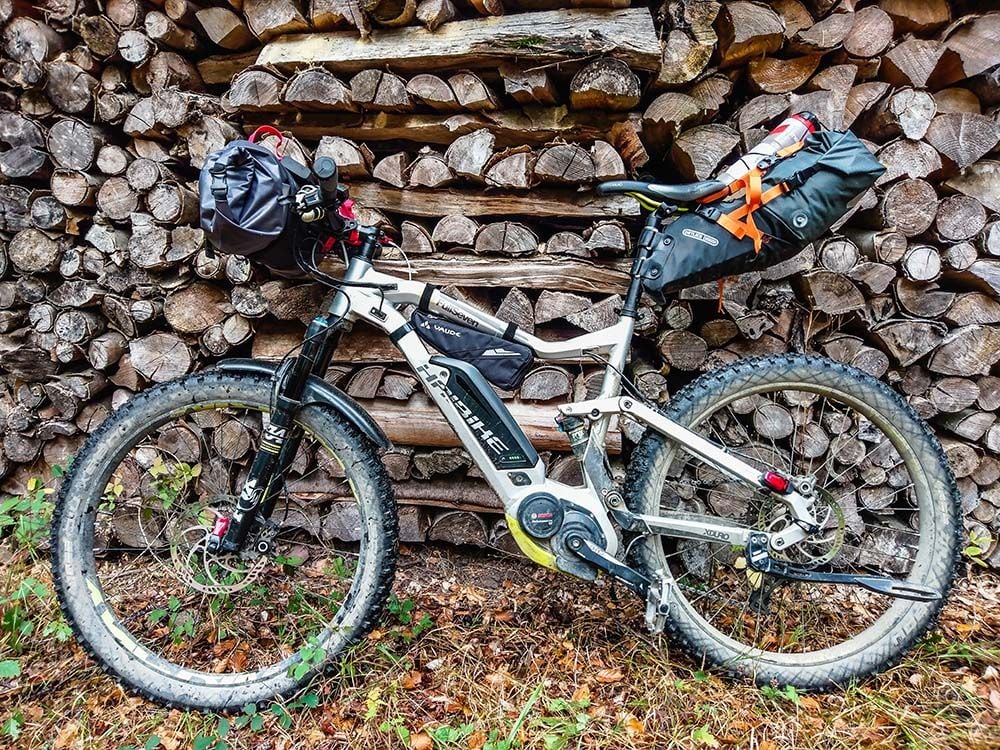 As bikepacking becomes more and more popular, a large number of these "backpacks for bikes" or bikepacking bags for short are now also available for bikes.
Bikepacking advantages
The advantages of bikepacking are obvious: the minimalist luggage keeps the bike light and agile. You can:
Cover greater distances
You are also lively off-road and have a lot of fun on the road
or simply ride your usual tours – but now more carefree thanks to less luggage.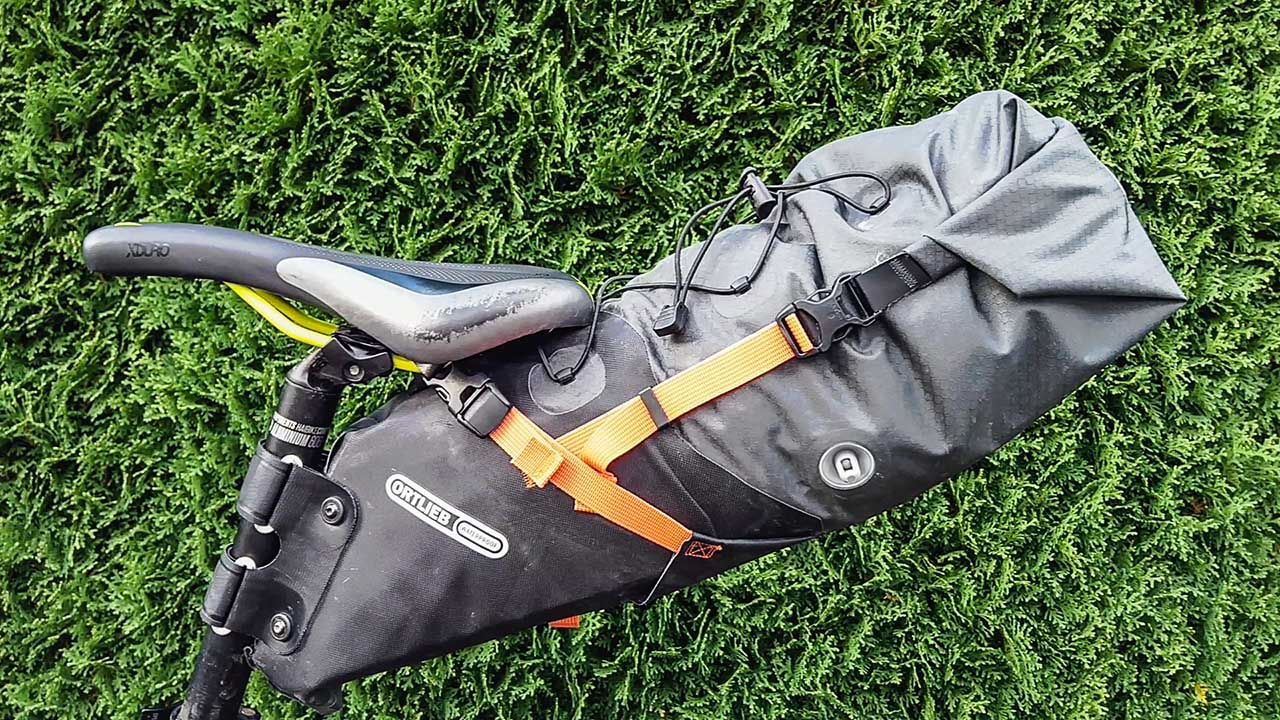 Bikepacking equipment
Click here for a detailed list of all bikepacking bags.
The good news is that bikepacking bags used to be custom made only by enthusiasts. In the meantime, even large companies have discovered bikepacking for themselves.
The German market leader in waterproof panniers, Ortlieb, produces the following bikepacking bags, for example:
Ortlieb Bikepacking bags
Frame-Pack frame bag and Frame-Pack Toptube frame bag
Handlebar-Pack S and M handlebar bag
Accessory Pack handlebar bag extension
Cockpit-Pack top tube bag
All bags Ortlieb Bikepacking bags I have already subjected to a long-term test
Furthermore, there are numerous other manufacturers – some of which are specifically focused on bikepacking equipment:
Revelate Designs
Blackburn
Salsa
Topeak
Merida
Lezyne
Birzman
Vaude
Bikepacking bikes
In this article you will learn which bike is suitable for bikepacking.
In principle you can pack your bike with your favourite bike. Which bike and which packing strategy you choose depends on the following:
The type of tour: If you ride a lot on asphalt, then a road bike or cyclocross bike might be a good choice for bikepacking. If you ride a lot on trails and in the forest, then a MTB is more likely.
The length of your tour: Are you going for a short overnighter or do you want your tour to last longer? This determines how much luggage you take with you.
The article which bike for bikepacking will help you to choose the right bike for your tour.
Bikepacking Tours
I've put together a selection of recommended bikepacking routes and tours for you here. Some of them I have driven myself. Others of them are very popular on the internet.
When it comes to tour length, anything is conceivable when bikepacking:
Ideal for overnighters and microadventures: tours where you start with your bike in the wilderness and return home the next day – in between you spend the night in nature.
Weekend trips or two-week tours: This tour length is predestined for bikepacking. The equipment you need for this length of tour fits perfectly into your bikepacking bags.
Bike World Tour: There are also cyclists who do whole bike world tours with bikepacking setup – With the right packing technique almost everything is possible. If you are planning a round the world trip by bike and use bikepacking bags then you should plan carefully beforehand.
The important thing, as so often, is that you start: So get on your bike and experience your first bikepacking adventure.