Taking your bike on the plane: There is a lot to consider. Transporting a bicycle on a plane is always time-consuming: With the right tips, the bicycle transport by plane works right the first time.
Proven experiences from numerous flights with the bike I have written together for you. Through conscientious and extensive research, the article has been expanded to include airline regulations. This article is a complete guide that gets to the heart of everything important.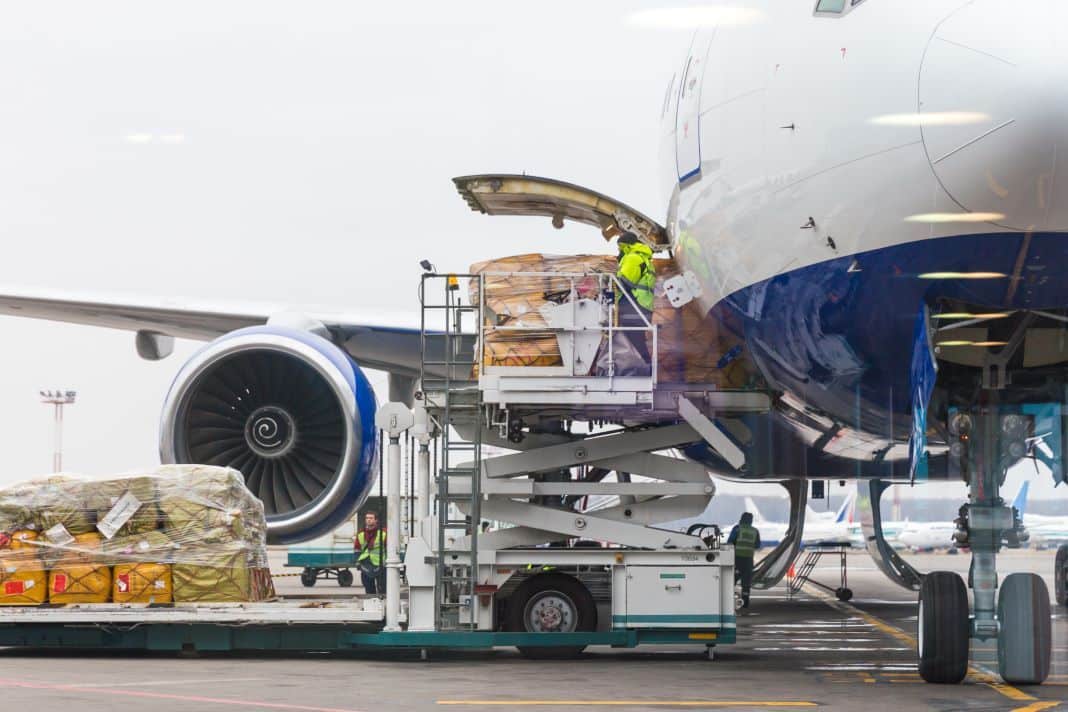 You can find out everything about bikes on planes in the article:
✅ What costs should I expect with the airlines?
✅ What to look out for when dismantling a bike & what tools are needed?
✅ Comprehensive Cost Directory of Airlines and Airline Regulations
✅ How do I pack my bike properly for the flight: box, bag, suitcase?
✅ More proven tips and tricks from the field.
You're brand new to the subject? Then you can easily read the article from cover to cover and be well informed. Alternatively, jump to the appropriate section using the table of contents.
Feel free to drop me your blog comment if you have any other questions or tips of your own. I like to answer 😉
Properly Pack & Protect Bicycle
You will read it more often: The rules of the airlines differ sometimes strongly! You should follow these general tips with almost every airline if you want to take your bike on the plane:
Unscrew pedals or alternatively turn inwards
Move the handlebars crosswise: Unscrew handlebar or handlebar and stem and attach to frame
Lower the tyre pressure or let the air out of the tyres completely.
Dismounting the front wheel
Remove the bicycle saddle or move it to the lowest position
In any case, you should take the appropriate bike tools with you: You will need the tools for assembling the bike on arrival and for disassembling it before departure.
Practical tip: already use the tool you have with you when you disassemble the bike at home. You can probably disassemble almost the entire wheel with your multitool. Some parts of the bicycle are difficult to access or the disassembly requires a lot of effort (e.g. bicycle pedals). For these bolts, pack the appropriate allen wrenches or other bike tools.
Crankbrothers M19 bike multitool test winner
Weight: 175 grams
Dimensions: 9 x 4.7 x 2 cm
Number of functions: 19
Chain rivet: compatible with 8, 9, 10, 11 and 12 gears
Allen key (hexagon socket wrench): 2, 2.5, 3, 4, 5, 6, 8
Open-end wrench (spanner): 8mm, 10mm
Phillips screwdriver: #1, #2
Slotted screwdriver (Philips): flat #2
Spoke tensioner: #0, 1, 2, 3
Torx: T-10, T-25
Special features: Metal case for storage
* Werbung - Aktualisierung am 2023-05-29, Preis kann gestiegen sein, Als Amazon-Partner verdiene ich an qualifizierten Verkäufen, Bild:Amazon
Reading tip: Go to the detailed Crankbrothers M19 field test (test & experiences).
Reading tip: Go to the detailed Bicycle multitool test.
Caution: the tool is not allowed in the hand luggage. Otherwise, at check-in security, they'll probably take it from you. Therefore, store the tools in the bike case or directly on the bike, e.g. in a bikepacking frame bag.
Airlines: costs and regulations
Be sure to research the baggage policies of your preferred airline. This way you avoid unpleasant surprises at check-in. e.g. possibly it could become very expensive excess baggage or your wheel is not taken at all.
The regulations of the airlines sometimes differ greatly and are difficult to understand.
Observe guidelines and regulations
Different rules apply to baggage allowance: the weight differs. With some airlines the bicycle counts as checked baggage and is therefore included in the ticket price, with most airlines the bicycle is special baggage, sports baggage, sports equipment and must be paid for separately. For intercontinental flights there is a charge of up to €250 per leg for sports baggage. Therefore, thorough research in advance is important. Most often, the length of the flight connection determines the fee: most airlines distinguish between the following flights: Domestic, Continental, Intercontinental
Example of different fees:
Bicycle transport with Lufthansa: free of charge within free baggage allowance, otherwise from €70, maximum 32 kg
Ryanair: not included in baggage allowance, from €60, maximum 30 kg.
Qatar Airways: included in baggage allowance, from $100 USD, from 30 kg max.
In particular, the crediting of the free baggage allowance sometimes brings a strong cost advantage. You should definitely look into these details! Carrying sports luggage with the weight and mass of a typical bicycle could otherwise be very expensive!
Using Qatar Airways as an example – Source: Excess baggage on Qatar Airways:
Carriage of sports baggage weighing up to 25 kg and with a maximum circumference of 217 cm U(L+W+H) within Europe. Cost: $750.
Maximum size and weight
There are also major differences between airlines in terms of permissible size and weight, and it is important to bear these in mind. If you exceed the maximum allowed weight and size, it will either be very expensive and or you will have to check in your bike as air freight. This then also has the same consequences: It becomes very expensive.
In general, the maximum permissible weight is between 24 kg and 32 kg.
The maximum permissible size (H x W x D) starts from 200 cm to 280 cm.
Practical tip: 24 kg of permissible weight for taking bicycles on board an aircraft can quickly become tight. If the Gravel Bike weighs e.g. already 12.5 kg and the bicycle bag 10 kilos, then the maximum weight is almost exhausted. In the case of heavier trekking bikes, transport is then only possible by dismantling the attachments.
Where to put the bike bags? One or two bicycle bags often still fit into the bicycle box, the bicycle bag or the bicycle case. Most of the time you need a second box for the bike bags because of space and weight reasons. Here you can expect costs of about 30 € per way – depending on the airline.
Costs for the airlines
For the most popular airlines, I've listed the fees for flying by bike in this section. You will also find out what weight and size limits apply and how to register your bike.
Air France

Registration:
For certain flights: registration via customer service at least 48 hours before departure.
Groups of 10 persons must always declare sports baggage
Cost:
40 € till 125 €
Weight:
23 kg or 32 kg in Business and La Première fares
Dimensions:
In certain aircraft, the cargo space is sufficient for a maximum length of 180 cm.
Height + width + depth: maximum 300 cm
Transport conditions & Special features:
Bicycle including folding bike is not part of the free baggage allowance and is therefore always considered as sports baggage
Fee paid at the airport
Air France sells bicycle boxes measuring 175 x 21.5 x 86 cm at most check-in counters.
E-bikes without battery can be taken along
Bicycle must be prepared for bicycle carriage on the aircraft as follows:
Remove or fold in pedals
Dismantle front wheel and attach to frame
Turn handlebar parallel to the frame
Pack bike in protective cardboard or hard plastic packaging – soft case bike case is not mentioned, but should work in practice.
Taking your bike on the plane: Rules for sports equipment and special baggage on Air France.
British Airways

Registration:
Registration by telephone is recommended at least 72 hours before departure.
Cost:
–
Weight:
–
Dimensions:
maximum 190 x 95 x 65 cm
Transport conditions & Special features:
Smaller British Airways aircraft have limited storage space. Therefore, the bike should be registered for the flight in advance
Bicycle can be carried as part of the checked baggage
Bike must be packed in bike box or bike case – British Airways website also mentions bike box, soft case and hard case bike case as transport options.
Personal belongings and clothes are not allowed in the bike box
Bicycle should be prepared as follows:
Lowering the tyre pressure is recommended
Attach the handlebar to the side of the frame
In the case of a bicycle box, soft case or similar non-rigid transport bag: remove the pedals or fold them inwards.
British Airways: take your bike on the plane – Luggage allowance and important baggage information.
Condor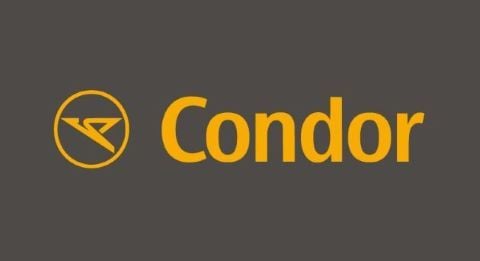 Registration:
Possible up to 8 hours before the flight. Included sports baggage in business class must also be registered at least 8 hours before departure. Bicycle transport with Condor: You can book additional sports luggage online under the menu item "Extras" or via the Condor Service Center (telephone hotline).
Cost:
Online: €44.99 to €69.99
At the airport: 120 € to 135 €
Business Class: included in the fare
Weight:
maximum 30 kg – more weight can be added according to the excess baggage tariff
Dimensions:
maximum length x width x height: 200 cm x 40 cm x 100 cm or
maximum length x width x height: 300 cm x 40 cm x 60 cm
Transport conditions & Special features:
Bicycle transport in the aircraft must be registered
E-bikes are not carried
Bicycle must be packed: Bike bags or bike cases are recommended
Condor regulations for sports baggage and special baggage – taking a bicycle on the plane
Easyjet

Registration:
Two ways to book a bike on the plane with Easyjet:
If booked via customer service team, at the airport or a travel agent: The bicycle is booked via the Easyjet customer service team (Easyjet Hotline)
When booked online directly on easyJet.com: Bicycle transport on Easyjet can be added in the booking process. Once the booking is complete, the bike can be added via a My easyJet Account: My Bookings > Click on Booking > View > Add Sports Equipment
Cost:
Online 49
At the airport 63
Weight:
maximum 32 kg
Dimensions:
not stated
Transport conditions & Special features when transporting bicycles by air:
Handlebars must be fixed parallel to the bicycle frame
Pedals must be dismantled or folded parallel to the frame
Transport packaging: bike box (probably bike box and bike case like a soft case or a hard case are ok) or a bike bag i.e. a simple bike bag
Only one bicycle is allowed per package
other objects are not allowed in the transport box
Bicycles with hydraulic suspension fork or hydraulic brakes are allowed
E-bikes are not allowed
Terms and conditions for taking a bicycle on board an Easyjet aircraft
Emirates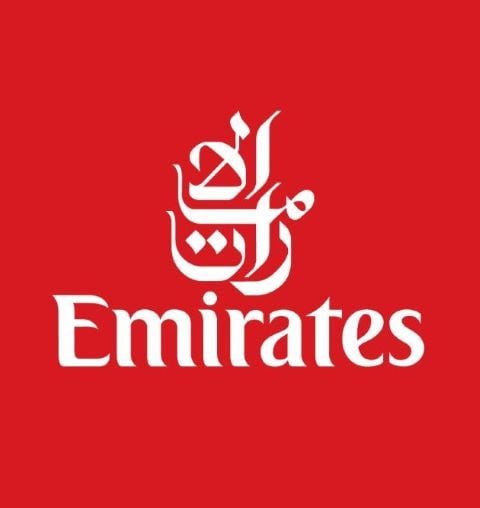 Registration:
At least 24 hours in advance
Cost:
–
Weight:
–
Dimensions for special luggage and bicycle transport in the aircraft:
maximum 300 cm (L x W x H)
if sports baggage exceeds the total mass, it must be sent as cargo and cannot be checked in as checked baggage
Transport conditions & Special features:
Sports luggage incl. Bicycles are accepted as part of the booked free baggage allowance
Dismount and turn the handlebars
Dismantle pedals
Emirates: Free baggage allowance for sports equipment – Bicycle transport on aircraft
Emirates: Special baggage, free baggage allowance and sports equipment
Iberia

Registration:
–
Cost:
From €45. May be carried as part of the free baggage allowance on long-haul flights
Weight for bicycle transport in the airplane:
maximum 23 kg at the normal luggage rate
If heavier: up to 32 kg. Each kilo over 23 kg costs €
up to 32 kg at excess baggage rate
Dimensions:
–
Transport conditions & Special features:
The following bicycles are transported: with only seat and without motor
E-bikes are not transported
Fold handlebars
Dismantle pedals
tyre deflated
properly packed: pack the bicycle in a box or bag for bicycle transport
At many airports packages with dimensions 131 x 72 x 21 cm (L x W x H) are sold for 20 €.
The special baggage subpage (link directly below) of Iberia lists airports with packaging sales
Particularly large sports equipment must be transported with Iberia Cargo
Special baggage and sports equipmentBicycles with Iberia – Bicycle transport by plane
KLM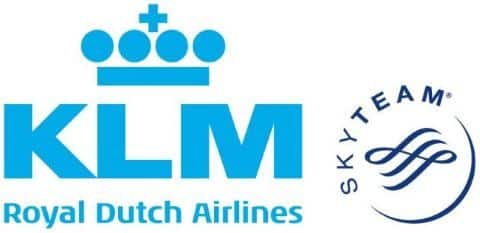 Registration:
As early as possible and at least 48 hours before departure. Online in the "My Travel" menu or by telephone at the KLM Customer Contact Centre (hotline). The dimensions and weight must be given to the hotline
Cost:
Price is variable and can be calculated exactly with the Luggage Calculator.
Weight:
maximum 23 kg
Dimensions:
maximum 176.5 x 23.0 x 101.5 cm (L x W x H)
Transport conditions & Special features:
Carried: Folding bike, bicycle and tandem
E-bikes are not carried
Transport container must be specially designed for bicycle transport. Called: Box, Container, Soft case with padding inside, Sleeve, Hard shell case
Pedals must be dismantled
further protruding parts must be removed
Handlebars must be placed parallel to the frame
Tyre pressure must be reduced
KLM bike boxes can be purchased for €20 at Amsterdam Schiphol Airport. KLM bike box data: 4.5 kg weight and mass within the maximum permitted dimensions
KLM Special Baggage Regulations – Carriage of bicycles on aircraft
Lufthansa

Registration:
Bicycles can be taken on board the aircraft via the Lufthansa Service Center (hotline) up to 24 hours before departure. It is best to take your bike with you on Lufthansa as early as possible.
Cost:
70 € till 250 €
Weight:
maximum 32 kg
Dimensions:
Maximum length: 315 cm – restricted by
Height + width + depth: maximum 280 cm for the bicycle at Lufthansa
Transport conditions & Special features:
Sports equipment or bicycle box should be marked inside and outside with name and telephone number
Sports baggage can be transported free of charge within the free baggage allowance. The number and weight of the baggage items of the booked travel class must be complied with
Bicycle must be packed in bicycle case or similar packaging
Packaging must be organised by the customer
Lufthansa regulations for sports baggage
Lufthansa sports equipment on Lufthansa flights – Bicycle transport in the aircraft
Norwegian

Registration:
Early booking of bicycle transport on the aircraft is recommended. Sports baggage must be handed in at least one hour before departure
Cost:
from 52 € for online booking
from 60 € when booking at the airport
Weight:
maximum 25 kg
Dimensions:
maximum circumference: 300cm
maximum L x W x D: 250 x 79 x 112 cm
Transport conditions & Special features:
E-bikes are not transported
Bicycle case or hard case is recommended
Without bike case: Turn the bike around. What is probably meant is a handlebar turned 90 degrees. Remove pedals, deflate tyres, dismantle or cover parts.
No protective boxes are sold. Hard cases can be rented at certain airports
At Los Angeles (LAX) and Bangkok (BKK) airports, only bicycles are transported in hard cases or boxes. Bicycles in bags are not transported
Sports luggage with Norwegian for transporting bicycles on the plane
Qatar Airways

Registration:
–
Cost:
from USD 100
Sports baggage is accepted within the limits of the free baggage allowance booked
Weight:
2 x 23 kg or 1 x 30 kg – depending on route
Dimensions:
158 cm to 300 cm – depending on the distance
Transport conditions & Special features:
Bicycle must be packed in sturdy cardboard packaging. This must be suitable for bicycle transport
Air must be let out of tyres
Pedals must be dismantled
Handlebars must be transversely positioned and fixed
Qatar Airways baggage allowance
Special luggage and sports equipment with Qatar Airlines for bicycle transport in the aircraft
Ryanair

Registration:
Bicycles do not have to be registered when travelling by air. However, registration is recommended
Cost:
from 60 € when booking on Ryanair website
from 75 € when booking via hotline or at the airport
Weight:
maximum 30 kg
Dimensions:
maximum: 81 x 119 x 119 cm (H x W x D)
Transport conditions & Special features:
Bicycles are transported exclusively in a protective box or bag
Swiss

Registration:
Registration in advance necessary. Groups with a lot of sports equipment should call the Service Center (Hotline) in advance.
Cost:
from €80
Weight:
maximum 32 kg
Dimensions:
H x W x D: maximum 280 cm
Transport conditions & Special features:
A normal bicycle is transported
E-bikes are not transported
Cardboard boxes free of charge exclusively at Zurich and Geneva airports
Bicycles must be packed in a bicycle case or other suitable transport box.
Sports baggage up to one hour before the latest check-in time
Sports luggage can be handed in the evening before in Switzerland and Germany in some cases.
Sports luggage with SIWSS Air for the transport of bicycles in the aircraft
TAP Air Portugal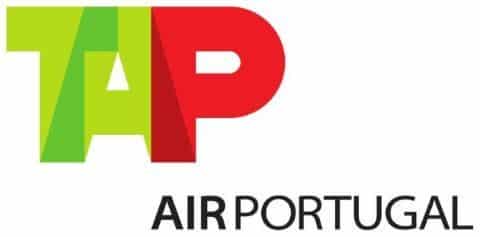 Registration:
Sports equipment must be confirmed in advance: Some aircraft have restrictions on the carriage of sports equipment. Therefore, the TAP Contact Center (hotline) or the TAP counter should be contacted in advance.
Cost:
from €55
Carriage as checked baggage possible
Weight:
maximum 32 kg
Dimensions:
maximum 158 cm (L x W x D)
Transport conditions & Special features:
Bicycles and tandems are transported
E-bikes are not transported
Handlebar must be turned to the side
Pedals must be dismantled
Bicycle should be wrapped in cellophane or similar and transported in cardboard box
Handlebars should be rotated 90 degrees and fixed in place
Sports equipment with TAP Air Portugal
Transavia

Registration:
Bicycles must be registered when travelling by air. Due to limited space, registration of special luggage is recommended directly at the time of booking. Registration possible in the booking process. Subsequent registration online via my Transavia or via Service Center Hotline. For bookings with tour operator: Registration via tour operator. From 3 weeks to 48 hours before the flight: register online via my Transavia. When booking through Transavia's Group Department, special baggage is registered by e-mail to groups@transavia.com.
Cost:
49 € per flight
Weight:
maximum 32 kg
Dimensions:
–
Transport conditions & Special features:
Early check-in is recommended
Bicycles and folding bicycles are transported
E-bikes are not transported
Recommendation to lower tyre pressure considerably or to deflate tyres
Dismantle the pedals or fold them upwards
Turn handlebars in longitudinal direction
Packing the bike in a bike box or bike case
Bicycle pumps compatible with CO2 are not carried
Special luggage with Transavia for transporting bicycles on the plane
TUIfly

Registration:
In advance via service center (hotline). TUIfly expressly points out that capacities are limited. For many flights, sports baggage can also be booked online. Either in the second booking step or at www.tuifly.com in the "Extras" menu.
Cost:
65 per route
Weight:
maximum 30 kg
Dimensions:
–
Transport conditions & Special features:
Normal bicycles are taken along
E-bikes are not transported
Bicycle must be well packed in: Cardboard or foil
Handlebars must be turned in the direction of the frame
Pedals must be removed
further recommendations: Wrap the gearshift and chain in foil or cardboard so that luggage from other guests is not soiled.
Sports and special luggage with TUIfly for taking bicycles on the plane
Note: I have researched the airline costs and conditions with the utmost care in September 2020. The information does not claim to be complete. Conditions, prices and other information may be incorrect or may have changed in the meantime. Please do your own research and contact your airline if in doubt.
Book flight and register bike
Capacity for bicycle transport available? You should check as early as possible whether there is still room on the plane for your bike. Again, the procedure varies greatly between airlines: with some airlines you can check available capacity in the online booking process and with others you have to call customer service. The procedure for information by hotline is as follows:
Call the hotline and confirm the available space for the bike
Book flight (booking for bike not possible in this variant)
Call the hotline again, give the booking number and have the bike booked as luggage. Payment is usually made at the airport at check-in
Practical tip: with some airlines you do not have to register the bike in advance. Especially since the transportation guidelines are very difficult to understand, I always check with the airline in advance about taking bicycles on the plane.
Now you're probably aware: transporting bicycles on an airplane is complex and there are a lot of things to consider. The guidelines of the airlines not immediately understandable at first glance. Different airlines have different weight and size regulations (see above).
Safe transport: Bike box, bike bag or bike case?
How do I transport my bike on the plane? What is the best packaging? Bicycle box, bicycle bag, bicycle case
Bicycle box
A bicycle box is the cheapest bicycle packaging for the plane: if you ask your local bicycle dealer, you will almost always get a bicycle box for free. Large bicycle chains receive new bicycles almost daily and have a correspondingly large number of boxes in stock. Smaller bike dealers do not sell as many bikes and accordingly do not get new deliveries every day. Therefore, ask for a box in time.
Modern bicycle boxes are optimized sizes to save volume during delivery. In plain language, this means that modern LA cartons are quite small. Therefore, my practical tip: organize a large E-bike – box. Then pack your bike in the box, then bring the box with a box cutter to the still allowable size of your airline. This way you can use the maximum space of your airline and get the maximum level of protection. It is best to adjust the case in only one dimension in order to obtain the greatest possible stability of the wheel case.
The protection of a bicycle box is low, but usually sufficient for your bike to arrive at its destination undamaged. A cardboard box can also travel. Therefore, it is best to tape around the entire box.
The effort for packing is very high: There are no organizational compartments for small parts in the bicycle box. Small parts must therefore be packed very carefully and additionally secured. For the attachment are suitable plastic bags, stick to the bike frame, smaller boxes.
Difficult to handle: A bicycle box usually has no carrying handles. The carrying openings often attached to the bicycle box can tear out and small parts can get lost. Therefore, I would tape them off. Without these carrying handles, the journey, especially by public transport and the arrival in the terminal is very laborious, because the bicycle box is large, heavy, unwieldy.
Advantages
✅ Cheapest packaging
✅ lightest packaging
✅ Disposable at destination if required: No effort for storage
Disadvantages
❌ Level of protection low: Mostly sufficient, however
❌ Effort required for packing very high: thus a lot of time & patience required for packing
❌ Transport at the airport or by public transport very cumbersome: no wheels and limited usable carrying handles.
❌ Limited shelf life
Bicycle bag or soft case
* Werbung - Aktualisierung am 2023-05-19, Preis kann gestiegen sein, Als Amazon-Partner verdiene ich an qualifizierten Verkäufen, Bild:Amazon
Medium protection and medium weight offers a bike bag or bike softcase called. Space-saving, these bike cases fold up for easy storage. When used, a soft case unfolds to its full size and has a similar amount of space as a hard case bicycle case.
This bike case does not have a hard shell: a soft case usually consists of an aluminum frame and is covered with durable fabric. A soft case is reinforced in sensitive areas such as certain spots for the wheels or disc brakes. Straps for lashing securely fix the bike in the bike case. Aluminium rail systems provide more comfort when dismantling and reassembling the bike. These also ensure excellent hold of the bike in the case and are usually available as accessories.
The biggest advantage of bike case soft cases is the comfort gain when transporting your bike to the plane: stable handles for carrying and pulling, wheels for comfortable transport on public transport or at the airport, lots of organizational compartments for small parts and pedals. Plus, there's usually enough room for one or two small bikepacking bags and a helmet.
Advantage
✅ durable
✅ Comfortable transport thanks to rollers and handles
✅ Unused Foldable: thus requiring little space
Disadvantage
❌ high weight: often approx. 9 to 10 kg
❌ Medium level of protection
❌ Storage at destination must be organised and possibly paid for
Bicycle case or hard case
* Werbung - Aktualisierung am 2023-05-23, Preis kann gestiegen sein, Als Amazon-Partner verdiene ich an qualifizierten Verkäufen, Bild:Amazon
The most stable and secure method of transporting bicycles on an airplane. At the same time, a hard case is the most expensive method and the heaviest packaging.
Advantage
✅ Best level of protection
✅ Long shelf life
✅ Good handling: Thanks to rollers and handles
Disadvantage
❌ expensive and heavy
❌ Much space required for storage
❌ organisational effort & possible costs for accommodation at destination
Conclusion: bicycle box, bicycle bag or bicycle case?
Transporting a bike on a plane is already possible with a simple bike box. Most of the time you get the gear box given by the dealer but the level of protection is low and the handling (disassembling the bike and comfort while carrying it) involves a lot of stress.
Bike cases like softcases and hardcases offer much more comfort when transporting your bike to the airplane: Stable handles and wheels facilitate the transport on platforms or in the airport terminal. Organiser compartments keep small parts and attachments tidy. Mounting and dismounting the bike is greatly facilitated by removable brackets such as aluminum rails on many bike cases. If you often fly with your bike, a bike case is a good idea in the long run.
At the end of the day, it's a tradeoff of security, cost, and effort and handling for transportation.
At the airport
Check-In & Bulky baggage counter: note the order! When you arrive at the airport, first go to the check-in and check in your normal checked baggage. Sometimes the bike is accepted directly at the check-in counter. Sometimes there is a special locking luggage switch for the bike. Depending on the airport, this may be close by or a few terminals away.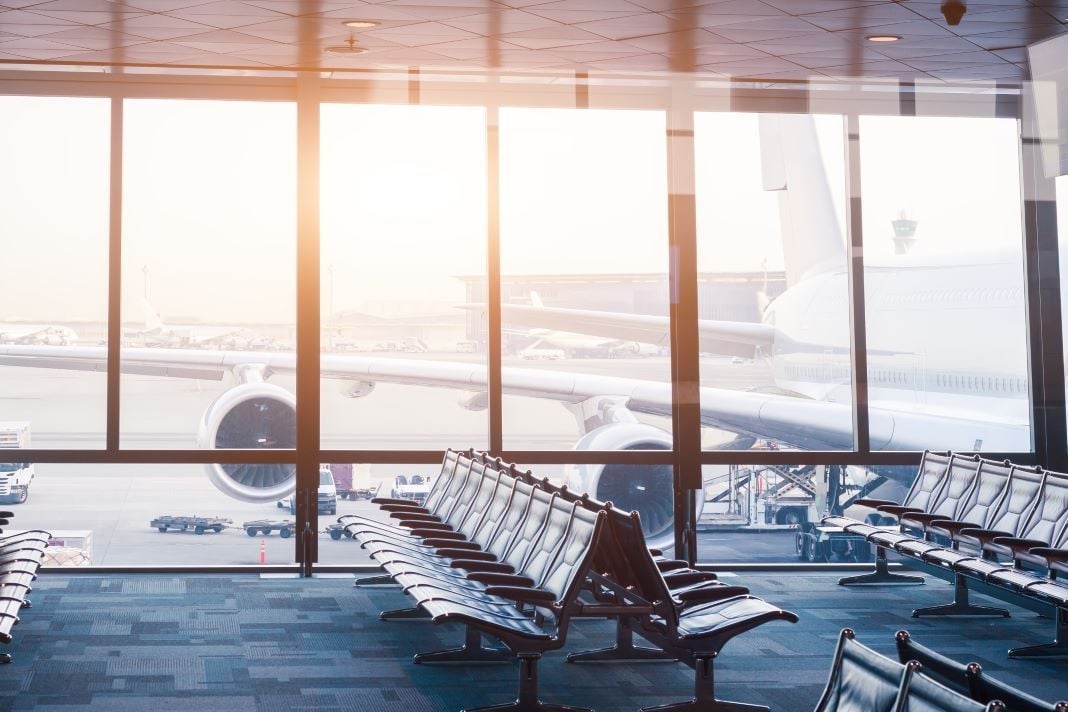 Before you check in your checked baggage or your bike box, please note the regulations regarding security, checked baggage and hand baggage: Your bike tools are not allowed in your hand luggage. Pretty sure they'll take it away from you at security otherwise. Therefore, stow the tools directly on the bike or in the check-in luggage. On the other hand, battery packs must never be placed in checked baggage or in the bike box. These are otherwise also removed during the security check. Items the battery packs must in any case in the hand luggage. Be sure to read the security and baggage regulations before checking in your first piece of luggage.
Security check: Please observe the regulations
Marking a bicycle correctly
If your bike should get lost during a flight, a clear marking on and in the transport packaging can make the difference between getting it back or losing it completely.
The notice should be posted securely and in a conspicuous location. Write the following information on the piece of paper:
Flight number
Phone number, e-mail and address of your first accommodation on your cycling holiday
Phone number E-mail and address of your home address
observe immigration regulations
Some countries have very strict entry and quarantine regulations. These must be observed at all costs! Otherwise you may be refused entry with your bike or other equipment.
Well-known examples are Australia and New Zealand. Due to the sensitive ecosystem, Australia has stricter entry requirements for:
Earth residue on your bike or your tent. Therefore, the tent pegs, tent floor, the bicycle tyre profile and mudguards must be cleaned particularly thoroughly.
Further stringent entry requirements with regard to the import of animal and plant products
In special quarantine laboratories and at the customs, the compliance with the entry and quarantine regulations in Australia is checked hard. Failure to comply may result in refusal of entry and heavy fines.
Bicycle transport insurance
Airlines often exclude liability for special luggage or, in the event of damage, only a partial value of a valuable bicycle is reimbursed.
Even if your bike is perfectly packed for the plane: luggage at the airport and on the plane is generally handled quite roughly and unfortunately damage cannot be completely avoided.
If you already have travel insurance or would like to take out travel insurance, check whether loss or damage to the bike is covered. If you already have bicycle insurance, then your bicycle insurance may also cover damage when transporting your bicycle by plane.
That means reading and understanding the fine print.
Alternative: Rent a bike or folding bike
Renting a bike on holiday: For a one-week holiday in holiday areas with a good supply situation, renting a bike on site may be suitable. Especially in popular holiday areas like Mallorca there are numerous offers. Check out the advantages and disadvantages of renting a bike online.
Take a folding bike with you: Folding bikes usually fit into a standard suitcase and there are also special folding bike cases. With many airlines (see list above) folding bikes are counted towards the free baggage allowance. Due to its size and weight, taking it with you is much more relaxed than taking a normal bike on a plane: fold it up, pack it in your suitcase and you're done. Folding bikes are alternatives if you want to be mobile in the city. They are hardly suitable for sporty riding, long bike trips or off-road riding.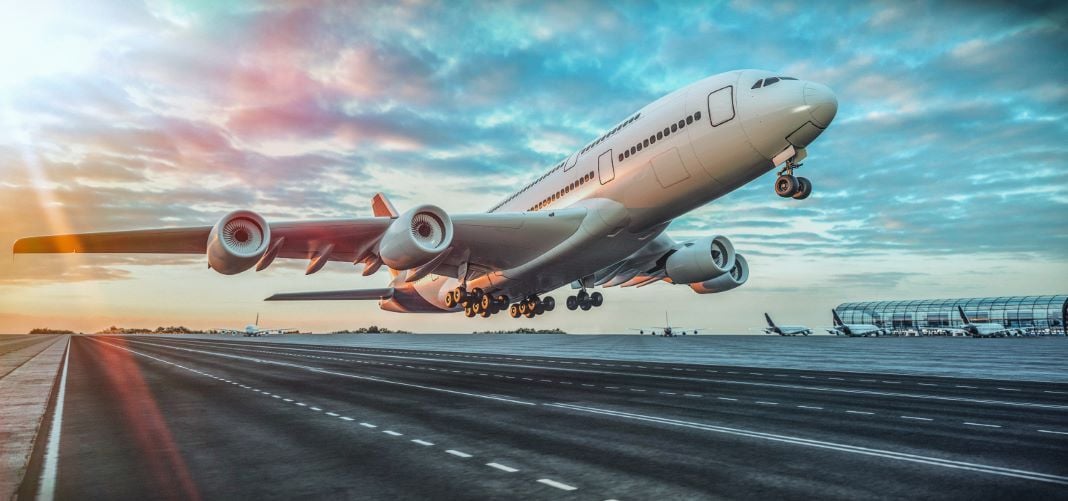 Conclusion
Taking your bike on the plane is more complicated than traveling without a bike on the plane. There are regulations to follow and requires you to be prepared. If you have dealt with the topic and considered the points mentioned in the article, then nothing will stand in the way of your cycling holiday. I'm sure your anticipation is huge by now!
If you rarely have to transport your bike on the plane, then a bicycle box will suffice for the time being. The bicycle box is usually available free of charge from the bicycle dealer. However, it offers little protection and a lot of effort during transport.
If you regularly travel by bicycle by plane, then it is worth buying a bicycle bag or a special bicycle case for the plane. So your bike is better protected on the plane. Thanks to wheels and carrying handles, transport on public transport and at the airport is more comfortable for you.
Now have a great vacation.
You have individual questions, need tips or have suggestions for improvement? Write me your blog comment and I'll be happy to reply 😉
Cover image: ©aapsky – stock.adobe.com