On this page you will find an overview of the best free cycling apps including detailed descriptions and rating. All apps I tested myself, compared with each other and grouped into different categories.
✅ UPDATE: The apps will be kept up-to-date by me even in 2021. Your favorite app is missing? Feel free to drop me a line in the comments.
This list starts with an overview of the most popular category: Bike navigation apps and bike computer apps. The list goes on and on and you will surely find the right app for bikepacking and your next bike trip.
For a better overview, it's best to check out the table of contents and beginner questions to find the app that's right for you. Have fun discovering it!
Bike Navi App – The 3 best bike navi apps
What should a bike navigation app be able to do? Displaying the map and navigating are the basic functions. All apps in this guide perform this function!
In addition, there are the following important points:
Bike nav app with offline maps: For bike travel and bikepacking in faraway countries or areas with poor network coverage, offline maps are worth their weight in gold. With it you will find your way around even on long bike tours.
Bike navigation app with voice output: Real-time navigation and voice commands are particularly convenient.
Bike Navi App Free: some apps are completely free and free of charge. Others have a payment function. I'll show you which app does what 😉 komoot can save maps offline for example. However, these are premium features. I'll also show you free alternatives for that in this guide.
Anyway, I recommend you try out several of the apps mentioned here. With that, you'll be able to find an app or combination of apps that suits you!
Bike navi app review: Here are my current favorite navi apps (all of which, by the way, I use or have used intensively on my bikepacking and cycling trips)
Komoot – Worldwide bike navigation app
With komoot (with a lowercase "k"), I introduce you to the top of the class mobile nav!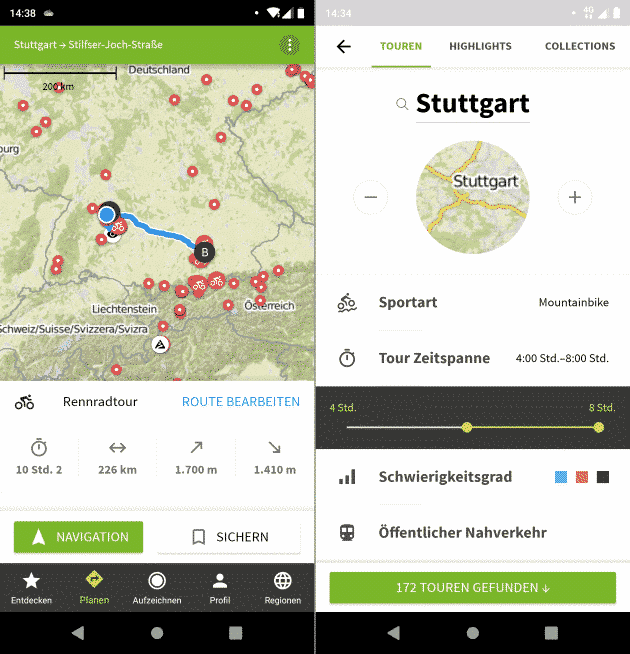 komoot is free for now. One free region included. Offline maps is also included in the basic version. If you want more features like worldwide offline navigation, voice output while navigating, a comprehensive route planner and community tour suggestions, komoot is the app for you.
The app can be used for versatile sports such as cycling, road biking, bikepacking and mountain biking. The app uses map data from OpenStreetMap as a map base and enriches it with additional text and photos from Wikipedia. For topography data, data from NASA is used. So the best of many worlds 😉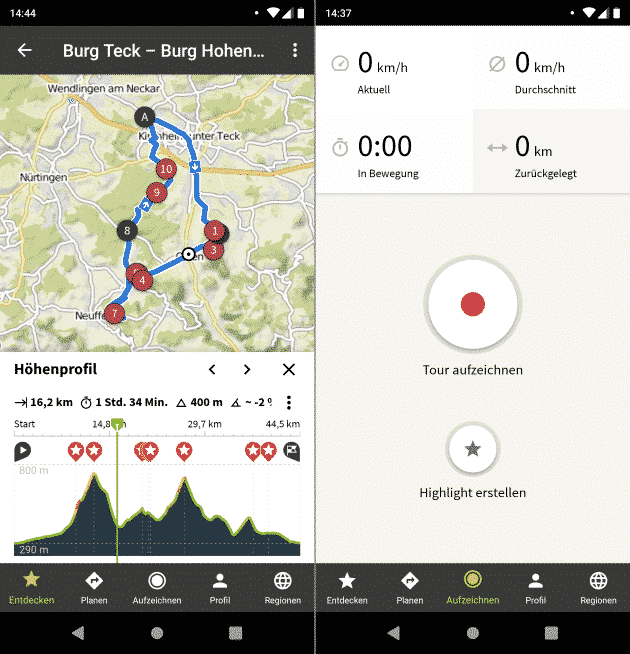 But what does this mean in practice? You can plan your own routes with komoot or simply use the huge number of existing routes provided by the community. Planning also works seamlessly on the computer or smartphone – all data is stored in the cloud and can be used via a shared account. Planning on the computer and driving off with the smartphone also works, of course.
With a region package, the bike navigation app is free. Language and topographical maps are also on board. For regular use, you need to buy additional region packs or the maps for worldwide offline navigation.
Reading tip: To komoot I have created a extensive and complete guide. In the komoot test you will learn everything you need to know about the komoot app and the route planner. Each on the smartphone and on the computer. It also covers advanced topics such as GPX import and export and the connection of GPS navigation devices. You want to start with komoot? Then be sure to check out this article.
Download komoot for Android and iOS now – Possibly the best bike navigation app.
MAPS.ME – Bicycle navigation app with offline maps
MAPS.ME is a direct alternative to Google Maps and by now one of the most popular offline mobile navigation apps. The reason is simple: Where Google Maps reveals weaknesses, MAPS.ME has its strengths!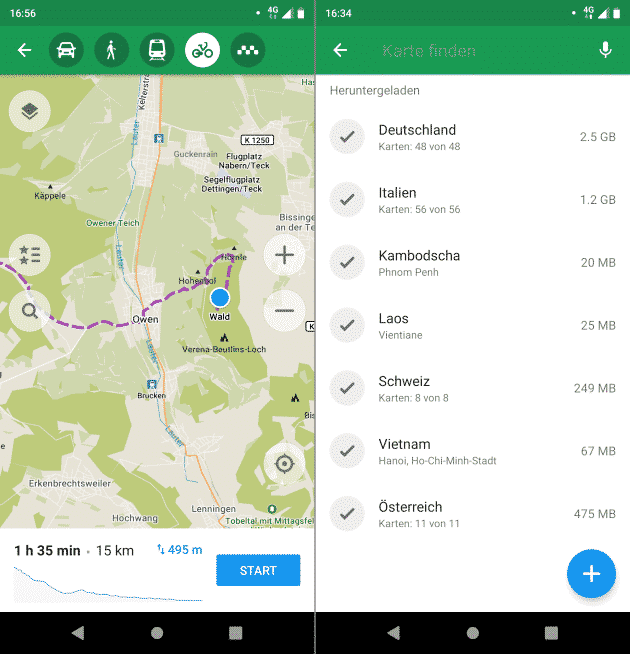 So the app puts an emphasis on offline navigation and is particularly popular in the open source scene.
Launch the app for the first time and you will be prompted to download a map for offline use. You can then use most of the app's functions offline in this area – including the bike navigation function.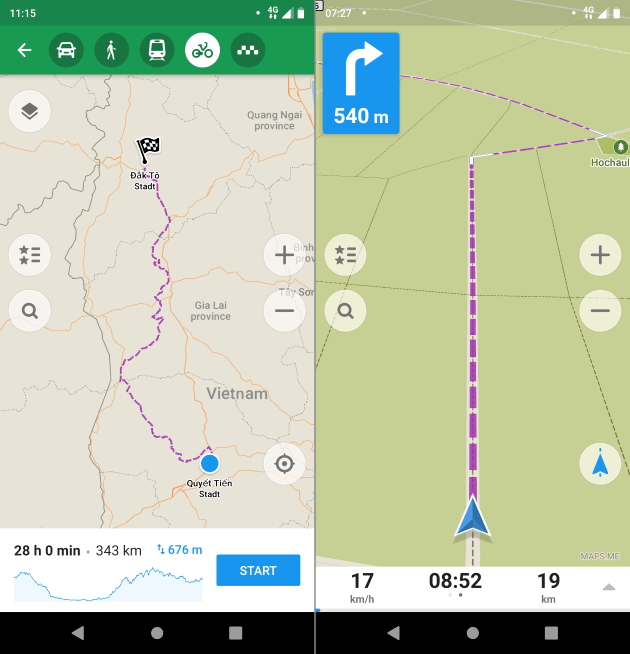 Voice output during navigation has also been possible with MAPS.ME for several years. This was a feature that I had missed in the past. On my trip from Stuttgart to Istanbul I also used the offline navigation app MAPS.ME for some parts of the route. Namely when I had no internet 😉 The points of interest search uses data from Wikipedia and has always worked reliably for me to find restaurants, supermarkets and accommodation.
Of course, even this navigation app is not perfect: The basis of the maps are data from OpenStreetMap (OSM). So in less populated areas or on mountain bike trails sometimes no route info is available. Of course, this also applies to other OSM-based navigation apps – for example komoot. The map quality is about on par with Google Maps.
The main disadvantage of MAPS.ME is that topography data is not displayed on the map. Before you start navigating a route, an altitude profile is displayed. Not ideal for bike travel and walking routes but it works. I can recommend the app despite this limitation and enjoy using it.
Maps.ME is a bike navigation app for Android and iOS. The app works offline and is free.
Download MAPS.ME for Android and iOS now
Google Maps – Also suitable as a bike navigation app with voice output
Google Maps is a really good base to plan a bike trip. On most spots on this planet, Google Maps maps are very detailed. As a bonus, the 3D vector maps are detailed in their rendering and the entire app runs buttery smooth.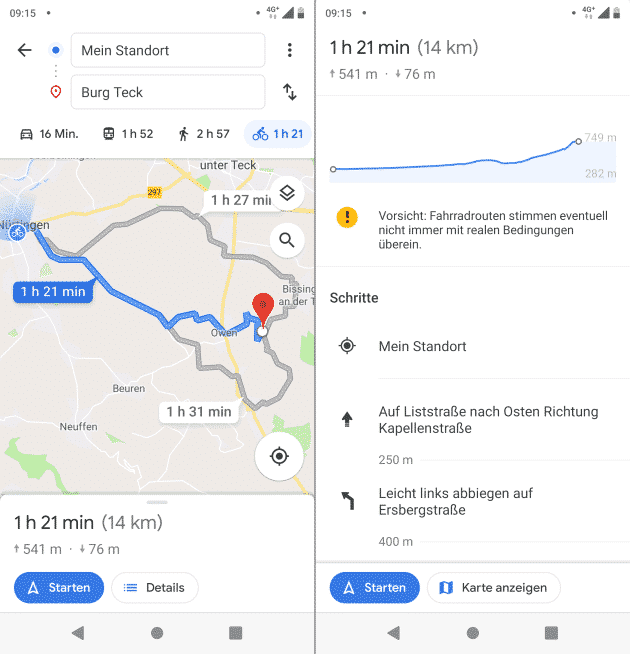 You should note that Google Maps is programmed to find the fastest route to your destination. This navi app is not about finding the most beautiful route. Google Maps nevertheless offers a practical overview and is often suitable as a starting point for further tour planning.
If you have internet access on your bike ride, Google Maps is certainly a good choice.
Google Maps as a bike offline navigator: For many places in the world you can download Google Maps offline maps. This is not very comfortable but it works.
The offline function is unfortunately very limited and only the standard map view is downloaded. The terrain view, on which you could estimate the topography of a map, is unfortunately not downloaded. To plan and start the navigation, you also need to be online. Viewing the offline maps is therefore possible. To start the navigation you have to be online.
The Google Street View app is available separately. With it you can explore a place in advance. Unlike the Google Maps app, I rarely use Street View. Mostly only when I want to get an impression of the neighborhood around a hostel in advance.
Download Google Maps for Android and iOS now
Navigation – More ingenious apps for route planning
PeakFinder AR (Android Exclusive)
PeakFinder is an augmented reality app. The app does one thing and it does it very well: activate your camera, point it at the surrounding mountains and the app will show you the names of the mountains. Super practical!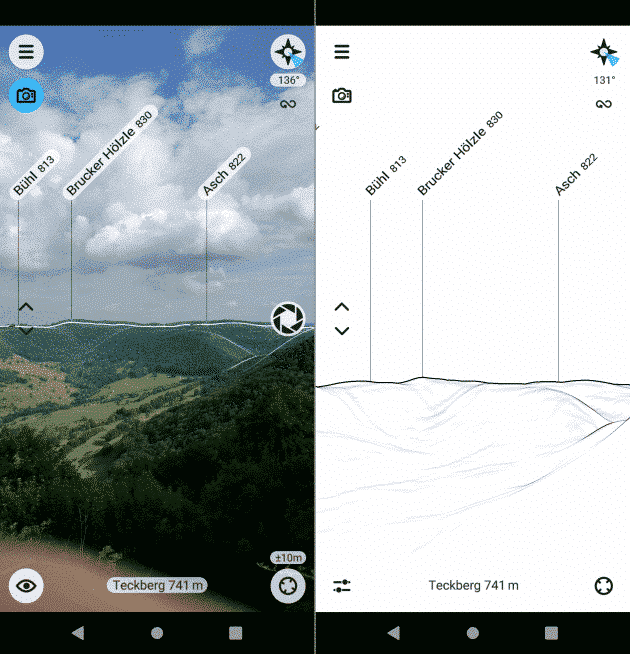 PeakFinder is a premium app and absolutely worth the money! The app shows you the info either on a black and white view or projects the information onto your camera image.
Download Peak Finder for Android now
View Ranger
A free alternative to Peak Finder is the app ViewRanger. ViewRanger is available for both Android and iOS. The app still has some additional features like community features and shows you interesting places of interest near you.
My favorite out of the two is clearly PeakFinder AR. I like the app very much because of its simplicity and tidy look
Download ViewRanger for Android and iOS now.
Bike Computer Apps
Compared to bike navigation apps, bike computer apps focus on other topics: For example, the tracking of distance or speed is in the foreground. Functions of a speedometer, that is. Of course, the activities can later be admired in an online training diary and shared with friends.
There are now a plethora of bike tracking apps: whether bike computer app for Android or iOS. I'll introduce you to the best ones now.
Strava – bike computer app with many tracking functions and social network
"If it`s not on strava it didn't happen" – A saying you hear more and more often from ambitious cyclists. Strava is one of the most popular bike computer apps and cleverly combines social network with workout tracker app.
The app is especially popular in the cycling community and offers some useful features: Strava offers a worldwide online cycling route planner. Unfortunately, Strava does not offer an offline navigation function. However, it is possible to export the finished route as a GPX file and then load it e.g. into MAPS.ME.
The app is aimed specifically at ambitious cyclists for bike training. But it can also be used very cleverly as a cycling journal where all rides are tracked. Of course, tracking also works offline. As soon as there is an internet connection again, the data of a ride will be uploaded, where friends and followers can comment and give kudos i.e. praise. I've been liking the sports social network more and more lately 🙂
So Strava records the route and stores data such as the meters of altitude climbed, the duration of the route and much more.
The basics described are free and I find them sufficient for the most part. There are additional features in the subscription. For sporty ambitious cyclists a must have app!
Download Strava for Android and iOS now
Strava to GPX (Android exclusive)
For years, Relive.cc displayed your Strava rides in an interesting 3D view. As of July 2019, Strava is excluding the Relive.cc service from accessing your Strava rides.
With Strava to GPX, you can turn your Strava rides back into fancy 3D videos in just a few steps through Relive.cc.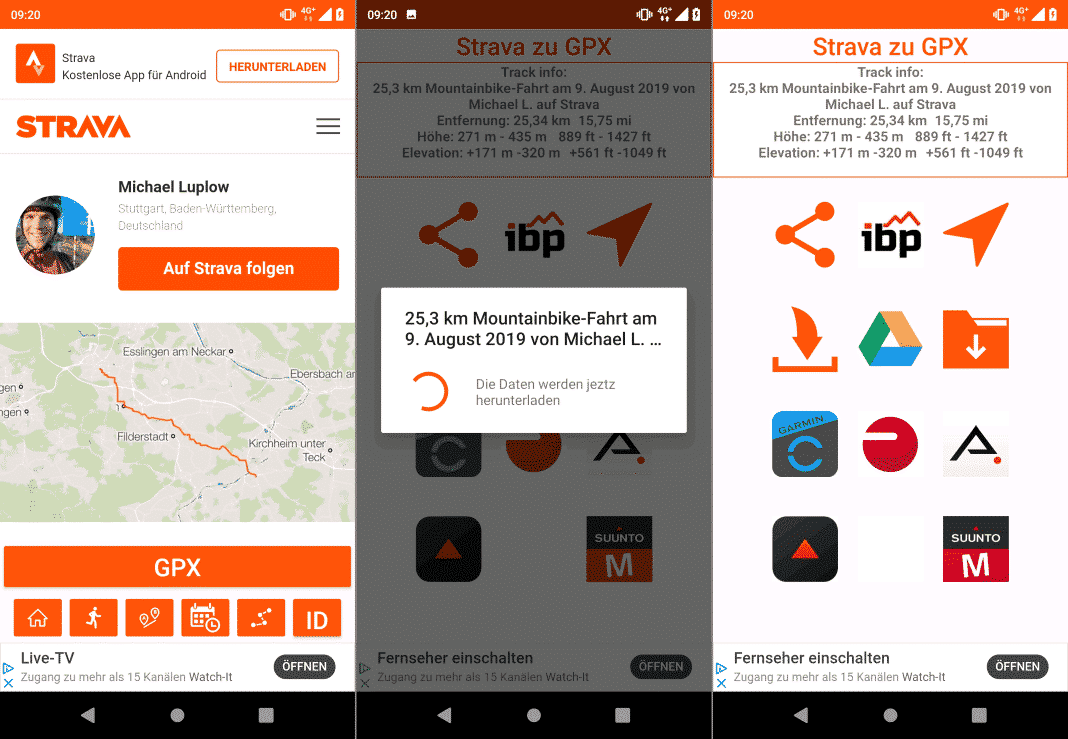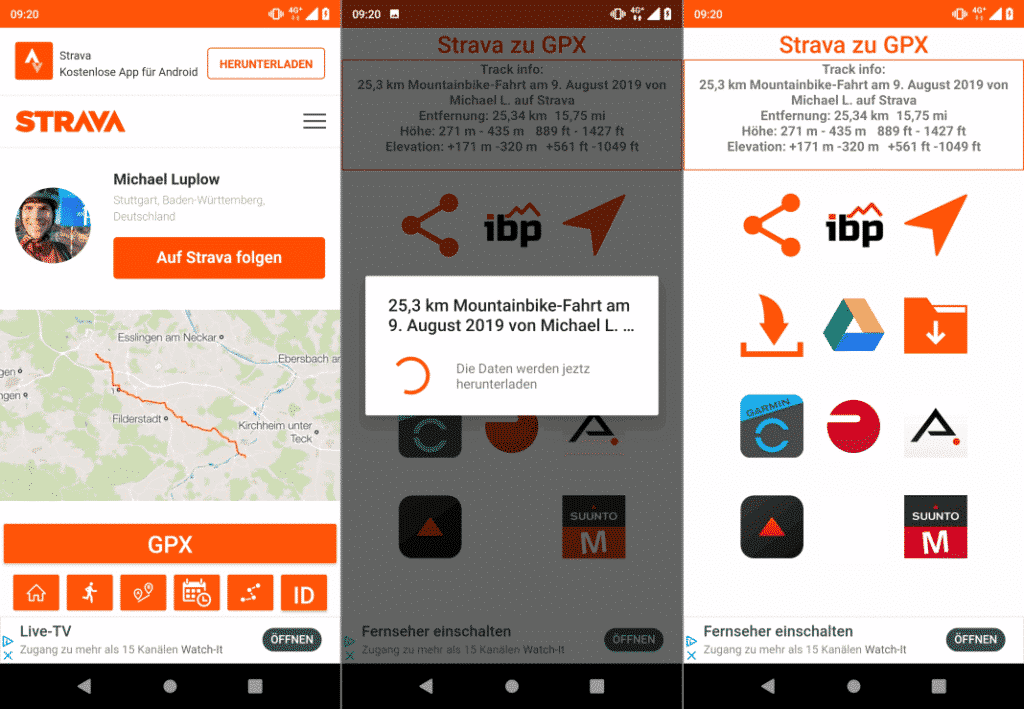 Download Strava to GPX for Android now
Runtastic – Bike Computer App
Don't be fooled by the name: Runtastic has its roots in running. In the meantime, there were also the bike computer apps Runtastic Mountain Bike and Runtastic Road Bike. These have since been discontinued and most of the function has been integrated into Runtastic.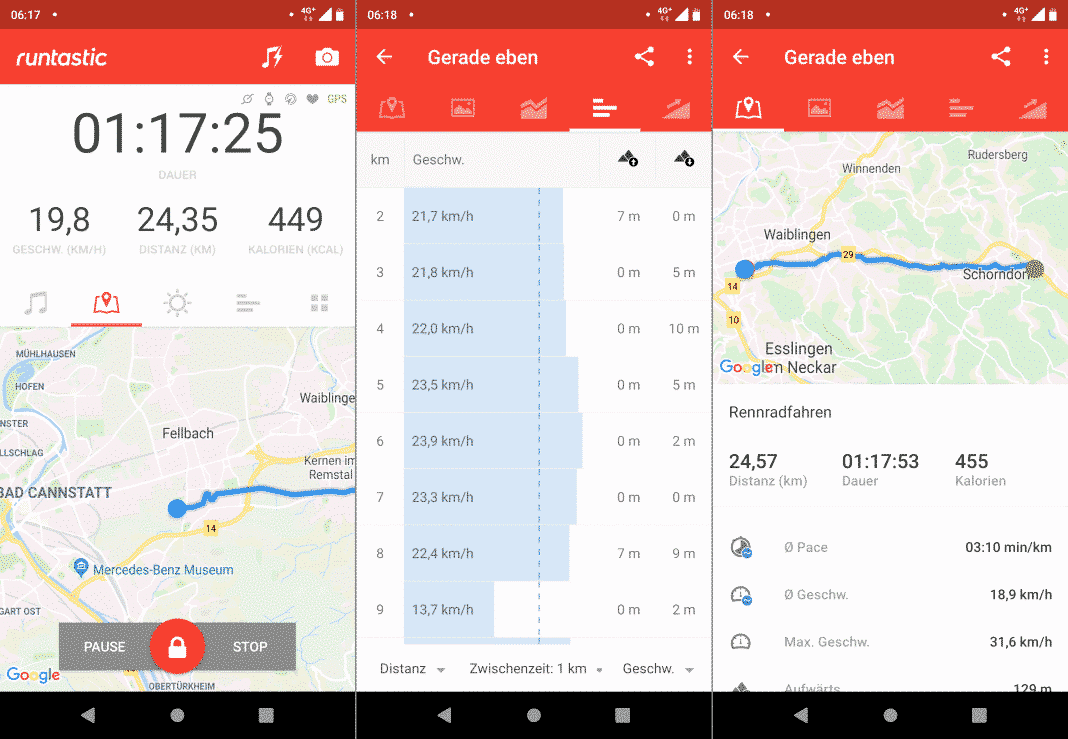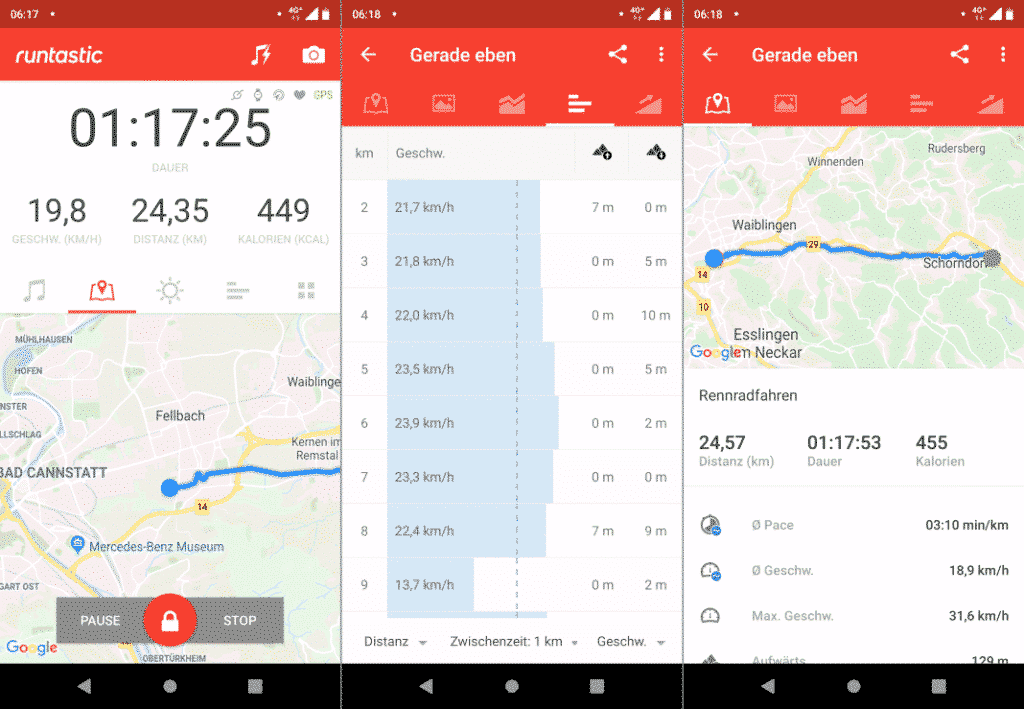 I was a big fan of the Runtastic running app for years, and the two cycling apps also offer a lot of useful features around workout tracking and route recording. For ambitious cyclists, the apps can also be coupled with hardware sensors such as heart rate belt, speed and cadence sensor.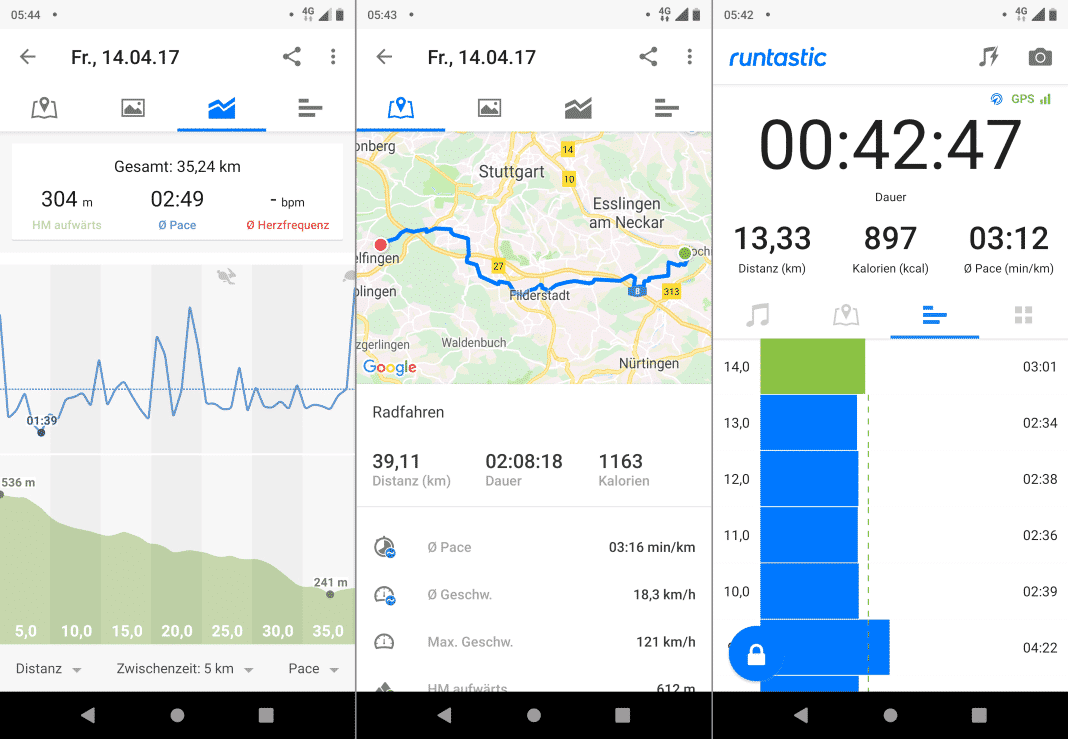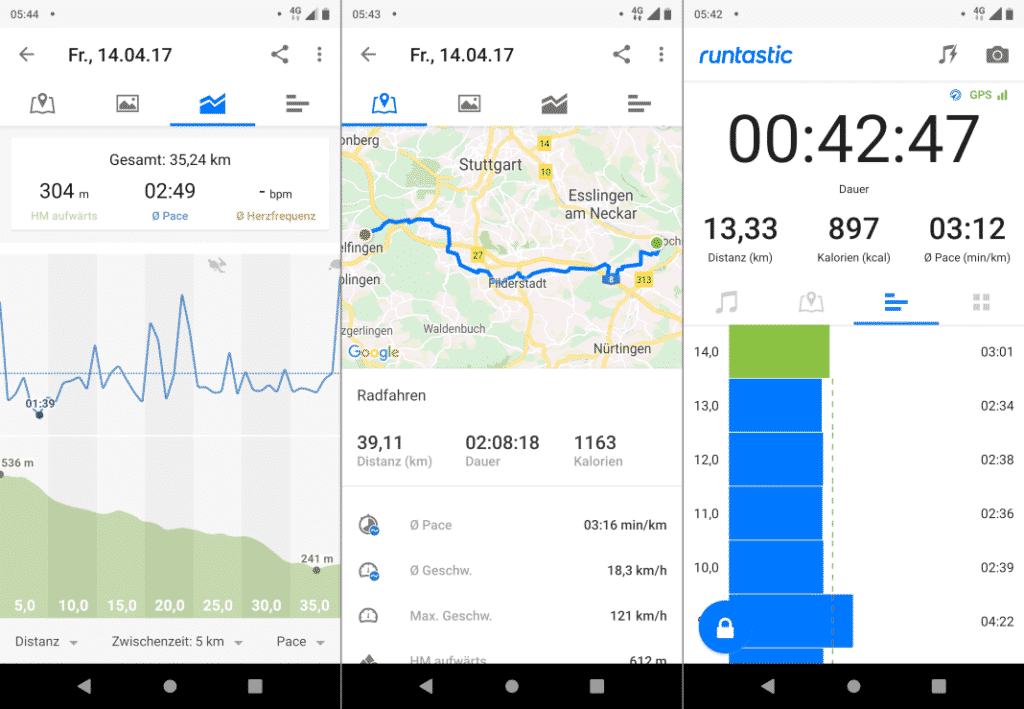 The premium functions of the apps can be unlocked via a one-time purchase. The app is especially suitable for ambitious cyclists and also for cyclists who want to track their training but do not want to use a social network connection like Strava.
Download Runtastic for Android and iOS now
MapMyRide
MapMyRide from Under Armour is a very popular bike computer app, especially in the USA. The app offers the usual tracking functions and is one of the more comprehensive bike computer apps. In addition to cycling, the app records a full 600 sports.
The app is also Relive.cc compatible.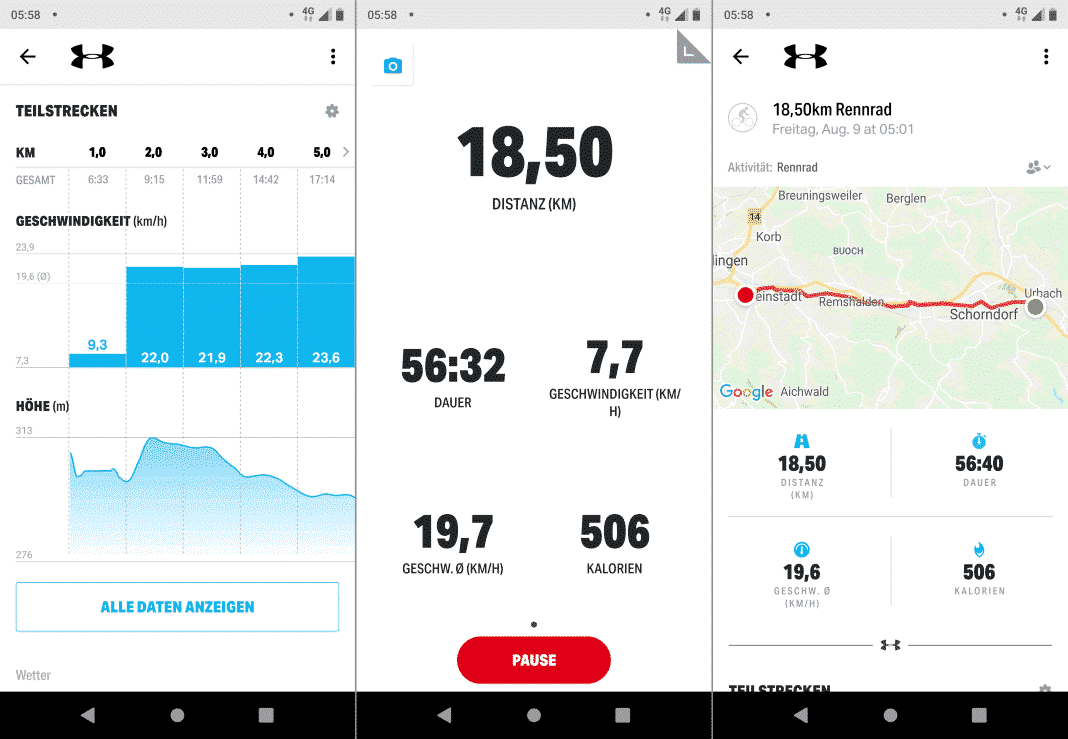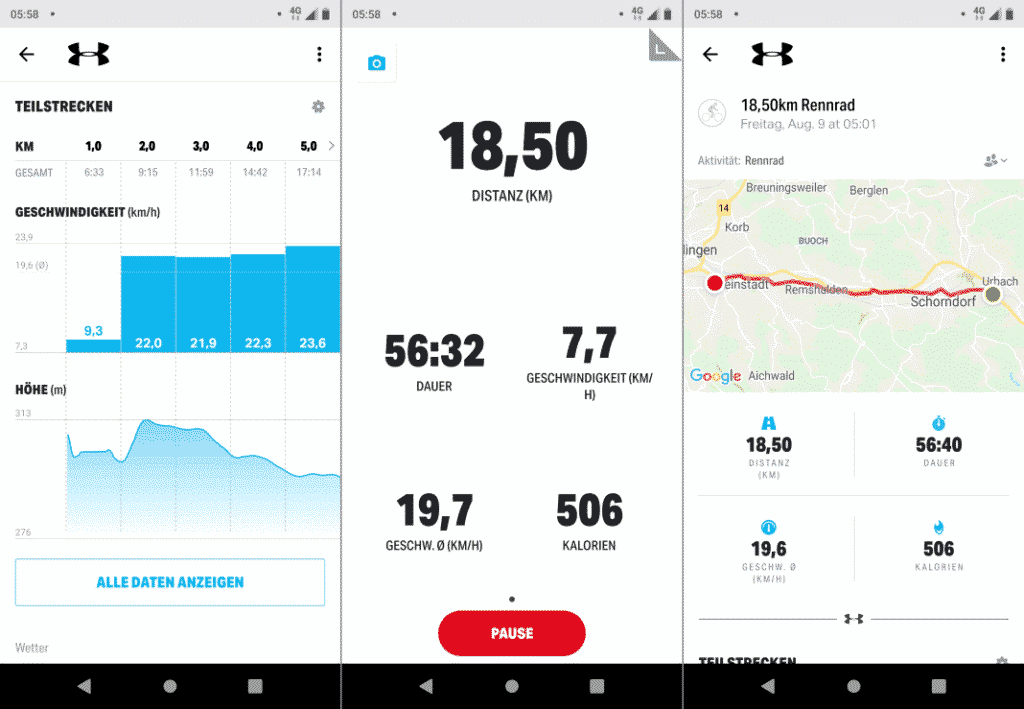 Under Armour calls the premium subscription "MVP" and you get advanced tracking and analytics with it like:
Interval function
Training plans
Live Tracking
Many individual analysis options
The app is especially worth a look if you want to easily sync your rides to Relive.cc.
Download MapMyRide for Android and iOS now
Cycling – Bike Tracker (Android exclusive)
Looking for an easy to use yet powerful bike tracker app? Then test directly cycling – bike tracker.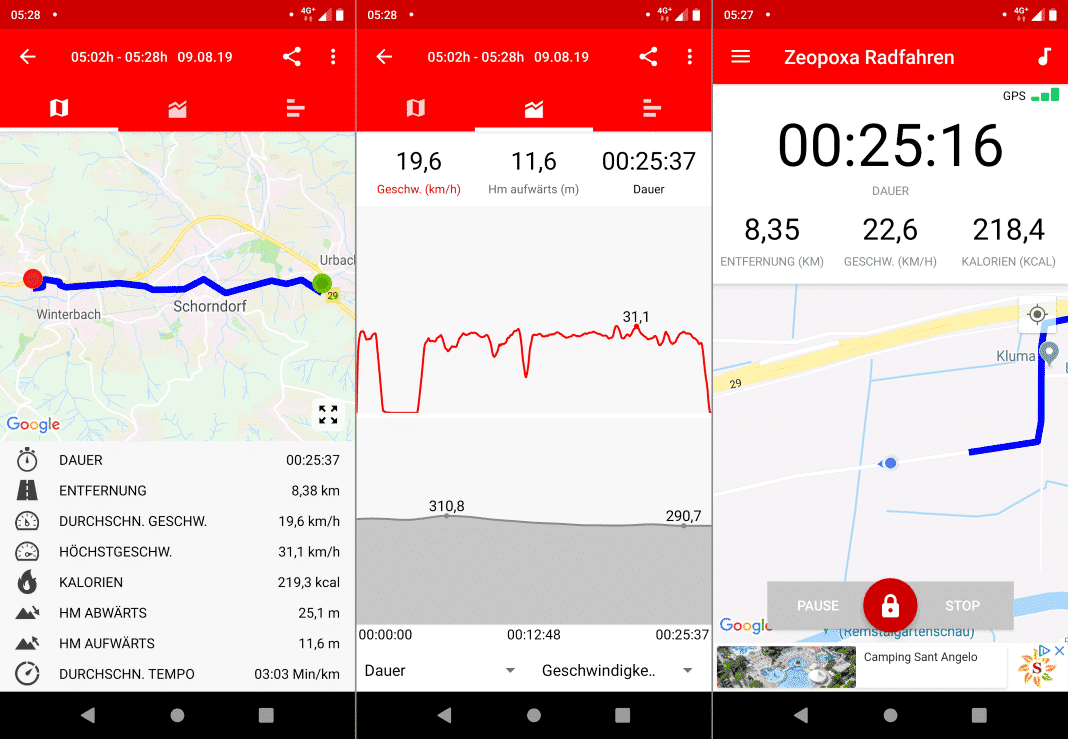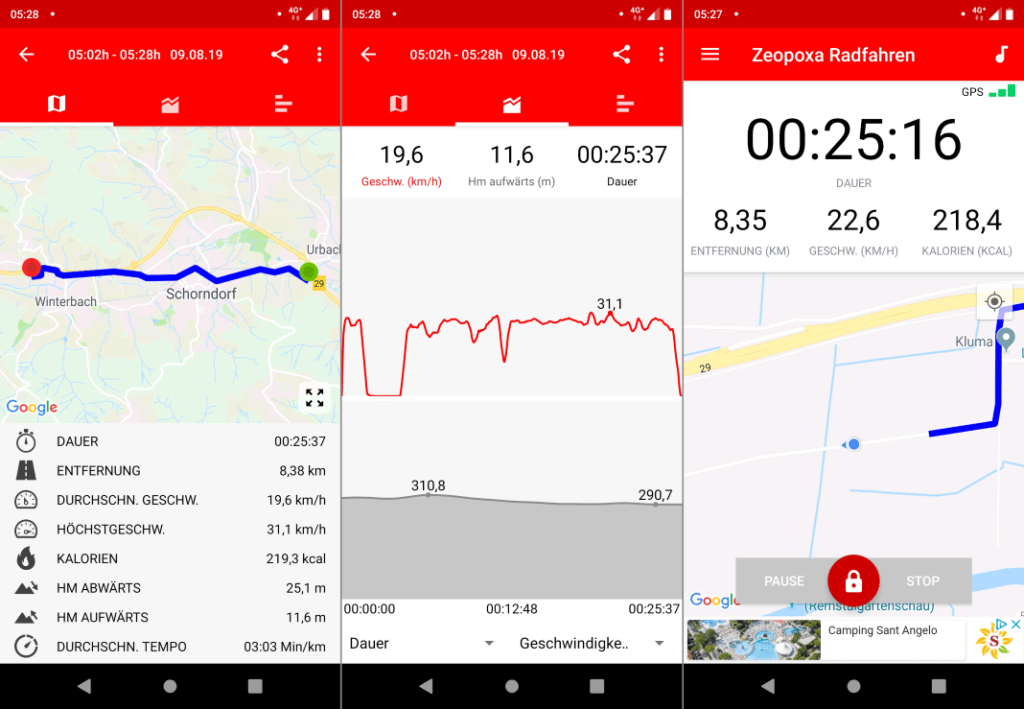 Download Cycling – Bike Tracker for Android now
Recommended MTB Apps
Trailforks Mountain Bike App
The app is a MTB trail finder or even a MTB trail directory! The database is already huge and I use Trailsforks all the time as a mountain bike trails app to find interesting trails in my area. I also like to ride trails with my Endurance MTB Bombtrack Beyond 1. Many of them I didn't know before and through Trailsforks I found completely new mountain bike trails in my area.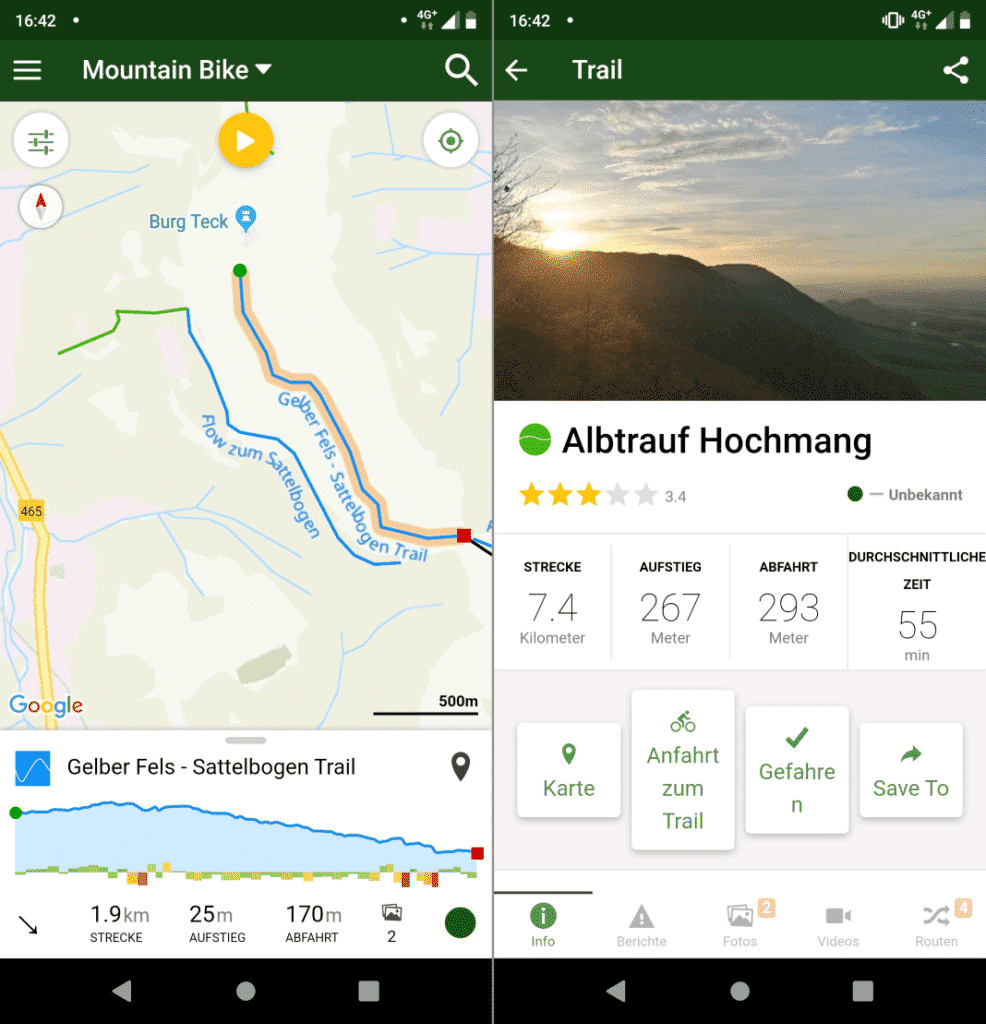 The trails each have names as well as an elevation profile and other details. I always find it interesting to learn the names of previously unknown trails. The photos posted by users are also suitable for a preliminary check.
Download Trailforks for Android and iOS now
Training Apps
Interval Timer – HIIT Training
For a quick high intensity workout on or off the bike, an interval timer is very helpful. Interval Timer – HIIT training is fancy as well as functional.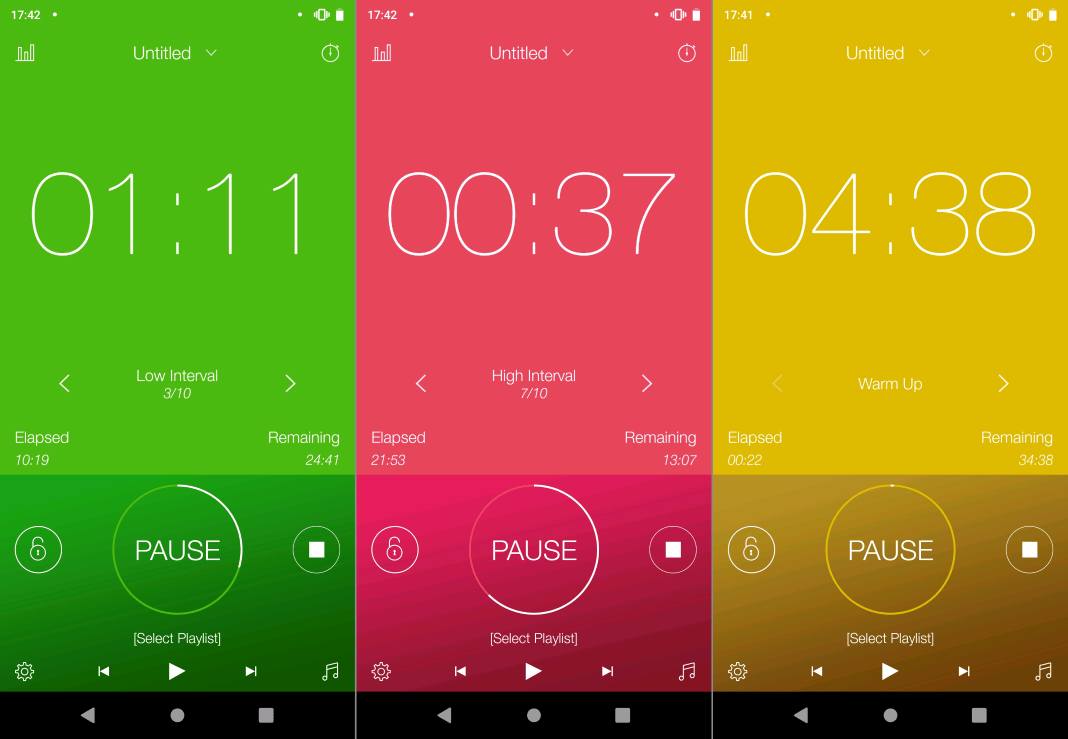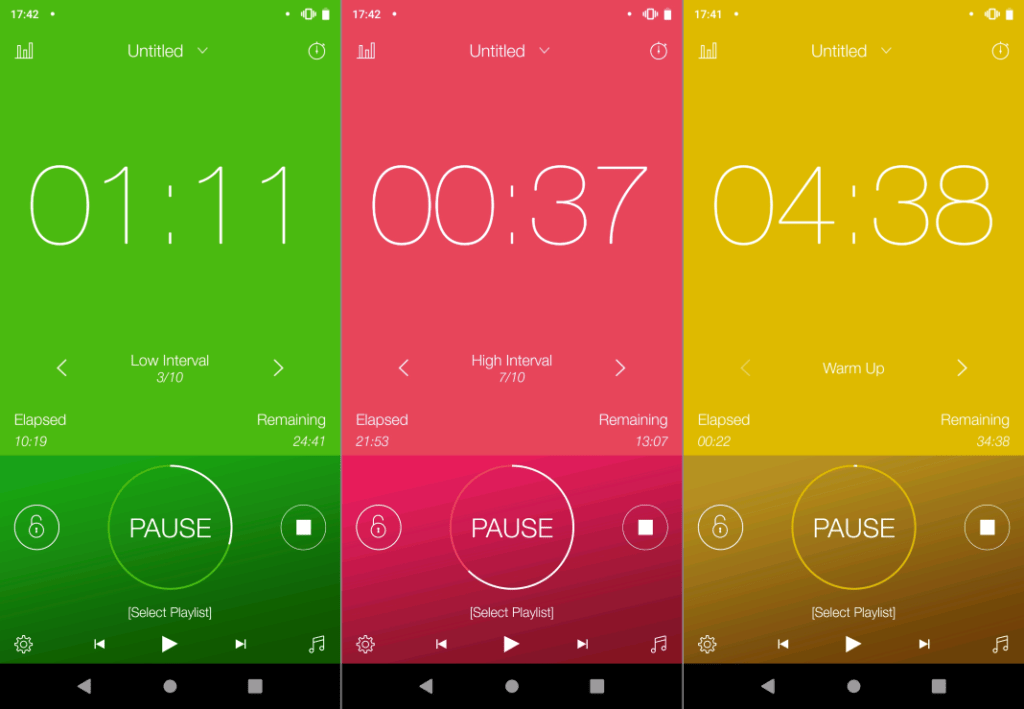 If you are a friend of short and intense workouts, then you should download the app now.
Download Interval Timer – HIIT Training now: Android | iOS
Workshop Apps
Bike Gear Calculator (Formerly Android Exclusive – No comparable alternative available)
The brilliant Bike Gear Calculator app has since been removed from the Android App Store and I'm not aware of any comparable alternative. Visually as well as functionally the app played in the first league! Since all the apps currently available are visually almost unbearable, I recommend using an online sprocket calculator.
What could the Pinion Calculator app do and what can the Online Pinion Calculator from Ritzelrechner.de do?
With this sprocket calculator app you can calculate the gear ratio and the derailleur of a bike.
The user interface is both pretty and functional. The respective sprockets and chainrings can be adjusted by swiping over the same. With the small sliders you set the speed and crank revolutions per minute.
The ability to compare two different circuit configurations is particularly practical.
The complete configuration of your bike can also be mapped with this app. You can then save the created graphic or send it by e-mail.
Saddle Adjust
Without a spirit level you can adjust the inclination of your bicycle saddle. The app measures the angle through your smartphone's tilt sensors. The created profiles can also be saved. This way you always have the right saddle angle stored for each of your bikes.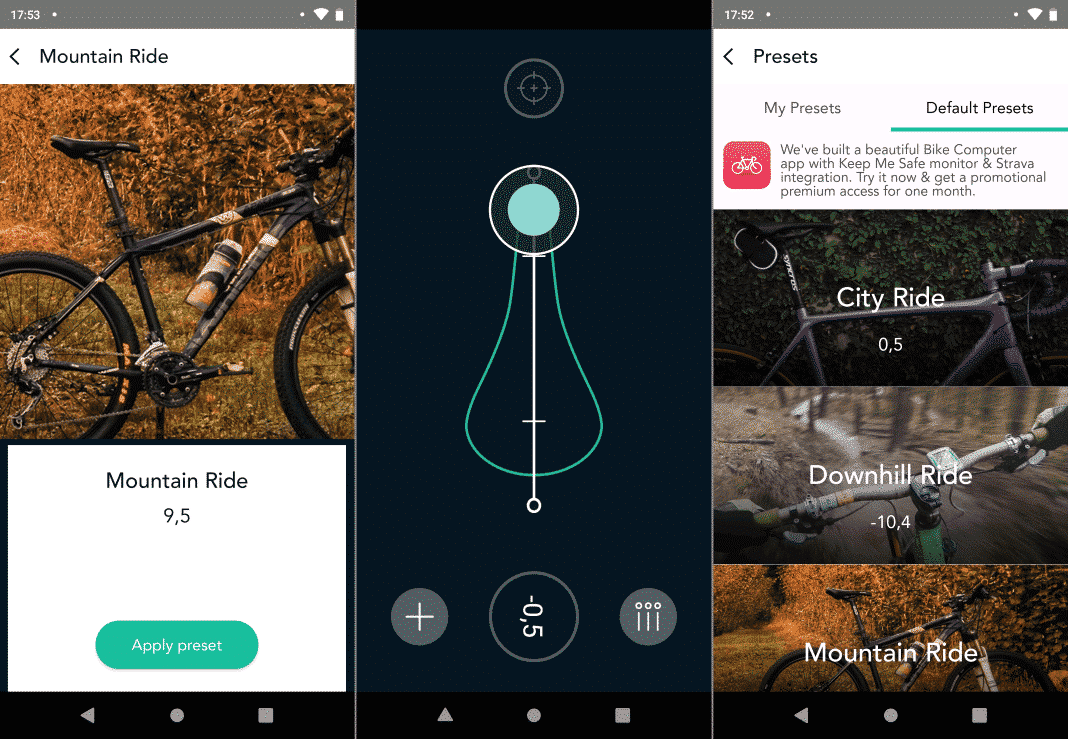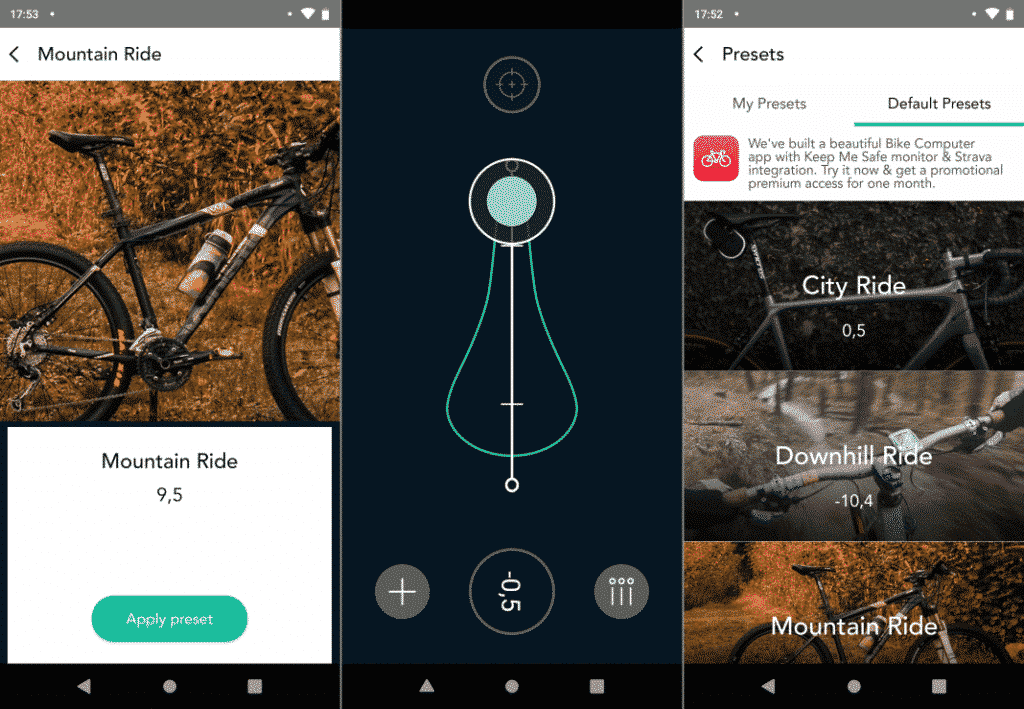 Download Saddle Adjust for Android and iOS now
Weather Apps
Before setting off on a bike tour, it is advisable to take a look at the weather forecast. So you avoid unpleasant surprises or even dangers… and you can adjust your equipment to the weather accordingly.
Looking at the upcoming weather is important so that you can be safe and enjoy your cycling trip.
These apps will help you do that:
Windy.com and WINDY
I've often appreciated good weather and tailwinds when bikepacking and touring. So good to know when the weather is on my side 😉 Every hardworking cyclist knows the issue! Windy offers an incredible variety of weather data and leaves nothing to be desired! I don't know of any app that comes close to this much data.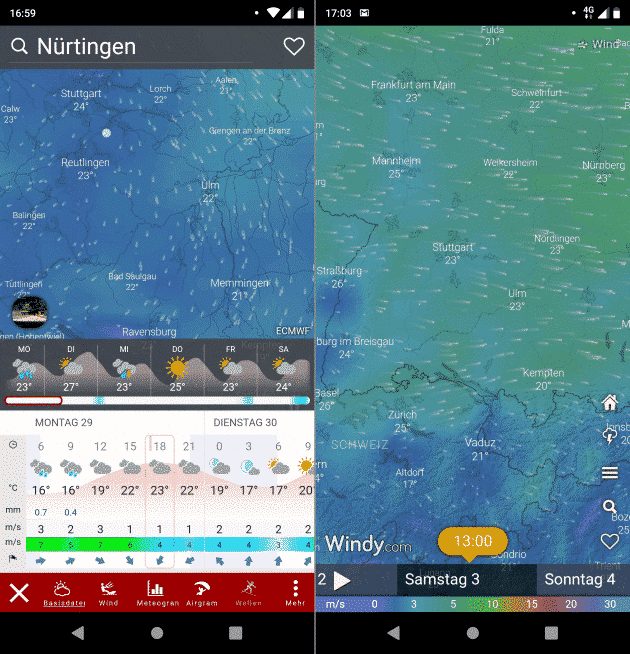 The user interface is also slick, so you can find your way around pretty quickly. The map is interactive and with a short tap on the desired location you get your weather data.
I use Windy mostly to gauge whether I'll have a tailwind or a frontwind over the next few days. If you're a data nerd or just planning your next bike trip, install Windy on your smartphone beforehand.
Download Windy for Android and iOS now
Accommodation
You want to be on the road for several days? Then these apps will help you find a bed (or a place to camp):
iOverlander
This app is actually aimed at travelers who are motorized. In my opinion, it's still the best wild camping app out there and therefore quite useful for a bike trip and bikepacking.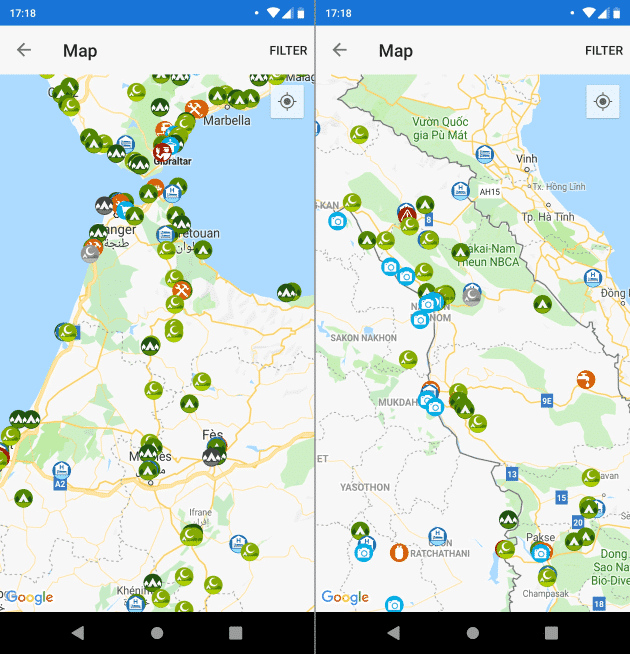 The app includes a worldwide POI (Points of Interest) database with hostels, campsites and wild camping spots. All listed places are entered by the community itself and should be especially suitable for overnight stays with a camper or with a bicycle. Some of the registered spots are also garages – you can check that yourself 😉
The community as well as the developers behind iOverlander seem very active to me and the app is completely free.
Download iOverlander now: Android | iOS
Shelter
Similar to iOverlander, Shelter is also a wild camping app. You will get a comprehensive overview of many of the shelters available in Denmark in a list or on a map.
Shelters are simple accommodations where you can usually stay for one night for free or for a small fee. For a bike tour through Denmark I can highly recommend the app!
Download Shelter now: Android | iOS
Booking.com
Booking.com offers probably the largest selection of hostels, hotels, guesthouses, etc. in most areas of the world.
The app works heavily with scarcity strategies similar to:
Today there are only 2 places left in your accommodation
This accommodation is currently in high demand
28 people have viewed this listing in the last few hours
Don't let it put you off.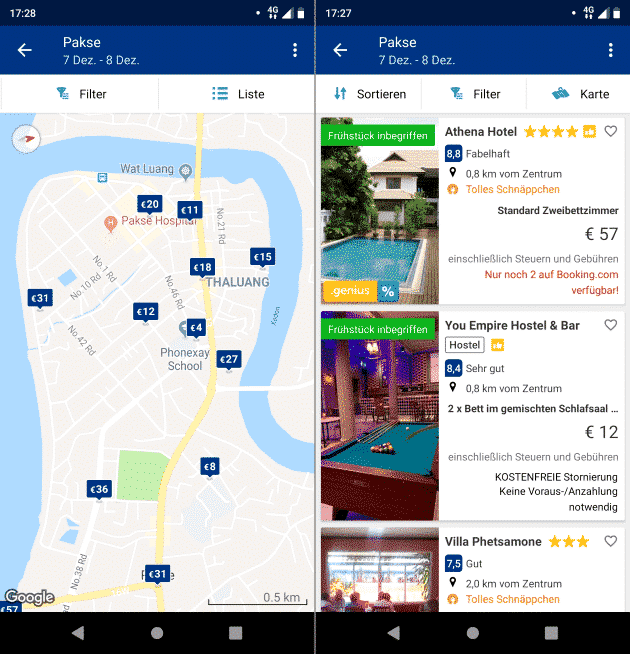 On my Vietnam trip at the end of 2018, I booked my accommodations almost every day using Booking.com, and even in remote areas I usually found a place to stay on very short notice in the early evening.
Booking.com brings a lot of traffic to accommodation listings. In return, the accommodations pay a fee to Booking for each booking. Many accommodations now rely heavily on traffic through Booking and are therefore dependent on this platform.
As a responsible bicycle traveller, please be aware of this and also consider booking a night directly with the accommodation or via the accommodation's website. If I have the impression that an accommodation is owner managed, I usually prefer to go directly to the accommodation and pay there.
Often it is also worth comparing, because the prices on Booking.com and directly at the accommodation sometimes differ.
Download Booking.com for Android and iOS now
AirBnB
AirBnB is becoming increasingly professional. This means that you can now find a wide range of accommodation all over the world via this platform. From small, Bed and Breakfast-like accommodations, where you live together with the host and are cooked by them, to exclusive and fancy accommodations.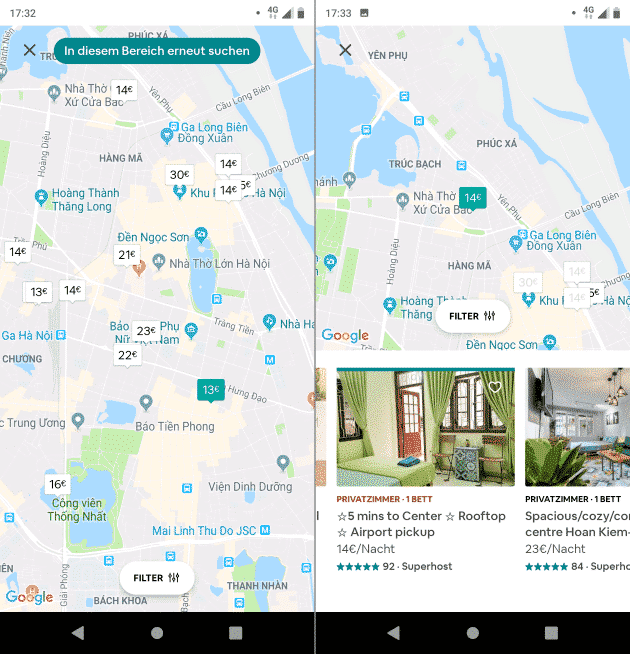 For me, AirBnB is the best choice for a bike break when I'm staying in the same city for a few days and want my own apartment.
Download AirBnB for Android and iOS now
WarmShowers (Android exclusive)
The Warmshowers app is the equivalent of Courchsurfing and is aimed very specifically at bike travellers looking for somewhere to stay and a hot shower for the night.
The app is still a bit jumbled in structure and I prefer the overview in the Couchsurfing app. Positive: You could display all available hosts on a map.
The arranged overnight stays are free of charge. The contacts arranged are mostly about cultural exchange and matching like-minded travellers.
If I want to meet locals in a city, I tend to use Courchsurfing because there are simply more hosts available. I can only recommend everyone to give one of the two apps, CS or WS, a chance. You will make incredible acquaintances and have the chance to immerse yourself in the lives of the locals.
Tip: Tell your host in advance that you are travelling with a more expensive bike and don't want to plug it in directly on the street. So you can check in advance if there is a place for your beloved bike in the accommodation.
Download WarmShowers for Android now
Couchsurfing
CouchSurfing is the original hospitality network and now has more than 10 million members. How much of them are active is up to you 😉
The platform can be used in many ways:
To find free accommodation when travelling
To offer accommodation for travelers themselves
The network can also be used to show travelers around the city or to find a local city guide
CourchSurfing is the largest network of its kind. I have made many good experiences and met exciting people.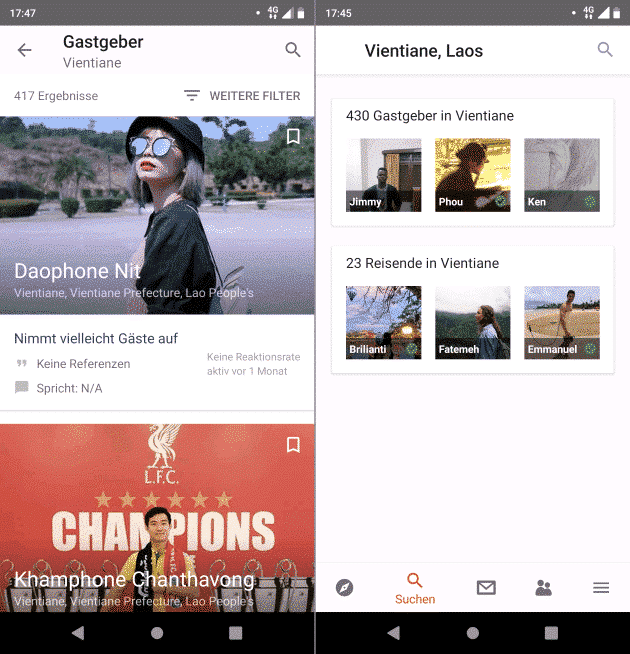 Couchsurfing's corporate structure was restructured in August 2011 and investor money was raised. Probably a measure by which even more people could be reached and one of the reasons why you can meet CS hosts in almost every country in the world.
If you travel a little slower, CouchSurfing is a great way to meet exciting locals.
Download CourchSurfing for Android and iOS now
Transport
You have to take a plane, train or bus? With it you want to get yourself and your bike from A to B. Often this situation occurs before or after the bike ride.
These apps will help you do that:
Momondo
Momondo and KAYAK are my go-to places for flight research. Since the apps provide mostly identical results. Little wonder, since they both belong to the same company. The filter options work well and the app usually delivers the cheapest flights. Of course, you can find better deals if you are flexible in your departure time.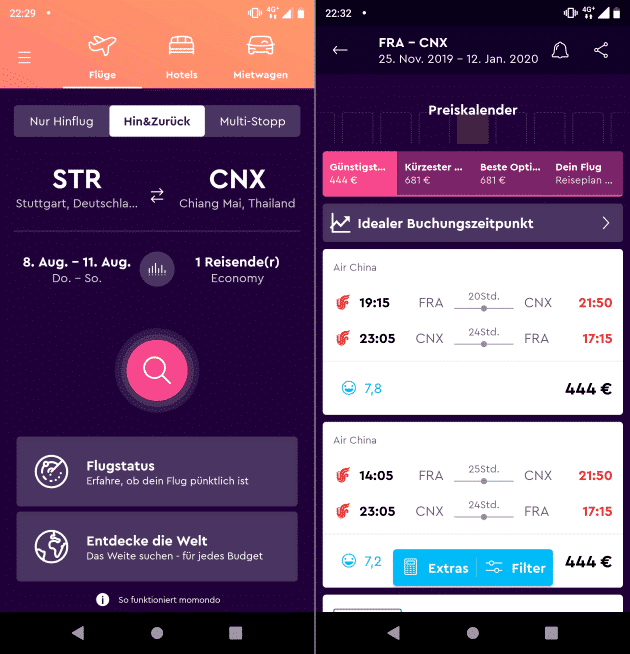 The app offers extensive filter options and you can also filter by airline, for example. A feature that is especially interesting for bike travelers. We all know how different baggage policies are between different airlines.
Momondo is a search aggregator and you then buy the ticket directly from the provider.
Download Momondo for Android and iOS now
KAYAK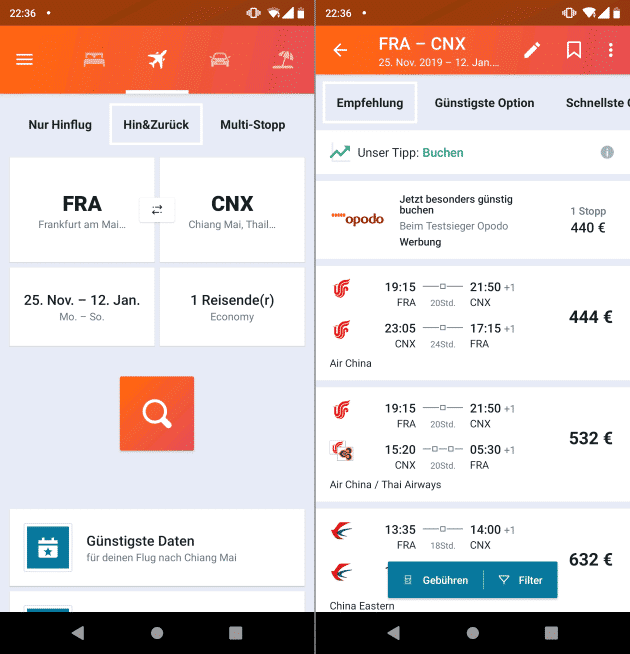 Download KAYAK for Android and iOS now
Communication
You met new friends on your bike trip and want to stay in touch with them? Or you are in a foreign country right now and want to communicate?
There are helpful apps for that, too:
WhatsApp / Signal / Threema / Telegram / Viber / WeChat / Messenger
I've listed probably the six most popular instant messaging apps for your smartphone. Different providers are particularly popular in different regions of the world. The providers Signal and Threema place particular emphasis on data protection. If this is an issue for you, it's best to take a closer look at these providers.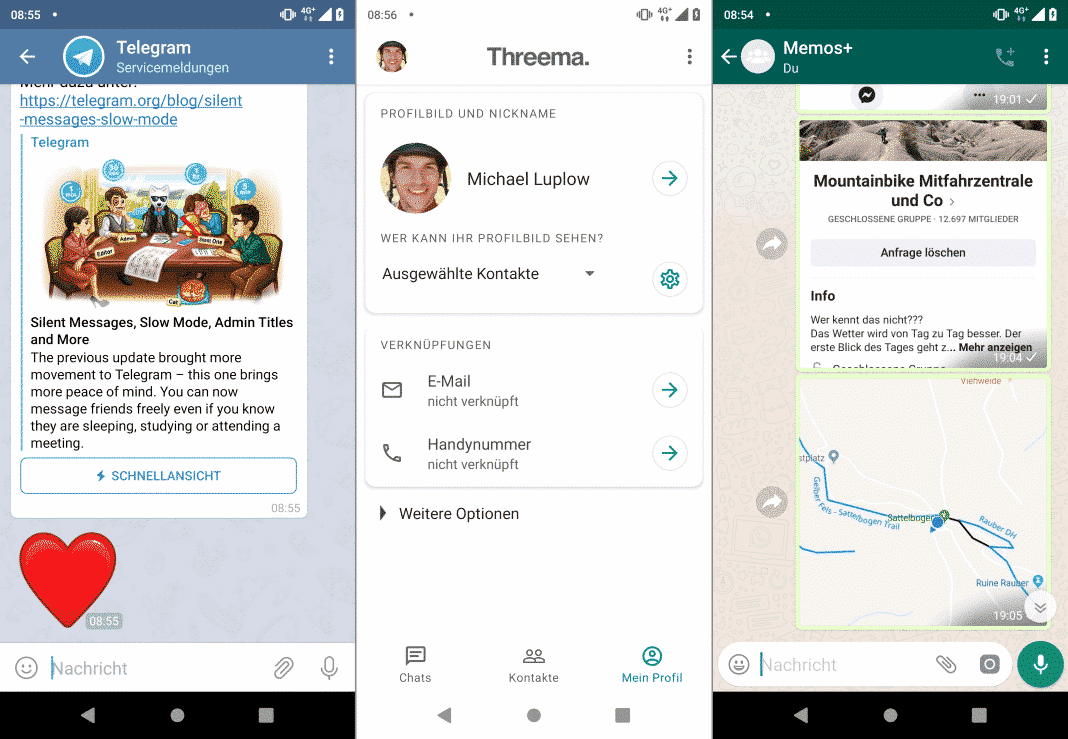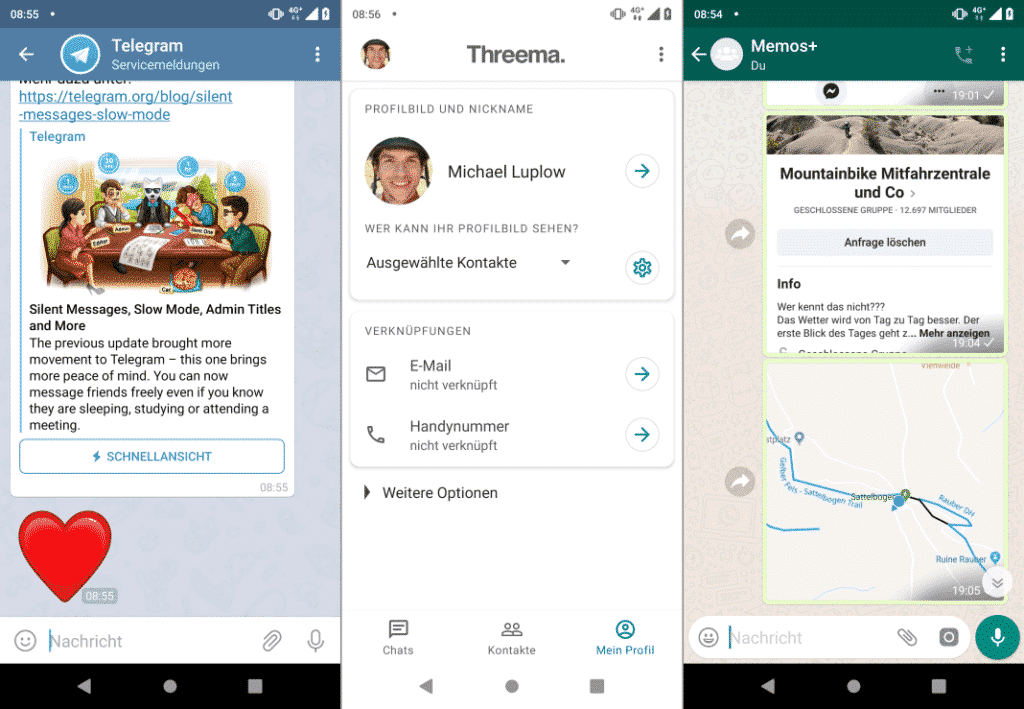 If you are on a bike trip around the world and want to stay in touch with your new friends, then install all of these messengers 😉
The messenger market is also going strong, so best check back in the future as I update this list as well over the next few years.
Google Translate
Google Translate is especially handy when you're communicating with people in real life and don't speak their language.
On my Vietnam bike trip in late 2018, the app was very popular among locals!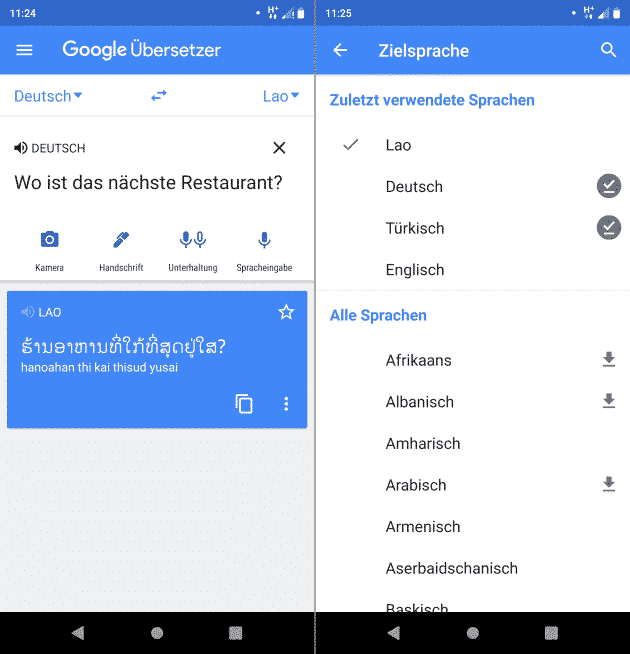 The accuracy of Google Translate has been at a very good level for several years now and is also constantly improving. In addition, this translator app offers probably the largest selection of languages available. Before the trip, it is recommended to download the desired language.
Turn your smartphone to landscape mode to see the translated text in extra large font. This feature is especially handy when you're communicating directly with locals and you're passing your smartphone back and forth for communication.
Download Google Translate for Android and iOS now
Photography
Smartphone cameras now not only offer razor-sharp images, but also plenty of software to enhance and edit your photos.
If you are bikepacking or on a bike tour then you should think about a photo backup. Fortunately, there are workable solutions for this:
Google Photos
Want to back up your photos on the go? And with very little effort? Then Google Photos is the app for you. Google Photos has a built-in backup feature. If you enable it, your photos will automatically be backed up to Google Drive when you connect your phone to a Wi-Fi network.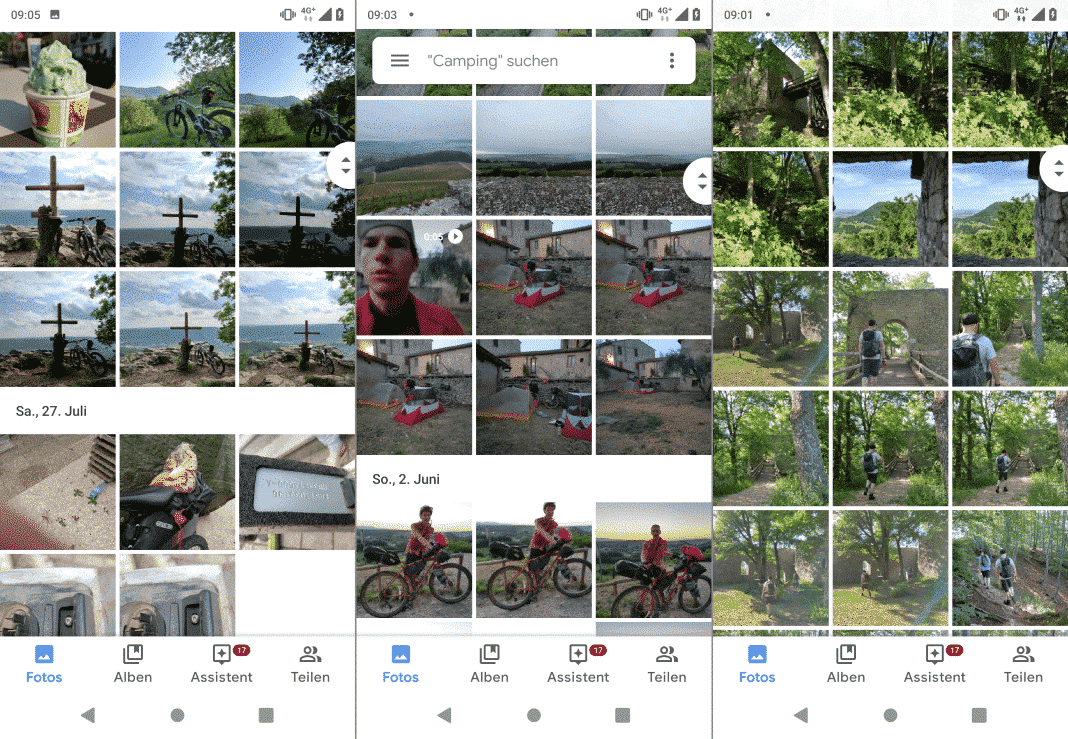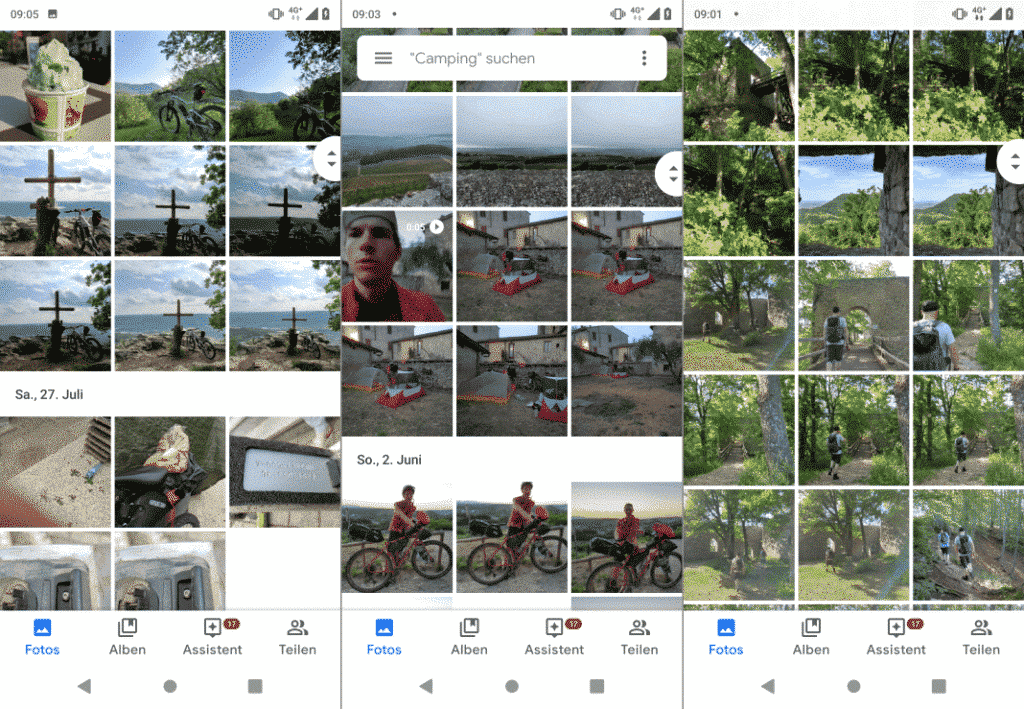 Googel Photos can already do a lot in the free version: you can store 15GB of photos and videos in the original quality. Decide to compress the media and Google promises infinite storage. The quality of the compressed media is still very good so don't worry about that.
In the premium version you currently have the choice between 100 GB or 1 TB of storage for your original files. Photos can also be copied to your smartphone using a USB reader or other methods. These are then also backed up by Google Photos.
For me on trips an indispensable helper, because my photos and videos are sacred to me.
Download Google Photos for Android and iOS now
OneDrive
If you want to step outside the Google universe too, check out a competing product like Microsoft's OneDrive. The app has very similar features to Google Photos and also offers a camera upload feature to back up your photos and videos.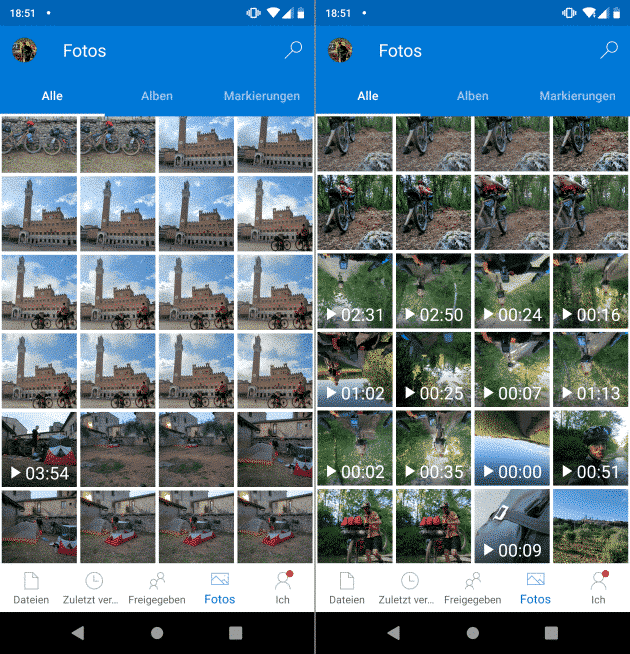 The main difference between the free and the pay function is the amount of memory. With OneDrive, 1 TB of storage is often available in conjunction with Microsoft Office.
Download OneDrive for Android and iOS now
PhotoTime: Calculator Golden Hour and Golden Hour One
This app shows you the time for the golden hour and the blue hour, i.e. for dawn and dusk. Photographers know that this is the ideal time to shoot.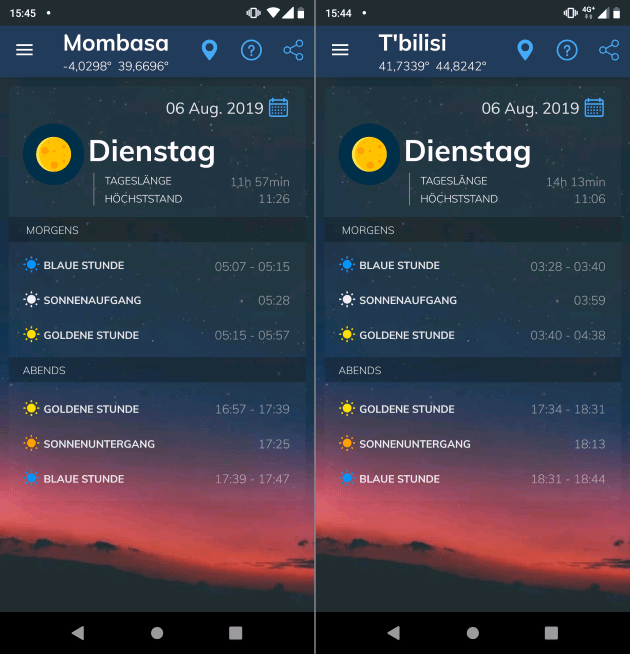 The golden hour is just after sunrise and just before sunset. The first and last light of the day is used for photography. The photos then appear in a particularly magical light.
The blue hour is then the time before sunrise and after sunset. The light then appears rather diffuse and blue which also has a magical appeal.
So getting up early or staying awake longer is rewarded by the perfect photo. This app helps you find out When you should set the alarm 🙂
Download PhotoTime: Calculator Golden Hour and Golden Hour One for Android and iOS now.

Relive.cc
Relive visualizes numerous sports on a fancy 3D map. Once you have set up the app, you can create a nice video on a 3D map with just a few taps in the app after you have finished your bike ride (or any other activity). You can also add photos of your activity and they will be included in the 3D map.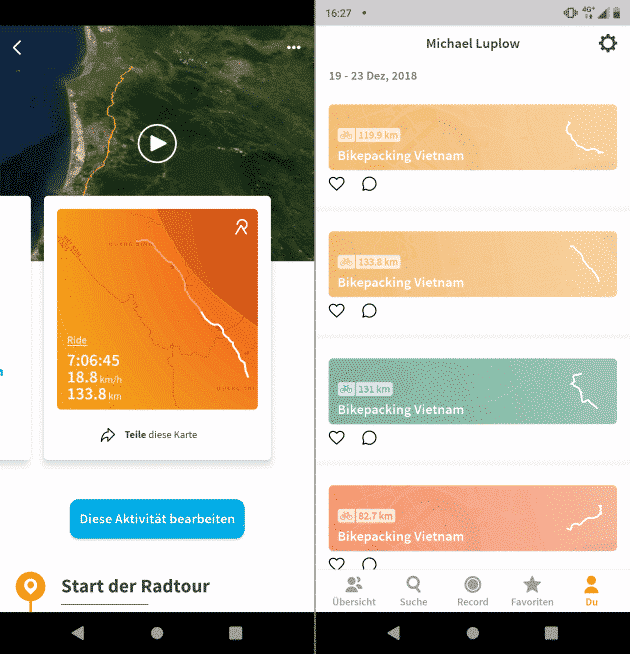 A very fancy thing you should check out. I really like using Relive.cc to enrich my YouTube videos with the 3D maps I create.
Relive.cc connects to numerous other platforms, including Strava and Garmin Connect.
Download Relive.cc for Android and iOS now
Finance
Here's an overview of useful apps on finance. They help you save money or keep better track of your spending:
XE Currency Currency Converter
The app gives you access to the popular website xe.com. This allows you to perform currency conversions at the current real rate.
Currency converters like XE Currency currency converter are very useful especially shortly after entering a new country. By converting, you'll get a feel for the new currency faster and make sure you don't get ripped off.
Download XE Currency Converter for Android and iOS now.
1Money (Android exclusive)
The app is designed as a budgeting app and is also very handy on bike trips. With this app you can keep a better overview of your travel expenses.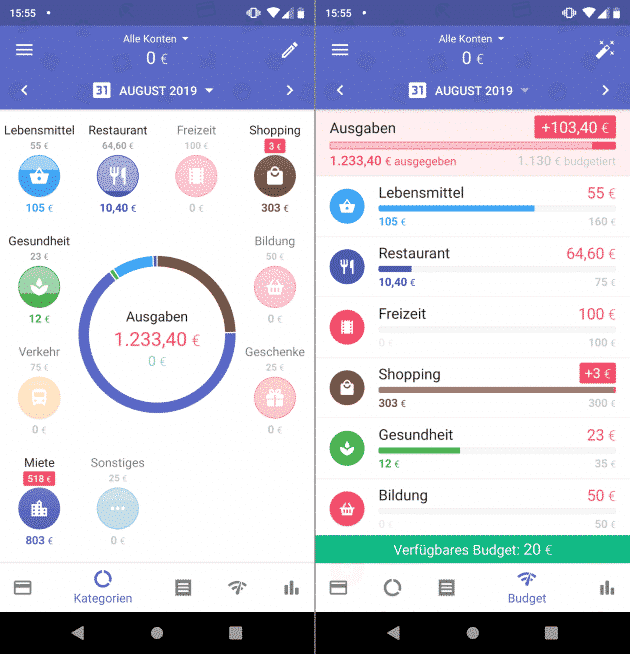 I use this app to record all my expenses for a day and assign them to pre-determined categories like lodging, food, transportation, etc. Theoretically you don't need the categories, but I would recommend categorizing your issues. Sounds cumbersome at first, but it really is done within a few minutes a day.
The evaluations of "1Money" quickly shed light on the darkness. This will give you an idea of how much you spend a day and on what! If necessary, you can adjust your behavior while traveling and either have more money left after your bike trip or you can travel longer.
If you are now asking yourself "How much does a bike trip actually cost?" then you can rest assured: I will soon write an article about it.
Download 1Money for Android now
Revolut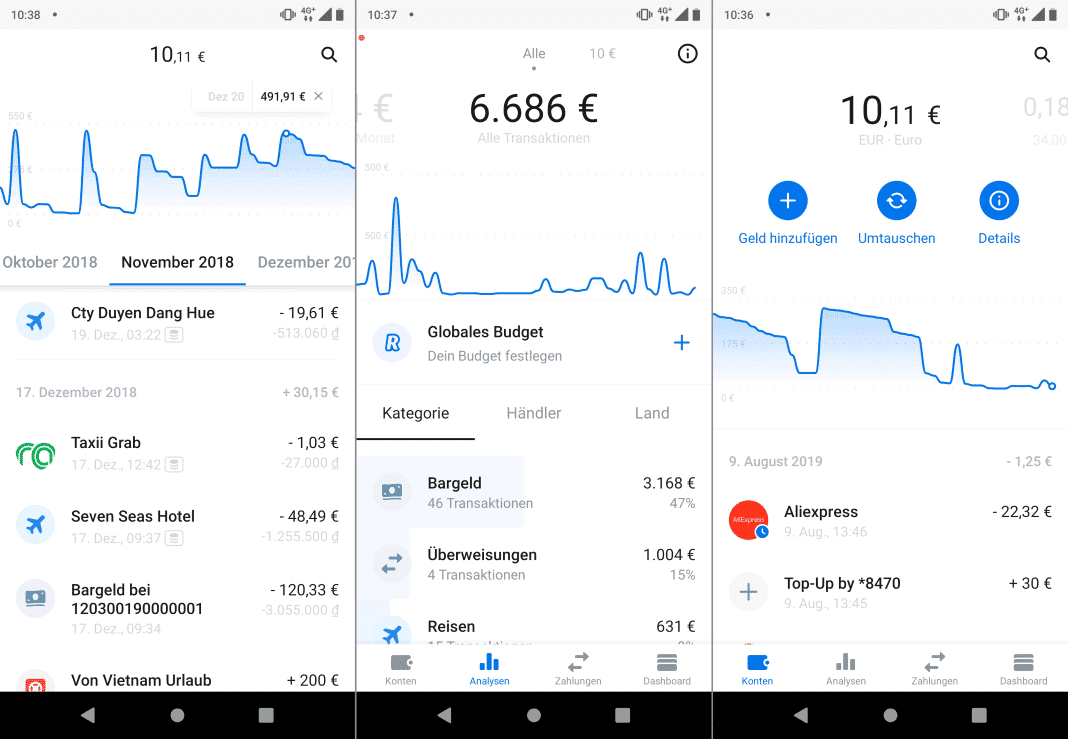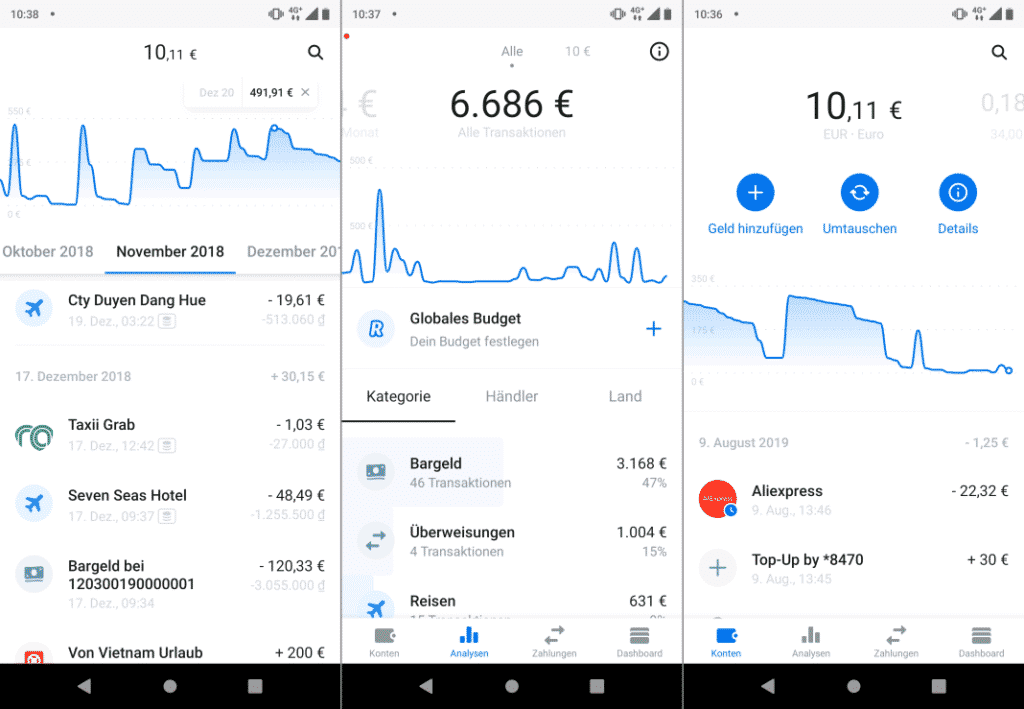 Download Revolut for Android and iOS now
More great apps
Last but not least, there are some helpful apps that I couldn't place anywhere else:
Workouts at home – without equipment
The name describes this app very aptly: it offers workouts for abs, chest, legs, arms and butt. Many of the workouts incorporate stabilization exercises such as planks, sideplanks and crunches.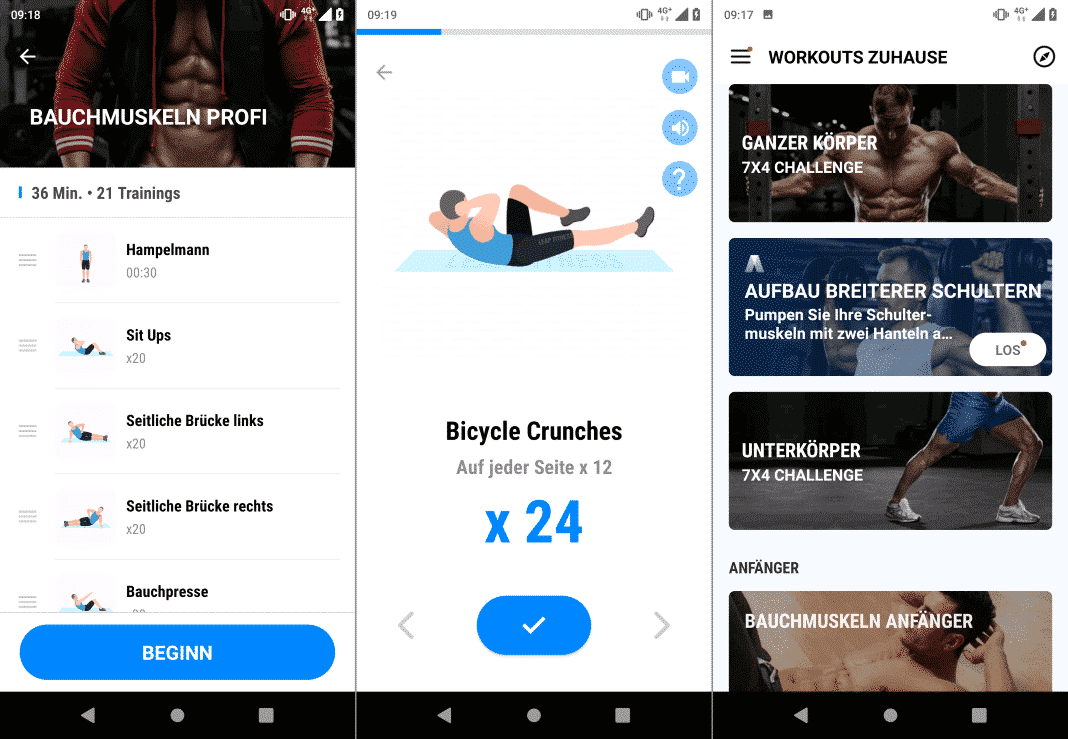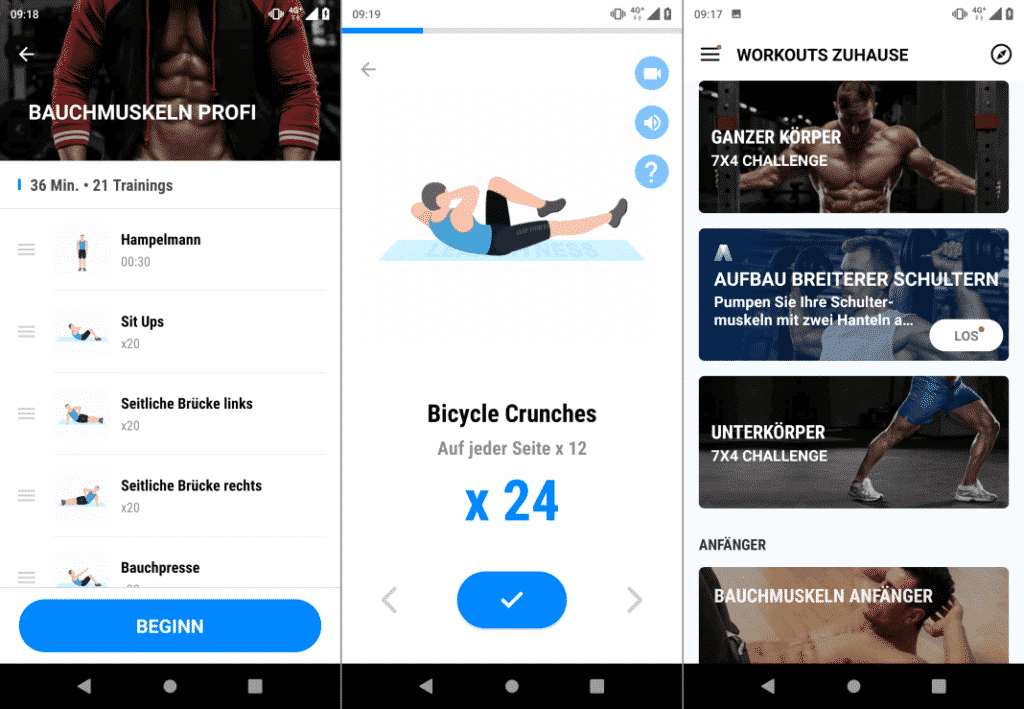 These exercises are also important for cyclists, especially if you are on your bike a lot. Our western lifestyle quickly leads to muscle imbalance and shortening. Unfortunately, the deficiencies described can quickly lead to injuries such as tibial plateau syndrome.
For me, the app is therefore almost daily part of the sports program that I (mostly) like to perform.
Download Workouts at Home – No Devices now for Android and iOS
Fit for the bike
Download Fit for the Bike now: Android | iOS
AnkiDroid flashcards and AnkiMobile flashcards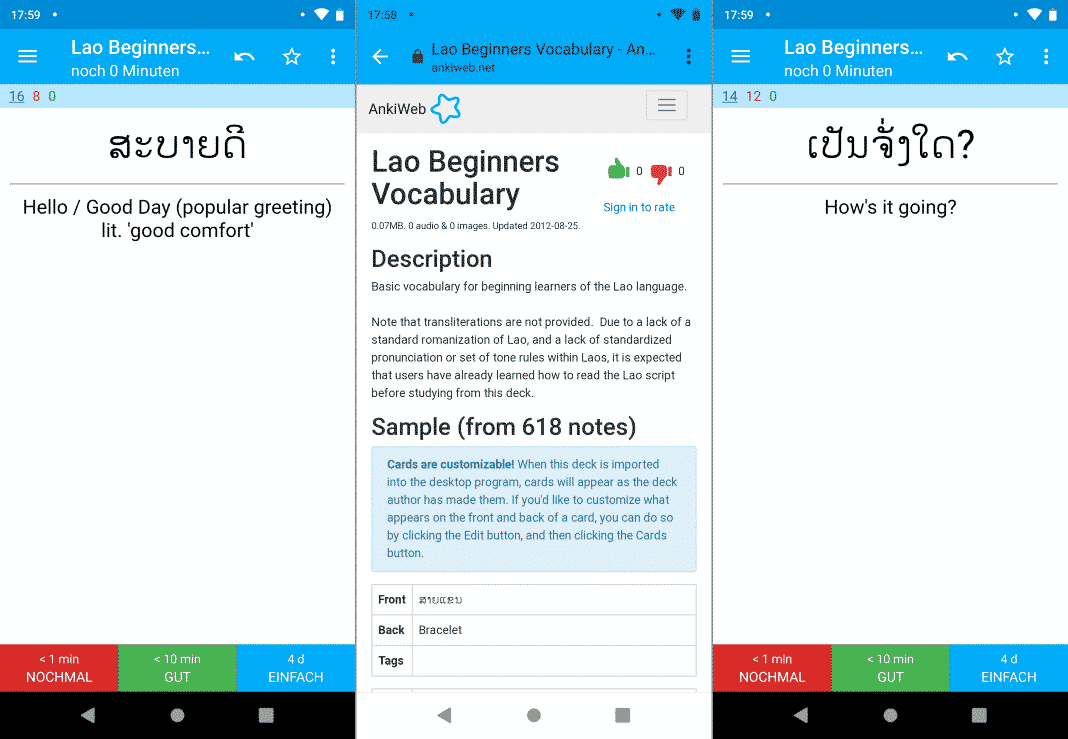 Download AnkiDroid flashcards and AnkiMobile flashcards for Android and iOS now.
Sky Map (Android exclusive)
I don't think I'll ever learn the constellations. Fortunately, thanks to Google Sky Map, I don't have to either. The app works as an AR star guide: you hold your smartphone up to the sky and the app overlays the camera image with overlays of the constellations.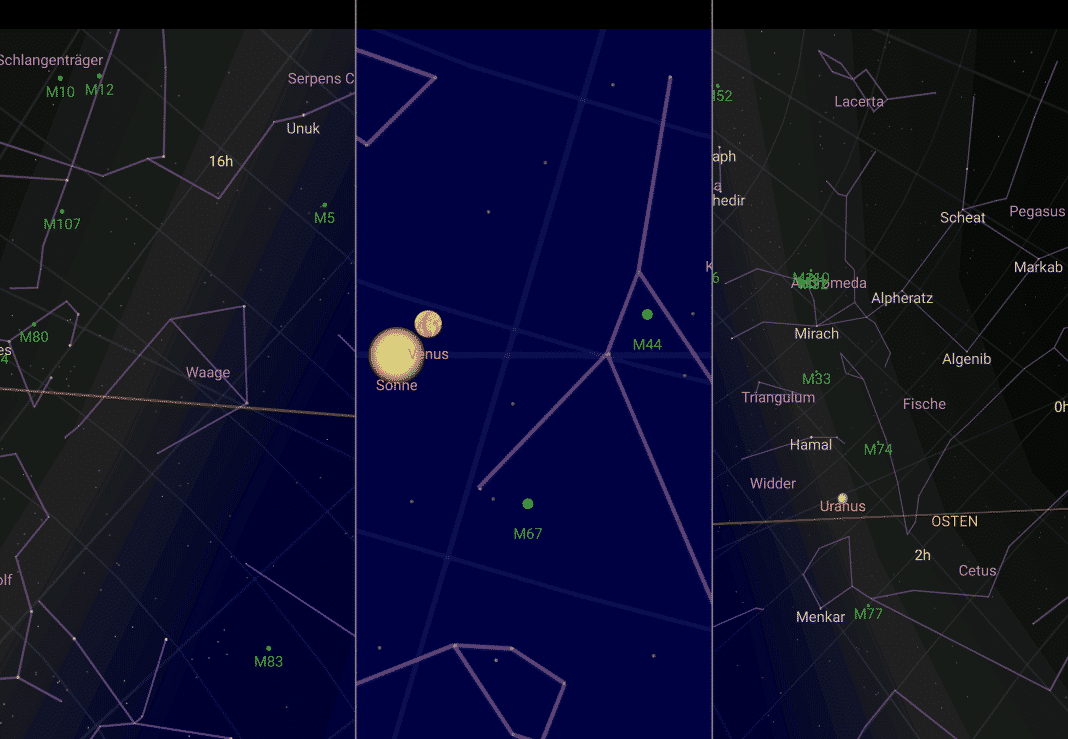 Of course, the whole thing also works with cloudy skies 😉
Download Google Sky Map for Android now
(At least) one VPN app you trust
On a big bike tour you will sooner or later come to a country where the internal is censored. Services that you normally use at home may then be blocked. This happened to me on my 2018 tour from Stuttgart to Istanbul: In Turkey, Wikipedia was blocked at the time.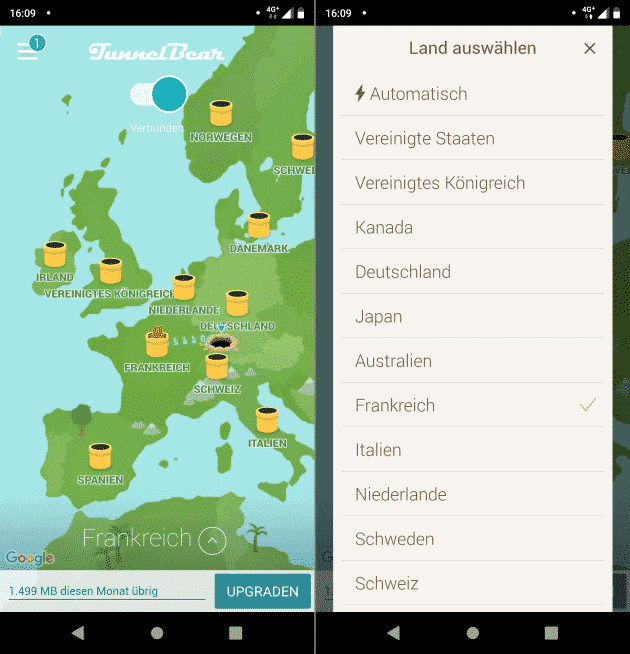 To be prepared, it's best to install several VPN (Virtual Private Network) apps before you travel.
Simply put, your VPN connection is encrypted and your location is faked to outsiders. Your current location and Internet communications can be obscured. As a result, you can access services that are actually blocked and your Internet communications are safer from eavesdroppers.
However, there are a few things to consider when choosing the right VPN app! There are countless free VPN apps out there. The majority of these apps are infested with malware and the operators will try to sell your personal information to the highest bidder.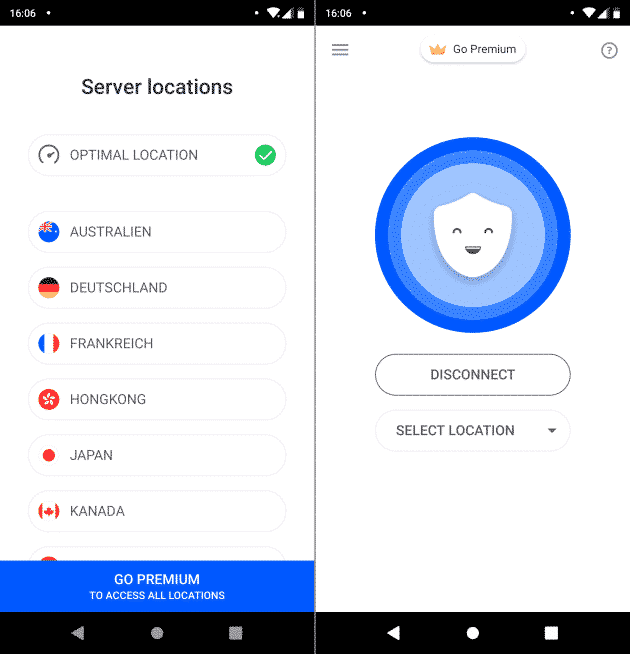 If you are tech savvy then you can set up your own VPN at home. For example, with a NAS server that runs at your home and enables a VPN connection via OpenVPN.
If you want less hassle, read some reviews on VPNs. It's best to stick to trustworthy sites. These are sites that have reputations to lose. TechRader has compiled a list of recommended VPNs. Because censoring bodies are also fast moving and constantly changing their mechanisms, you should refresh your knowledge in this area from time to time.